Commentary: What's the real message behind the warship sinking by US, Philippines in South China Sea drills?
As the "shoulder to shoulder" Balikatan exercises grow more complex in scale, China will take even greater interest in the evolving Philippine-US alliance, says the S Rajaratnam School of International Studies' Collin Koh.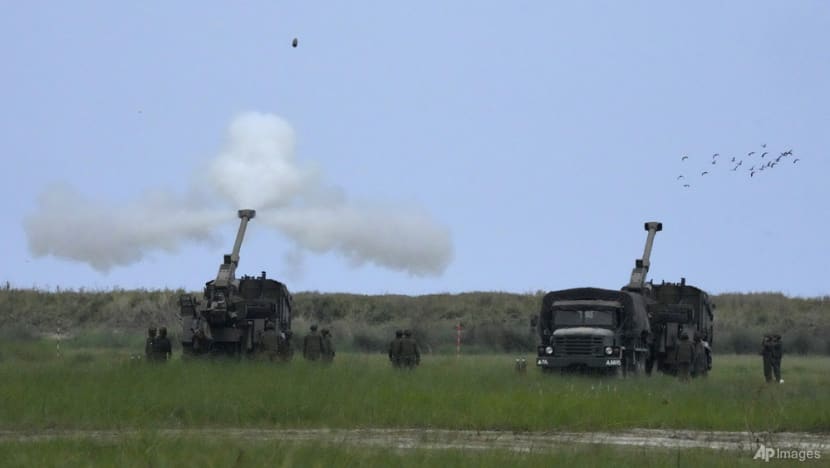 SINGAPORE: It took a few hours, including an almost one-hour interruption caused by an unregistered civilian plane entering the live-fire airspace, for the target - a decommissioned Philippine warship BRP Pangasinan - to meet her final fate in the South China Sea almost 12 nautical miles off Zambales.
This year's Balikatan, an annual military exercise between the United States and the Philippines held in April, for which the ship sinking constituted the crescendo, was both politically and operationally significant.
Prominently, Philippine President Ferdinand Marcos Jr presided over the live-firing event, flanked by his defence chief Carlito Galvez Jr and US Ambassador MaryKay Carlson - in a no less symbolic move to demonstrate Manila's backing for its decades-old bilateral alliance with Washington that has seen its share of ups and downs since 2016.
If anything, this year's Balikatan, which means "shoulder to shoulder" in Tagalog, would indicate that the alliance has since moved on from the travails under the previous Rodrigo Duterte administration that based its foreign policy chiefly on distancing away from the US while pulling closer to China.
There were some continuities since though. The sinking exercise was conducted well within Philippine territorial sea - still in line with Duterte's August 2020 directive that instructed the Philippine Navy not to participate in joint exercises in the South China Sea, except within the 12 nautical mile territorial sea limit from the Philippine coast.
In a way, therefore, Manila's intentions clearly were about balancing two needs: The first being to manage South China Sea tensions by not causing undue provocations towards Beijing, and the second being to assert Philippine maritime sovereignty and rights.
The exercise this year was without doubt the largest in the history of Philippine-US alliance, with more than 17,000 troops taking part. But it's worth noting how it has evolved since Duterte's time in office and how it hinges greatly on Beijing's behaviour in the South China Sea.
MILITARY MIGHT
In 2016, Duterte scaled back on his original plan to impose a blanket moratorium on military exercises with the Americans, instead approving the continuation of Balikatan and the Enhanced Defense Cooperation Agreement (EDCA).
He mandated that joint military training exercises with the US had to focus on civic action and humanitarian assistance and disaster relief, as well as "less assault exercises". Some key exercises were dropped in accordance with Duterte's desire to do away with "showy war games". Duterte also ordered the transfer of Philippine-US exercises customarily conducted in regions facing the South China Sea to be relocated to Mindanao in order to "not offend our neighbours".
As a result, the annual exercise in 2017 was scaled down to just 5,400 troops from both sides, a sharp drop from about 11,000 the previous year, and the war game component was dropped. True to Duterte's directives, there were no activities held in Palawan facing the South China Sea, and no live-firing in Zambales which is close to Scarborough Shoal, which Beijing maintained de facto control over.
The exercises in the following year saw a rebound in participation at 8,000 troops, including also amphibious landing drills in Zambales - at a time when China reportedly deployed missile systems to the Spratly Islands.
In 2019, more than 7,500 troops participated in exercises in Luzon, again facing the South China Sea, at a time when a Chinese boat swarm loitered off Philippine-held Thitu Island in the Spratlys.
Despite Duterte's 2016 directives de-emphasising a "showy wargame" approach, the nature and scale of the 2019 exercises were anything but. It featured the US Navy's amphibious assault ship Wasp which embarked the US Marine Corps F-35B joint strike fighters - the first time these jets were deployed for Balikatan.
Again, an amphibious assault landing exercise was conducted in Zambales and despite being couched under the official "counterterrorism" cover, those forces and manoeuvres involved made the drills appear closer to simulating a warfighting scenario instead. An airfield assault drill was also arranged at the Philippine military's request - which is interesting given Manila's sole airfield in the Spratlys is located on Thitu Island.
Balikatan was not held in 2020 due to COVID-19, whereas the 2021 iteration was a heavily down-scaled one with fewer than 700 troops participating not due to geopolitical considerations - given the Philippine-Chinese flareup over Whitsun Reef in the South China Sea early that year - but pandemic restrictions.
In 2022, however, the exercise rebounded in scale, involving 8,900 troops. The US deployed for the first time an amphibious insertion of a Patriot anti-missile system, while the Philippines showcased its newly acquired weapon systems and platforms.
RAMIFICATIONS AHEAD
Notwithstanding his pro-Beijing rhetoric, Duterte had assiduously kept Balikatan as one of the cards in his pocket. Marcos Jr inherited this legacy and built upon it, with this year's joint exercise being unprecedented in scale and depth.
There is no way Beijing could have missed reading the political signals behind this exercise and draw its own conclusions.
Yet rolling back on its current activities in the disputed waters would have signalled weakness to both domestic and external parties. As such, one should not harbour illusions that Balikatan will compel a change in Chinese behaviour.
Yet the joint exercise does reflect Manila's resolve to, with help from its American ally, safeguard its maritime sovereignty and rights. This political imperative aside, the exercise will continue to serve as a key event to test the Philippine military's burgeoning new capabilities.
While the Philippine military may have played a less significant role compared to its American counterpart in this sinking exercise, they are likely going to play an increasing role in future iterations.
New offensive strike capabilities, albeit procured in small quantity, look set to bolster the Philippines' ability to pose a challenge to the Chinese stranglehold in the disputed waters. Worth noting in the future is how Manila's new shore-based BrahMos anti-ship missile from India, for example, may feature in future sinking exercises under Balikatan auspices.
And one should naturally expect that, as the annual exercise grows more complex in scale and depth as the Philippine military expands its arsenal of advanced weapons and gears its posture towards a focus on territorial defense, China will take even greater interest in the evolving Philippine-US alliance.
The Philippine military, while still far behind its Chinese counterpart in overall combat power, will no longer be seen as just a weak, inferior partner in this bilateral alliance.
On the contrary, with its new capabilities buttressed by Manila's political will, the Philippine military looks set to become a more consequential player in the South China Sea - and one, with no insignificant American support, that can finally pose a more credible challenge to Beijing's hold of the disputed waters.
Collin Koh is research fellow at the S Rajaratnam School of International Studies, with maritime security and naval affairs in Southeast Asia especially as his primary research interest.