Commentary: Consumers, it's time to stop the huge spending driving inflation
Revenge spending and holiday expenses are causing inflation to rise. It's time to slow down the spending, says this writer.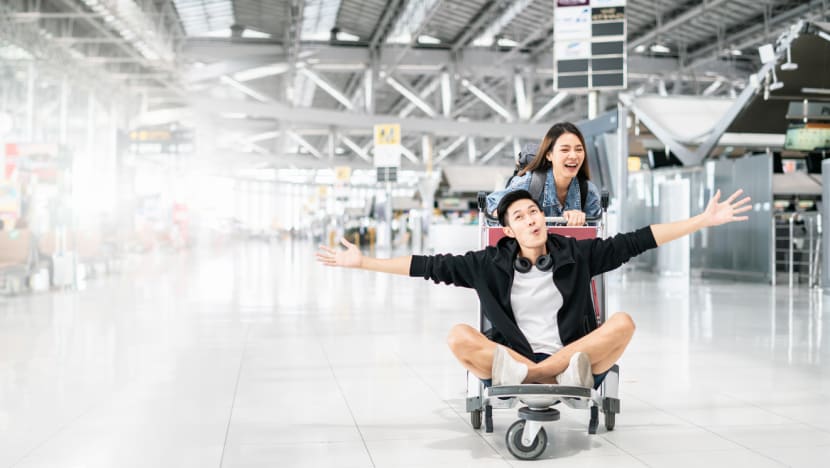 SINGAPORE: Even as complaints about higher prices are rising, it turns out that a key cause of inflation in Singapore is rampant consumer spending.
Indeed, the Monetary Authority of Singapore (MAS) said in its biannual macroeconomic review in October that spending on non-essentials likely was the biggest cause of inflation in 2022 and will be so for 2023.
While pent-up demand may have been understandable earlier in the year after the COVID-19 restrictions eased, unchecked buying at ever-higher prices hurts consumers. It's time to slow down the spending.  
CONSUMER DEMAND DRIVES INFLATION
While high consumer demand can be a cause of inflation anywhere, it's less common in Singapore. Often, MAS said, high demand for exports is the usual culprit. 
Recently, however, it's been different. Key drivers of inflation, MAS said in its October report, include "firm demand amid the pickup in retail sales and return in tourism spending".
What that means is that people are spending more on discretionary goods that they don't need, and the extra spending caused half of the rise in core inflation in the third quarter of last year.
Strong spending on recreation, cultural services, and transport such as taxis or Grab is continuing, MAS said. Inflation in goods and services such as food and retail may continue to rise during the Chinese New Year festive season, especially with larger gatherings now that there are no more pandemic restrictions.
WHAT ARE CONSUMERS SPENDING ON?
Core inflation had been rising steadily in 2022, hitting a near 14-year high of 5.3 per cent in September before holding steady at 5.1 per cent for the rest of the year.
That the high revenge spending is a key cause of inflation is perhaps understandable, even if it's unusual. However, the rise in prices at the fastest pace in years is already making life difficult for many here. Moreover, the adverse impact goes beyond just higher costs and is cause for even greater concern.
In December 2022, for example, the consumer price index for the clothing and footwear group rose 6 per cent year-on-year, while recreation and culture prices increased 7.5 per cent, according to official data released on Wednesday (Jan 25). Holiday expenses were 11.3 per cent higher. 
Rather than putting their savings into investments or emergency funds, consumers in the post-pandemic recovery are engaging in revenge spending and often using their savings for pleasures like travel.
Worryingly, more Singaporeans are also adopting undesirable habits such as gambling more than they can afford to lose, and spending beyond their means to keep up with peers, OCBC found in the Financial Wellness Index it released in November 2022.
Consumers are also spending more of their income than before and many are seeing their incomes grow more slowly than inflation. DBS said in August 2022 that 40 per cent of its customers saw their income grow less than 5 per cent in the past year, which is less than the core inflation rate in the past few months.
While customers have, in general, continued to spend within their means, the bank said, the ratio of expenses to income increased to 64 per cent for the customers sampled in May 2022, compared with 59 per cent the year before.
A key reason for that higher spending is, very simply, pent-up demand.
After more than two years of pandemic measures, Singapore eased most of its COVID-19 rules on Apr 26, 2022, including caps on group sizes and the number of employees who could return to the workplace. 
The next month, in May, Singapore's retail sales shot up 17.8 per cent year-on-year. Discretionary industries such as clothing and footwear saw takings increase by 99.8 per cent. Department stores recorded a 73.2 per cent jump in sales, while watches and jewellery saw a growth of 60.1 per cent.
Travel exemplified the problem. Relaxed border controls, manpower shortages and lower capacity resulted in inflation in travel services rising from 6.2 per cent in the second quarter of 2022 to 9.2 per cent in the third quarter.
LISTEN: 5 things you need to know about growing your money in 2023
HIGHER SPENDING CREATES RISKS
In more ordinary times, inflation might lead consumers to spend less and be more prudent. Indeed, some forecasters expect a slowdown. Private sector economists in December 2022 cut their estimated GDP growth for 2023 to 1.8 per cent, for example.
MAS also expects pent-up demand to ease and excess savings to be eroded, with lower discretionary spending potentially causing inflation to drop.
Reducing revenge spending or spending on gambling and keeping up with peers is, however, easier said than done. People may well want to continue to make up for two years of lost travel and shopping. Those who overspend to keep up with their peers could feel a loss of face if they don't continue. Gambling can be hard to stop.
People who are stretched could have even more difficulty cutting back. Workers who receive wage increases less than inflation may need to spend more of their salary on ordinary expenses and make up the gap from savings.
Indeed, MAS said households have become vulnerable to problems due to more property loans, more credit card debt and higher discretionary spending. While MAS says households have enough equity and liquidity to avoid major problems, equity in homes is not cash and savings may not be enough to offset higher interest payments on mortgages and other debt or even income losses.
CUTTING BACK
It is understandable that several years of perceived deprivation during the pandemic has led to revenge spending, travel and more. While the wealthy may be able to afford higher spending, the challenge for most people now is to stop that spiral of higher as well as unhealthy spending that leads to higher inflation, lower savings, and potentially devastating debt.
Cutting back and constraining the impulse to purchase may seem difficult. Only by changing mindsets, however, can consumers reduce the over-spending that causes inflation at a broad level and may well cause misery for individuals. With just weeks into the new year, restraint is essential.
Richard Hartung is a freelance writer and consultant who has resided in Singapore since 1992.
You may also be interested in: