Commentary: Singapore's S$1.2m rhino horn seizure another reminder of need to combat wildlife trafficking
Immense challenges face law enforcement authorities amid continued demand for rhino horns, says WWF-Singapore's Uma Sachidhanandam.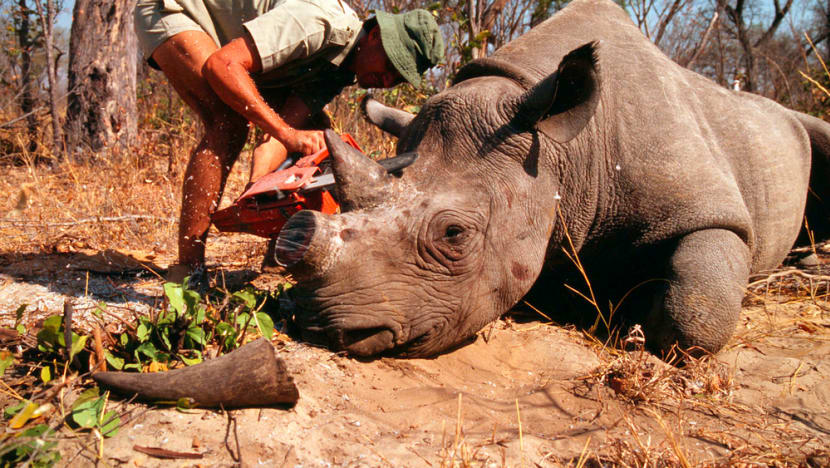 SINGAPORE: It was sobering when I first heard of Singapore's largest seizure of rhino horns last month - weighing in at about 34kg with an estimated price tag of S$1.2 million.
The rhino horns were found in the transit baggage of a passenger travelling from South Africa to the Lao People's Democratic Republic through Singapore
It was also a reminder of another case two years earlier, where a South African man was sentenced to 17 months' jail for trying to smuggle about 22kg of white rhino horns worth an estimated US$563,000 through Singapore to Vietnam.
These cases highlight the enormity of rhino horn trafficking and the highly profitable illegal wildlife trade. It also highlights the immense challenges facing law enforcement authorities in the face of continued demand for rhino horns as a prestige item and its purported medicinal benefits.
Singapore plays a pivotal role when it comes to eliminating illegal wildlife trade. As a key transit hub, our nation's strong connectivity and transportation network is an attractive hub for trafficking syndicates to move their endangered wildlife and their products.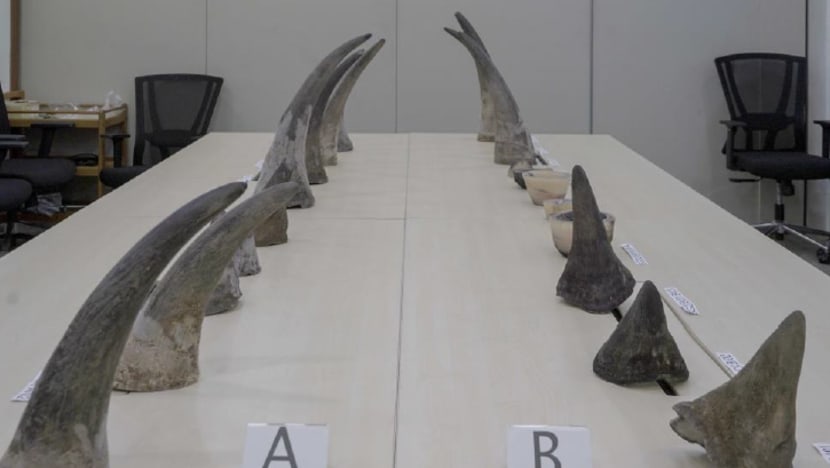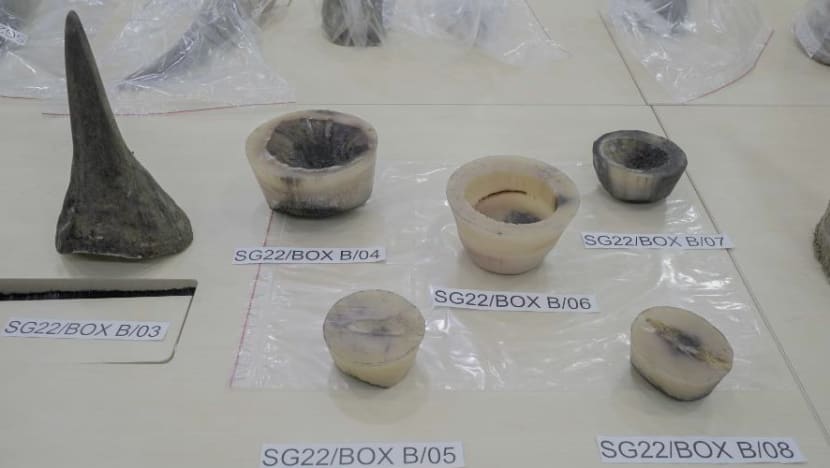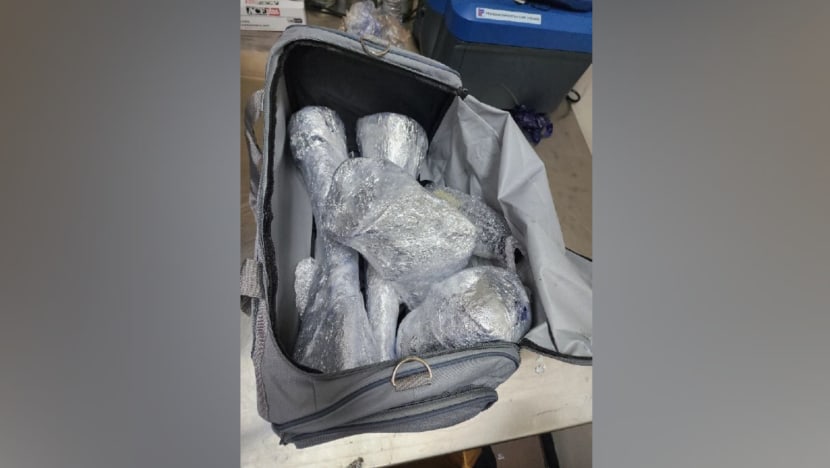 THE RAPID DECLINE OF RHINOS
At the beginning of the 20th century, there were 500,000 rhinoceros. Now, there are fewer than 27,000 rhinos remaining in the world. 
A recent report by the Wildlife Justice Commission, which WWF contributed to, showed that more than 7.5 tonnes of rhino horns were seized from illegal trade globally between 2012 and 2021, with South Africa, Vietnam, Mozambique, China, Malaysia, and Hong Kong being the most dominant trafficking routes.
In 2021 alone, South Africa reported that 451 rhinos were poached, 327 within government reserves and 124 on private property.
But why exactly are rhino horns so highly sought after?
The simple answer is money, prestige and misguided beliefs. But as is with most things, the problem is far more complex, involving transnational organised crime and corruption.
With the decline in rhinos due to poaching, it has inadvertently caused an increase in value that poachers can fetch for these products on the black market. 
The overall gross illicit income generated by rhino horn trade at the wholesale level from 2012 to 2021 is estimated to be between US$874 million and US$1.13 billion, according to the Wildlife Justice Commission's threat assessment report last month.
This illicit income explains why all five species of rhinos are facing threat in the wild. Three of the five rhino species, comprising the Javan, Sumatran and Black rhinos, are critically endangered.
MEDICINAL MYTHS AND STATUS SYMBOL
Rhino horns are made of keratin, and there is no scientific proof that they contain special medicinal properties.
Yet, rhino horns continue to be prescribed by traditional medicine practitioners as a treatment for a host of ailments, including reducing fever, treating headaches, and boosting stamina.
More recently, rhino horns have been misused as a cure for hangovers and even cancer, despite any scientific evidence of efficacy.
There are also concerns about the growing ornamental demand for rhino horns as a status symbol. 
In Vietnam, the Wildlife Justice Commission's investigations found that most rhino horns were used to carve luxury products for a predominantly Chinese clientele, with only a small amount of the offcuts and leftover pieces used for medicinal purposes.
LEGALISATION OF THE TRADE
To deter poachers and safeguard the rhino population, wildlife rangers in Africa have started to dehorn them by shaving off their horns.
The argument is that this is better than what the poachers do to the rhinos, which is to uproot the entire horn from its base under the skin in the bone and will often result in the rhinos bleeding to death.
But dehorning is an intrusive procedure and increases the risk of complications, infection and death for the rhinos from frequent exposure to sedation. 
After dehorning, a rhino's horn grows back at about 7cm to 10cm every year, which means it takes around three years for its horn to fully regrow.  
Legislation of the rhino trade has also been touted as a possible counter and solution to the illegal wildlife trade. 
However, any effort toward legalisation needs to be carefully evaluated. There are many factors to consider, such as capacity for effective management, enforcement of quotas and trade permits, poaching threat, risk of corruption, the potential impact on the survival of all five species, and the healthy functioning of the ecosystems in which they live. 
STRONGER, COLLECTIVE ACTION NEEDED
Ultimately, to end the illegal trafficking of rhinos, we need to work across the entire supply chain, which includes three critical approaches - stop the poaching, stop the trafficking, and stop the buying. 
Poaching will remain a longstanding issue as long as there is high demand for the illicit product. Public education is crucial to change the perception and buying behaviour of consumers towards illegal wildlife products.
The positive impacts that rhinos have on the livelihoods of local communities range from ecosystem benefits to generated income from ecotourism. This has worked in Namibia, where communities view black rhinos as a community asset. Gaining support from stakeholders on the ground in poaching hotspots helps to ensure that profits derived from rhinos contribute to both conservation of the species and livelihoods of local communities. 
International co-operation among countries and law enforcement agencies is also essential in halting the illegal trade. 
In source, transit and destination countries, officials should proactively collaborate to address this risk, including scaling up inter-agency communication, investigation and detection capabilities, demand reduction for consumers and putting in place robust legislation, enforcement and sentencing across the supply chain to deter illegal trade. 
To ensure that future generations will be able to inherit our planet's biodiversity, it is more important than ever for us to drive public awareness and combat illegal wildlife trade.
Stronger commitment is needed from all stakeholders in protecting and supporting our endangered species. By stopping the poaching, trafficking and buying, we can make a big difference and build a better future for our wildlife.
Uma Sachidhanandam is Deputy Director of Conservation at WWF-Singapore.