Commentary: As Ukraine crisis looms, Russia and US fight to control the narrative
Major governments are united in their opposition to Russia's threats, but Western public opinion remains a weak link, says the Financial Times' Gideon Rachman.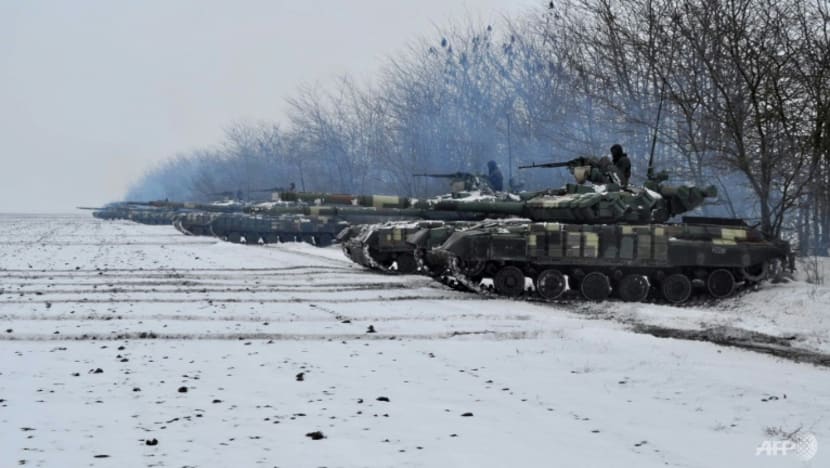 LONDON: I came across someone out of his mind with anger on the streets of Berlin last week. A tall, agitated man was hurling his bike around and screaming into the night air.
The theme of his discourse seemed to be that the Russian president, Vladimir Putin, is the only trustworthy world leader and that the Americans are once again trying to trick Germany into a war.
It is tempting – but too sanguine – to dismiss scenes like that as meaningless. For the Ukraine crisis is taking place in a period when conspiracy theories are rife across the Western world.
The leaders who are struggling to frame an effective and united response to Russia know that public opinion is critical. For every bike-throwing lunatic, there are many more citizens who are quietly mistrustful of their governments.
Public opinion in the West has rarely shown lower levels of trust in political leaders. The annual Edelman Trust Barometer reported in January a "collapse of trust in developed democracies" – with only 46 per cent of Germans, 44 per cent of Britons and 43 per cent of Americans trusting their governments.
The struggle over Ukraine is unfolding while the streets of Ottawa, Canada's capital, are choked with anti-vaxxers – with copycat demonstrations taking place in Paris and planned for other western capitals.
In the United States, President Joe Biden still has to contend with conspiracy theories about his son's past business dealings with Ukraine.
In Britain, Boris Johnson, the prime minister has dabbled in conspiracy theories himself.
The question of trust is now central to the international struggle over Ukraine.
The Russian government is expert at "hybrid warfare" – where information and opinion are all part of the battle. Putin is a former spy.
WRESTING FOR CONTROL OF THE NARRATIVE
Western governments are acutely aware that they have been wrongfooted by Russian information warfare in the past, not least during the 2016 US presidential election. That is partly why the White House is now giving intelligence briefings not just to the president – but to the world at large.
Jake Sullivan, Biden's national security adviser, took to the White House podium on Friday (Feb 11) to tell the world about the Russian troop build-up in Ukraine – and to warn of a possible impending invasion.
The goal was not simply to give Americans time to get out of Ukraine. It was an effort by the US to gain control of the narrative, before Russia does.
But any US effort to use intelligence to shape world opinion has to contend with the shadow of the Iraq war. America's successful effort to build a "coalition of the willing" in 2003 was based on the publication of intelligence claims that Saddam Hussein was in possession of "weapons of mass destruction" (WMD).
The failure to find any WMD dealt American credibility a blow from which it has never fully recovered.
However, there is an important difference between the kind of intelligence used in Ukraine and Iraq. The existence of WMD was always disputed. The fact that 130,000 Russian troops are currently massing on Ukraine's borders is not – not even by Moscow.
The propaganda war is currently being waged around the question of intent. Russia denies that it is poised to invade and has accused the West of deliberately hyping the threat. The Russian line is that their troops will only move if they are provoked by Ukraine.
The West's frequent suggestions that Russia is planning a "false flag" operation, to manufacture just such a provocation, is crucial to this battle of narratives.
WESTERN PUBLIC OPINION A WEAK LINK
It might be complacently assumed by some Western governments that winning a propaganda war with the Kremlin should not be hard.
After all, how much credibility can Putin have – after first denying sending "little green men" to annex Crimea in 2014 and then later admitting it? Or after sending assassins to kill a former Russian agent in Salisbury in England; and then putting the assassins on television to claim that they had visited the city twice – but only because they wanted to see its famous cathedral?
However success for the Russians does not require convincing Western voters that the Kremlin is telling the truth. It can be almost as helpful to suggest that the White House is also lying.
Unlike Iraq in 2003, Western governments seem largely in agreement over what is happening on the ground in Ukraine. France and Germany opposed the Iraq war. Their leaders even shared a platform with Putin, to express that opposition.
This time around, the major governments are united in their opposition to Russia's threats. The differences that exist between Washington, Berlin, Paris and London are mainly about diplomatic strategy.
But Western public opinion remains a weak link.
Recent polls suggest that 26 per cent of Americans agree that "Joe Biden is a puppet president" controlled by a Deep State; while 31 per cent of Americans, 28 per cent of French people and 23 per cent of Germans think it is definitely or probably true that there is a "single group of people who secretly control events . . . and run the world together".
That kind of extreme, irrational scepticism is a weak base on which to build a consensus for a Western policy response that is likely to be expensive and dangerous. Unfortunately Putin has plenty to work with, as he tries to exploit the weaknesses of the West.
Listen to a sociologist and law professor break down the "SovCit" movement's emergence in the West:
Source: Financial Times/el