Commentary: Patience wearing thin as Singapore football flops again at SEA Games
Singapore risks losing a generation of football fans if results continue to slide, says CNA's Matthew Mohan.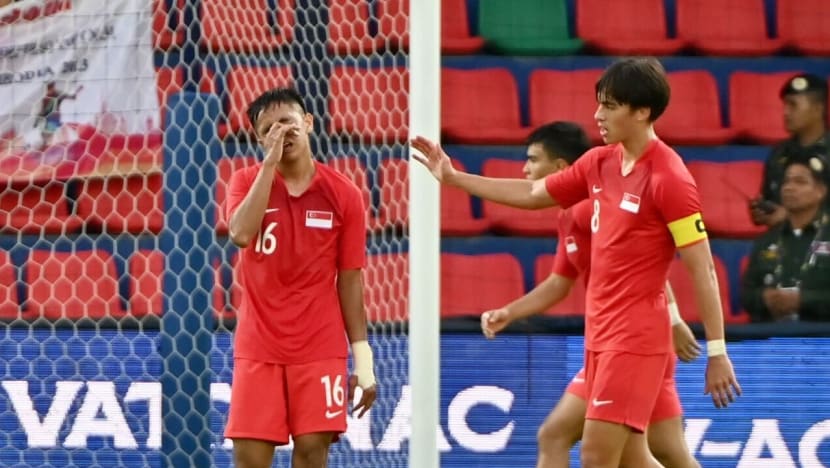 PHNOM PENH: Another Southeast Asian (SEA) Games campaign, another elimination for the men's football team.
It has been 10 years since the Under-22 football team made it out of the group stages. That's five consecutive Games.
The last time Singapore made it to the men's football finals at the Games was in 1989. This writer was not born yet.
At this edition of the Games in Cambodia, the Young Lions have yet to win a match. Two losses and a draw mean that they are second from bottom in Group B. They were outclassed by both Thailand and Vietnam, arguably outplayed by Laos, and have a final game left to play, against Causeway rivals Malaysia on Thursday (May 11).
It hasn't been for want of trying, but one thing is abundantly clear - a gap is building between the top footballing nations in the region and Singapore.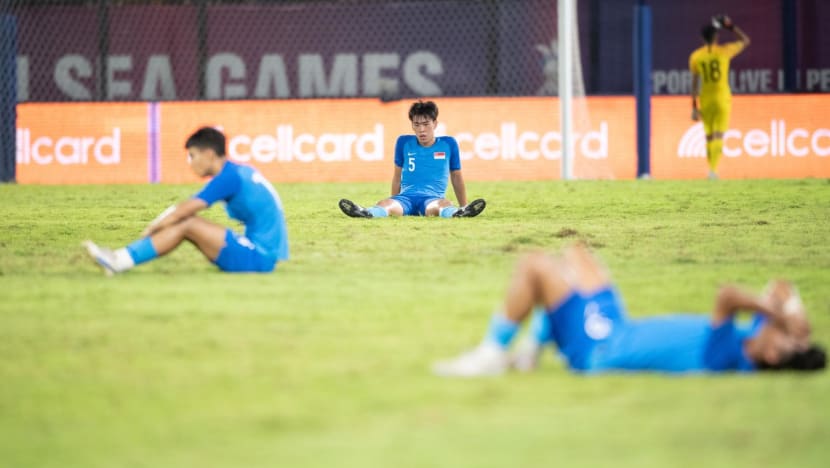 Vietnam's head coach Philippe Troussier told reporters after his team's 3-1 victory over the Young Lions on May 3 that Thailand and Indonesia were among their main challengers at the Games. Tellingly, Singapore was not part of the equation. 
"We know that in this competition it is not Laos and Singapore (that) are our challenge," he said. "But it is good to start the competition with this kind of result today to give my players confidence."
Singapore's national U-22 head coach Philippe Aw himself admitted to the gulf in standards between the Young Lions and Thailand.
After Singapore fell to the Thais in the Sea Games opening match, Aw said: "We strive to compete at that kind of level because they have competed at a high level. When they come back down to Southeast Asia, you can see the quality in their boys."
The Thai team competed at the U-23 Doha Cup last month, where they beat Qatar, drew against Saudi Arabia and narrowly lost to Kuwait. 
FOR THE LONG HAUL
This is where the ambitious Unleash the Roar (UTR) project is supposed to come in, to eventually bridge the gap. The national movement was announced by Minister for Culture, Community and Youth Edwin Tong in Parliament during the Committee of Supply debate in 2021.
The central long-term goal is to raise Singapore's football standard across all levels and create a structured development system that can fuel the dreams of young players, with the World Cup 2034 as an "aspirational target".
UTR has eight pillars, covering areas such as scholarships, national service, as well as infrastructure. Objectives have been set for each pillar in the hope that they produce outcomes to support the project.
Speaking to CNA in 2022, current Senior Parliamentary Secretary for Culture, Community and Youth Eric Chua described the project as one for the "long haul".
"We are not talking about harvesting or reaping results this year, next year, or even in the next couple of years," said Mr Chua.
"In terms of actual results that we see on the pitch, on score-lines and all that, I think we're talking about a few years at least, but I think chiefly we want to focus on a few things."
One of these things is creating a youth development pipeline, with more than 10 School Football Academies already been set up and partners such as the La Liga providing coaches.
"We want to make sure that we have a healthy pyramid coming up to the high performance level," he said then.
While the plans sound good in theory and will take time to bear fruit, fans' patience is running thin, and who can blame them? It won't be easy convincing a generation of fans who are slowly losing faith.
TAKING RESPONSIBILITY
While there were some bright spots in a dark tournament from the men's team goalkeeper Aizil Yazid, as well as the women's national team who put up a creditable fight throughout their campaign, it has been yet another sobering Games.
And most fans - the ones who follow the game closely at least - are aware that Singapore have over the last decade gone from kingpins to minnows.
A draw with Laos at the Games is no longer a shock, neither are losses to Thailand or Vietnam. At the senior level, it has been more than 10 years since the men's football team made the finals of the AFF Mitsubishi Electric Cup.
At the Games, Singapore have shuffled through three head coaches in as many tournaments.
Many will also remember Goal 2010 - Singapore's abandoned bid to get the national team to the 2010 World Cup. It's no wonder there is a cloud of pessimism surrounding football.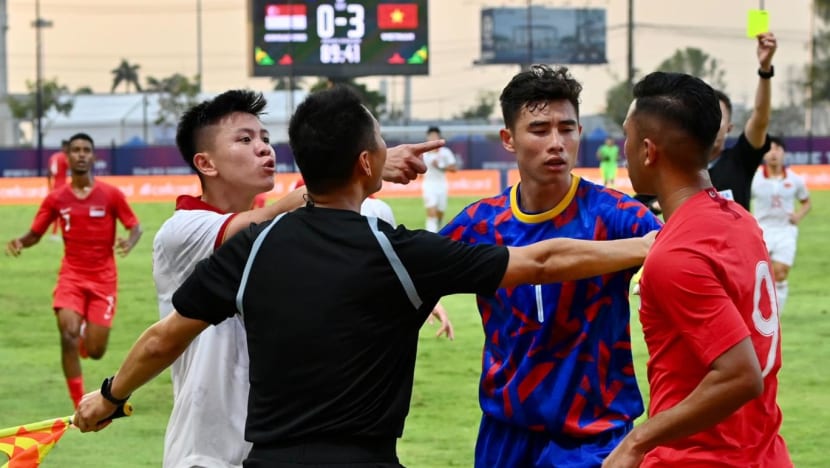 Perhaps against the backdrop of the grand UTR project, it is time for self-reflection, and more importantly, action. 
On social media, fans lament hearing tired platitudes of: "Down but not out", "we tried our best", and "we need time".
It is time for stakeholders to answer the hard questions: What went wrong? What are we doing to fix it? How do we ensure we don't repeat the same mistakes?
Fans know problems take time to fix. But what they would like to see is short-term action amid a long-term plan.
DISILLUSIONED FANS
Before I became a journalist, I was first a sports fan. 
I grew up on a staple diet of Singaporean sporting legends, watching in awe as Joscelin Yeo conquered the pool and Li Jiawei battled with the world's best table tennis players. But football was my first love.
My friends and I would flock with thousands of other fans to the old National Stadium, where we would cheer till our voices went hoarse. Players like Noh Alam Shah and Lionel Lewis and coach Radojko Avramovic were heroes to autograph-hunting youngsters like myself.
Suzuki Cup? World Cup Qualifiers? Friendlies? It didn't matter how big or small a match was, we'd be there.
Football fans from different generations will have different footballing heroes, but the shared love for the game is the same. Football used to bring joy.
This could go some way towards explaining the strong reaction on social media.
"Painful to watch Singapore football hit this level!" said one commenter on the Football Association of Singapore's (FAS) Facebook page after Singapore's draw with Laos.
"Something must be done FAS. Other countries weaker than us are improving fast but not us," said another.
Disillusionment, disenchantment and disappointment. As Singapore's footballing results continue to slide, we risk losing a generation of young football fans - UTR or otherwise. And if they don't support their national teams, nobody will.
Matthew Mohan is a senior journalist at CNA. He specialises in sports reporting and has covered the Olympics, World Cup and Southeast Asian Games.