Commentary: Sanctions against Russia come at an economic cost to those imposing them
Countries were swift to take action against Russia for invading Ukraine by imposing sanctions aimed at crippling its economy. But sanctions hurt the states imposing them too, says lawyer Margaret Allen.
SINGAPORE: At no time since 1939 have more countries joined forces to economically punish an aggressor trying to annex another country's territory. In parallel, the global economy has become much more interconnected in the last 80 years. So the effects of sanctions are complex and evolving.
Singapore has joined over 30 other countries in issuing sanctions against Russia in protest of its invasion of Ukraine. They prohibit certain financial and business transactions with the Russian government and with certain Russian entities and individuals. 
While the point of sanctions is to put pressure on Russia to stop the war, will they have the desired effect?  
About a month after sanctions were first implemented, amidst a striking breakdown of diplomatic relations, Russia made the veiled statement – which only served to escalate tensions – that it would only use nuclear weapons if its existence is threatened.  
It's not clear whether the sanctions can motivate Russia to come to an amicable resolution of the conflict. What is clear, however, is that sanctions often come at an economic cost to the countries imposing them. 
SANCTIONS CAN INCREASE PRICES FOR EVERYONE
Sanctions are borne out of political events, but they result in a host of economic effects.
Most observers would agree sanctions make the Russian people worse off. Most glaringly, the value of the Russian rouble has become very unstable, at times being worth as little as 50 per cent of its value against the US dollar since the beginning of the year. 
Russians have lost many trade partners and much of the supply of products coming into the country. Russian malls are riddled with empty storefronts abandoned by global retailers.  
At the same time, the prices of products that remain available to Russians have gone up. The double whammy of an unstable rouble and product scarcity has resulted in massive inflation for the people. Official figures show the prices of some household staples, such as sugar and onions, rising by as high as 14 per cent in recent weeks.  
Sanctions also have effects at home for the countries that impose them. In the wake of the deluge of sanctions issued by more and more countries, businesses were left scrambling to try to comply with new regulatory regimes. Some are divesting from major assets. Some are pulling out of Russia entirely. 
Food manufacturers, for example, are faced with record high prices in wheat futures and are now forced to source wheat at higher prices from countries other than Russia, such as the United States, Australia and Canada. This is expected to cause food prices to rise, including in Singapore. 
Energy costs increases are expected to continue as well. In March, local transport companies, like ComfortDelGro and Grab, announced temporary fees to help defray additional fuel costs.
People are reluctant to do business with Russian businesses for fear of potentially violating the sanctions laws, which could result in a government investigation, prosecution and punishment.  
The Singapore Government has been less vocal about sanction violations than the United States, which promptly trumpeted a special task force, called "KleptoCapture", which will target Russian oligarchs for enforcement actions. 
SUPPLY

CHAIN WOES AND INFLATION
Travel and supply chains have been hit hard: Many countries have stopped cargo from flowing in and out of Russia, while air travel has been stopped to Russia and re-routed around Russian airspace.  
And let us not forget that sanctions are occurring amid global supply chain challenges caused by COVID-19. Disruptions, whether caused by a pandemic or sanctions, make it more expensive to transport goods and raise prices on the goods themselves.
Inflation, price increases and scarcity of products are likely results for countries that ban trade in whole or in part with Russia.  
Look no further than the price of gasoline in the US, which recently broke the record set in 2008. This is less the result of any drop in Russian oil being sold to the US (which did not buy much Russian oil, anyway) and more of the effect of less supply in the globally interconnected commodity market for energy.   
What happens to the oil that Russia is not selling to the United States? Russia will likely sell it to someone else, for a higher price, since there's less oil available on the market due to the sanctions. 
LIMITED IMPACT ON SINGAPORE
Singapore does not do much trade with Russia, so the effects are expected to be more limited than other countries. Singaporean banks, like DBS, have said that they have little or no direct exposure to Russia.
And Russia accounts for only 0.1 per cent of Singapore's total exports and 0.8 per cent of total imports. That said, some of the top products historically exported from Singapore to Russia may be subject to sanctions, such as navigation equipment and integrated circuits, because they can be used in weapons systems and other high-tech products. 
There are other effects on Singapore aside from the net tally of imports and exports. By virtue of its geographic location and role as an international financial and shipping hub, Singapore is highly interconnected with the Asian and global economies. Singapore stands to feel the effects on global trade much more than any effects of direct trade with Russia.
We should not forget that there is also a transaction cost for Singapore companies to comply with sanctions. Many companies operating in Singapore have been forced to marshal massive internal efforts and hire outside advisors to try to understand if Singapore's sanctions might affect them, and if so, how.  
For instance, a financial services company in Singapore might find it difficult to determine whether any of its business dealings might help "facilitate fundraising" by any entity owned, controlled by or acting at the direction of the Russian government or Central Bank of the Russian Federation, especially since a lender might not have perfect visibility into the business dealings of all of its customers.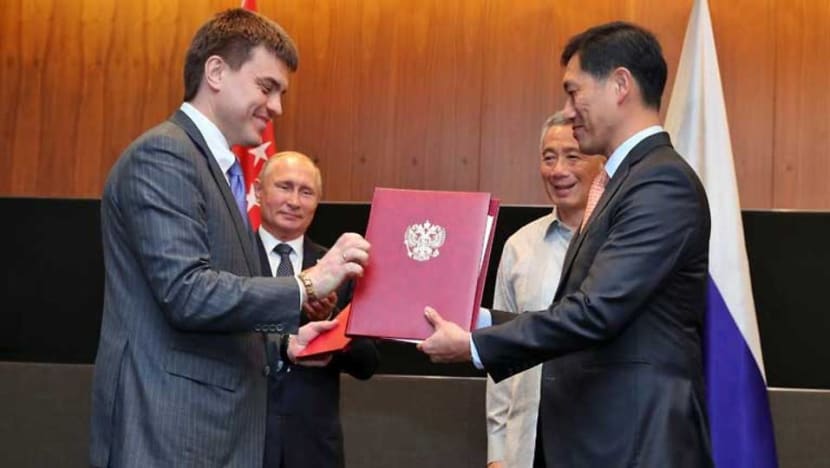 It can be costly for companies to comply with new regulatory regimes like sanctions, and it can be especially stressful for business when the global response to Russia's actions seems to evolve on a daily basis. 
HOW GEOPOLITICS WILL CHANGE DOING BUSINESS
Despite the potential economic effects outside of Russia, sanctions are a legal tool that allows countries and companies to punish a country's actions through non-violent economic means.
Words can only go so far. Violence cannot be taken back. Sanctions are a somewhat middle option – they can be ratcheted back or withdrawn quickly and provide hope that normalcy can resume. 
When viewed through this lens, any temporary economic squeeze suffered by Singapore and other countries that take the stance against Russia and impose sanctions is, at the very least, less painful than any military interjection. 
Whichever way the war in Ukraine ends, the way business is done in an open, multi-lateral system will be affected. And Singapore, which relies on doing trade with everyone in a rules-based environment, will be affected by these global forces, a reality that the country will need to navigate. 
Margaret Allen is a white-collar and government investigations Partner at Sidley Austin LLP in Singapore. The views expressed in this article are exclusively those of the author and do not necessarily reflect those of Sidley Austin LLP and its partners.