Commentary: Could the next hotspot for offshore rocket launches be off the Singapore and Malaysia coast?
The space launch industry is now a billion-dollar sector. With an advantageous location along the equator and strong transportation networks, Singapore should seize the opportunity of an offshore rocket launch site, says NUS' Stefan Huebner.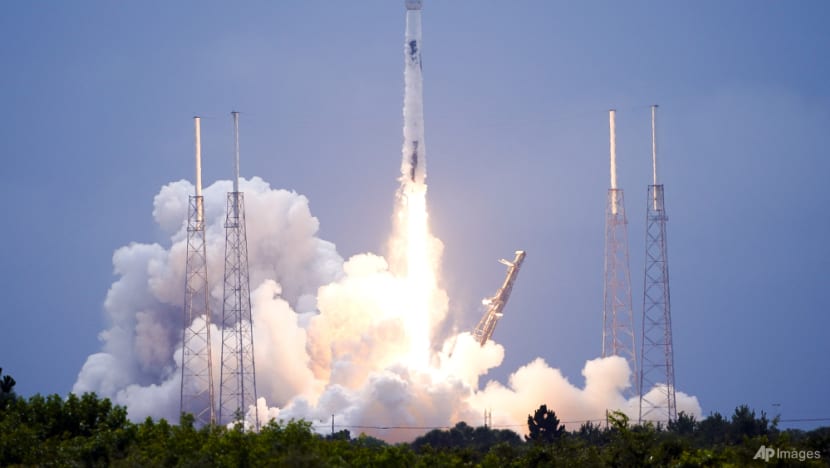 SINGAPORE: The space industry is booming. The number of rocket launches is growing and their costs are shrinking as part of the rise of new, private space companies like Elon Musk's SpaceX.
Companies interested in economically viable launch sites tend to look at sites closer to the equator where costs are lower for most types of launches. Lower costs are one of the reasons why the NASA-led James Webb Space Telescope – which recently captured historic first images of the edge of the universe released on Jul 12 - was launched from French Guiana.
In contrast, other countries with space ambitions, like South Korea which achieved the first successful launch of a Korean-made rocket in June, and China which accomplished its third offshore launch in April, face a geographical limitation. They have no access to launch sites near the equator.
Countries located at the equator have an inherent advantage in this burgeoning space industry.
But a sea-based launch and landing site located to the northeast of Singapore, at least 35km off Johor's eastern coast in the South China Sea, could be a unique position where the benefits outweigh the risks.
CONSIDERABLE ECONOMIC POTENTIAL FOR SPACE PORTS
There is considerable economic potential in developing an offshore space port near Singapore, for private space companies to launch satellites and space station components into orbit.
Here are the hard financial facts. United States space shuttle launches between 1981 and 2011 have cost, on average, US$65,400 (more than S$90,000) per kilogram of freight (calculated in FY2021 dollars) for transport into low Earth orbit, or below an altitude of 2,000km.
SpaceX cut costs of its Falcon 9 rocket (used since 2010) to US$2,600 per kilogram and for its Falcon Heavy (used since 2018) to US$1,500 per kilogram. In 2020, the launch industry had grown to a US$5.3 billion business. Some market research reports expect the satellite launch business alone to surpass US$8.5 billion in 2030.
Russia's invasion of Ukraine has made Western governments and companies unwilling to use Russian space rockets and launch sites. Currently ongoing high-speed satellite Internet projects like OneWeb, which ended its business relationship with its Russian launch partner, or SpaceX's Starlink with already about 500,000 customers, need thousands of satellites for their constellations.
Satellites often have to be replaced after several years, meaning that tens of thousands of them will be launched during the next decade.
GEOGRAPHICAL ADVANTAGE AT THE EQUATOR
What explains launch site economics? Earth's rotation is fastest at its equator and launching in an easterly direction can boost a launch and help it escape gravity.
Reaching an equatorial orbit from launch sites in higher latitudes, like Cape Canaveral in Florida, requires an inclination change that strongly increases fuel demand. It is known since decades that depending on final altitude, an equatorial launch site would require less fuel and allow several 10 per cent or more of additional freight.
An equatorial location between 5 degrees north and 5 degrees south is thus attractive and the most economic one for most types of launches.
Many satellites need such an equatorial orbit – they rotate around Earth directly above or near the equator. Space stations on an equatorial orbit could be accessed from an equatorial launch site about every 90 minutes. In contrast, the International Space Station (ISS) can be reached about once a day.
The retirement of the ISS before the end of this decade means that several consortia are building private space stations on which government agencies, universities, and companies can rent space. These consortia are led by major players like Lockheed Martin and Amazon founder Jeff Bezos' Blue Origin.
The same economics of launch site locations and space station accessibility determine more speculative projects, like space station hotels, zero-gravity factories, or refueling stations.
CONSIDER AN OFFSHORE LAUNCH SITE NEAR SINGAPORE
But it is not enough to be along the equator. Many locations, including Indonesia's planned site on the eastern remote island of Biak, may be less viable as they are far away from transportation networks.
A more attractive option would be this: An offshore launch site to the northeast of Singapore that operates in Indonesian and Malaysian waters off East Johor.
It is well-connected to major shipping lanes, air routes and port facilities. Singapore's marine engineering skills and role as a higher education hub are additional bonuses. The economics of an easily accessible equatorial launch site and the promise of launch fees should convince the three countries to work together to create internationally acceptable safety, security and environmental regulations.
Offshore rocket launches are not new. The technological breakthrough in 2015 to bring rockets intact back to Earth and reuse them gave a boost to offshore launch platforms that double up as mobile landing sites. SpaceX already operates several "spaceport drone ships" and is refitting two deep-water oil platforms for its very large Starship rocket that will drastically increase freight volumes.
MORE BENEFITS THAN RISKS?
Certainly there will be concerns about the risk offshore launch sites present but there are ways to mitigate these.
Concerns about noise pollution could be addressed by making the site at least 35km away from Johor's eastern coastline. Noise can have an impact on marine life, but mobile launch vessels can be deployed to sites sufficiently distant from islands and the marine ecosystems of major coral reefs.
Questions also arise given the waters between East Johor and Borneo host a major shipping lane. However, they stretch about 800km, with no narrow chokepoint like the Strait of Malacca.
Without question, a safety zone needs to be established. Navigation systems like GPS (Global Positioning System) and AIS (Automatic Identification System) can make sure that the safety zone will not interfere with shipping. The US experience with launches from Florida, next to a major shipping lane, has not thrown up warning signals.
Another concern may be the risk of falling debris in case of rare post-launch accidents. Launch sites along the eastern coastline, to the east of the shipping lane, also means debris would fall into the sea and not onto cities.
Launching rockets not directly to the east but into a northeast east direction also means that they do not pass over Borneo before having reached a higher altitude that burns more debris before they reach Earth's surface.
But the thousands of launches so far suggest post-launch accidents are a very rare possibility. With time, we may perhaps see the risk of rocket launch mishap in the same way we consider the huge number of airplanes flying overhead to city airports.
The benefits of a space port seem to outweigh the risks. Potential users, including private space companies like SpaceX, Blue Origin, Airbus, Northrop Grumman, Boeing and Lockheed Martin, and Asian national space agencies, would need an attractive port.
Besides the economic potential of the space industry, there are opportunities to develop a launch support industry, such as refurbishing used rockets. This home port may be in Singapore, experienced with maintaining offshore platforms.
If Singapore, Malaysia and Indonesia manage to create the legal and infrastructural preconditions, a well-connected equatorial launch site will be an opportunity that private space companies will not easily overlook.
Dr Stefan Huebner is Senior Research Fellow at the Asia Research Institute, National University of Singapore. His current research concerns the history and present situation of ocean industrialisation and urbanisation projects.