Snap Insight: What's behind the controversy around US decision to send cluster bombs to Ukraine
The cluster munitions may not speed up Ukraine's ongoing efforts to take back its land, but could potentially make a difference in the ongoing battle to reduce Russian defences, says defence analyst Mike Yeo.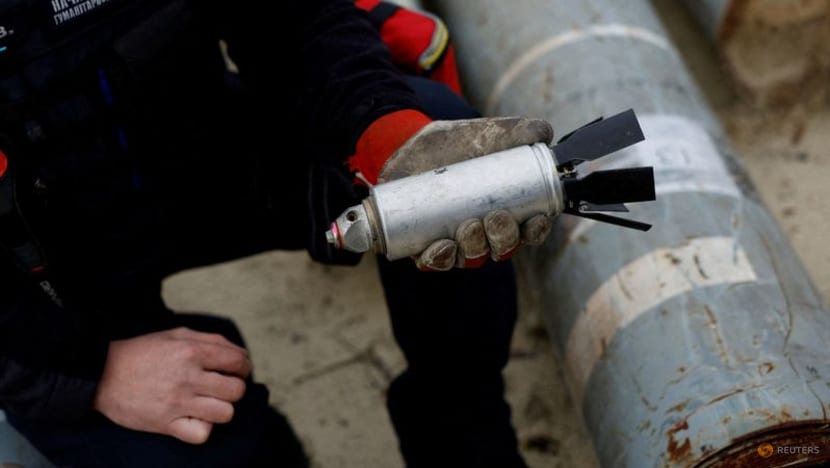 MELBOURNE: The Biden Administration announced on Friday (Jul 7) it has agreed to send controversial cluster munition warheads to Ukraine, despite many countries around the world, including its North Atlantic Treaty Organization (NATO) allies, having agreed to join a treaty banning such weapons.
The supply of the cluster bombs, part of an US$800 million security package, comes after longstanding Ukrainian pleas.
The move is seen as hypocritical after the US previously condemned their apparent use by Russia. In February last year, former White House press secretary Jen Psaki said it would be a potential "war crime" if Russia were indeed using cluster munitions. US Ambassador to the United Nations, Linda Thomas-Greenfield, has also previously described cluster munitions as "exceptionally lethal weaponry, which has no place on the battlefield".
On Friday, US national security adviser Jake Sullivan said the decision to send Kyiv the weapons was "difficult".
"We recognise that cluster munitions create a risk of civilian harm from unexploded ordnance. This is why we've deferred - deferred the decision for as long as we could," he said.
RISK TO LIFE LONG AFTER WAR ENDS
The dual-purpose improved conventional munitions (DPICM) that US will be sending Kyiv are 155mm calibre artillery shells designed to burst at a preset altitude and distance from the desired target, and scatter 72 smaller bomblets over a wide area.
These submunitions will then explode on contact with the surface or be set to explode at a predetermined altitude above the ground, for use against lightly armoured vehicles or troops.
They can also be set to not explode but remain live, in effect becoming mines that can be used to deny an adversary the freedom to manoeuvre over the affected area. 
Ukraine intends to use the DPICMs in the former role in its ongoing counteroffensive, using them to clear defensive lines in southern and eastern Ukraine where it is trying to wrest control from the occupying Russians, who have constructed a multilayered defensive network that includes extensive manned trenches, obstacles, fortifications and minefields.
The issue with the use of these weapons is that not all submunitions will work as intended, with some failing to explode and effectively becoming landmines, posing a risk to life and limb long after wars end and requiring expensive, dangerous demining work.
This is the key reason why the supply and use of such weapons is controversial, despite their very real military utility in the kind of war Ukraine is currently waging.
The US has also said it will send submunitions with a low dud rate to Ukraine to minimise the rate of unexploded munitions left behind on the battlefield, which is already widely littered with dud explosives and deliberately sown mines by both sides.
A study conducted by the US Army in 2000 concluded that the M42 and M46 submunitions used by the DPICM had a failure rate of 14 per cent, although 2004 testing of a new self-destruct fuze reduced this to 2 per cent.
The Convention on Cluster Munitions, a 2008 international treaty that prohibits all use, transfer, production and stockpiling that has been signed or ratified by more than 120 countries, has been cited in arguments against the transfer to Ukraine.
These include key NATO allies France, Germany and the United Kingdom. 
UKRAINE NEEDS ABILITY TO DEFEND ITSELF
However, the United States, Ukraine or Russia are not signatories to the treaty, and the invading Russians have been particularly egregious in their use against not just military, but also civilian targets in Ukraine and other wars, with multiple instances of their use in Ukraine in its 2014 and 2022 invasions.
It also makes no sense to hinder Ukraine's ability to defend itself by withholding weapons that it needs. Critics are perhaps justified when they say delays in handing over tanks, fighter jets and air defence missiles have prolonged the war and led to more Ukrainian deaths.
Fears of the transfer of DPICMs to Ukraine being escalatory are also perhaps overblown, with Russian forces having also mostly spent their offensive potential over 2022 and early 2023 in reckless frontal assaults against Ukrainian defences that have resulted in crippling losses in men and equipment.
This has left their forces in Ukraine manned mainly by draftees called up in last year's wave of mobilisation and equipped in many cases with less advanced tanks and other vehicles.
And while these badly trained men and second-rate equipment have limited ability in seizing more Ukrainian territory, they are still useful in hindering Ukrainian progress when employed alongside their extensive defensive network.   
Russia's stockpile of long-range conventional cruise and ballistic missiles also appears to be depleted by its winter strikes against Ukrainian cities, with launches of these currently far below that seen at the height of that campaign.  
While the cluster munitions are not weapons that will magically speed up Ukraine's ongoing efforts to take back its land, they will potentially make a difference in the ongoing battle to reduce Russian defences.   
Mike Yeo is the Asia correspondent for US-based defence publication Defense News.