Snap Insight: For Taiwan President Tsai Ing-wen, provoking China by meeting US Speaker McCarthy is worth the risk
With declining diplomatic support for Taiwan and a weakened party, Taiwan president Tsai Ing-wen's meeting with US House Speaker Kevin McCarthy was a high-stakes one, says Yale-NUS' Trisha Craig.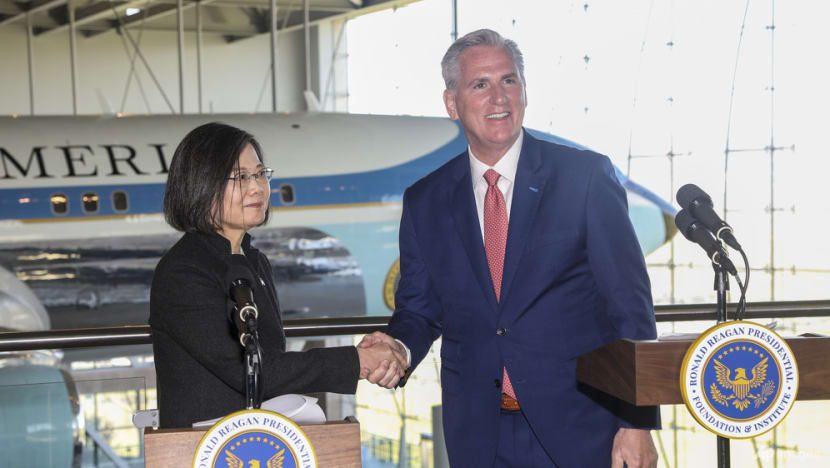 Like the visit of McCarthy's predecessor, Nancy Pelosi, to Taipei last August, the meeting has drawn the ire of China, which has vowed to retaliate.
DIFFERENT STANCES ON CHINA
Pelosi is typically critical of rival McCarthy, a Republican who took over the top Congressional job when his party regained control of the House of Representatives in November 2022, but praised his leadership and the bipartisan gathering he hosted for the Taiwanese leader. Support for Taiwan and a harsh stance towards China in general is one of the few areas of agreement between US Republicans and Democrats.
McCarthy had originally planned another trip to Taiwan, even promising to go as part of his re-election campaign, in order to be seen as tough on China, like his rival Pelosi.
However, the meeting was held on US soil at the request of Tsai to potentially dampen the reaction of China, which responded aggressively to Pelosi's visit by sending warships close to the island, breaching its air defences and conducted live fire drills.
The visit also comes at a time when Tsai's leadership and her Democratic Progressive Party (DPP) have suffered setbacks, with massive defeats in local elections last November.
Coinciding with Tsai's trip to the US, former Taiwanese president and member of opposition party Kuomintang (KMT), Ma Ying-jeou, made an historic visit to China, becoming the first Taiwanese president to visit since 1949. His placating tone towards China and comment that "people on both sides of the Taiwan Strait are Chinese people" contrast Tsai's America tour to rally Western allies.
TSAI FIGHTING BATTLES ON DOMESTIC AND INTERNATIONAL FRONTS
Tsai is fighting battles on numerous fronts domestically and internationally. Her remarks in California stressed that democracy in Taiwan is under threat and that "the urgency of keeping the beacon of freedom shining cannot be understated". This is a message that plays to multiple audiences.
Internationally, it attempts to bind democratic allies. Keeping US-Taiwanese ties strong and maintaining American focus on Taiwan is one goal. The broader context of her trip to the region is declining diplomatic support for Taiwan around the world.
Central America as a bloc has historically been one of the strongest allies of Taiwan but China has worked hard to disrupt that with investments and foreign aid. Just a week before Tsai's visit to Guatemala and Belize, Honduras cut its ties and recognised only one China.
Domestically, the DPP has suffered as the Taiwanese economy has faltered and the party was beset by a host of corruption scandals. It is already in a weakened position heading into next year's elections.
Any hint that the US is wavering in its support for Taiwan could damage the party's chances further, making the stakes for Tsai's visit high and potentially worth the risk of displeasing China.
Trisha Craig is Vice President (Engagement) and Senior Lecturer of Social Sciences (Global Affairs) at Yale-NUS College. The views and opinions expressed herein are those of the author(s) and do not represent the views and opinions of Yale-NUS College or any of its subsidiaries or affiliates.
Listen: Implications of the meeting between Kevin McCarthy and Tsai Ing-wen