Commentary: Truckers' strike shows South Korea government needs to focus on people more than corporations
A strike by unionised truckers for wage security amid rising fuel prices might have threatened its export-driven economy, but President Yoon Suk-yeol's vision of cutting corporate taxes amid record inflation is causing unhappiness, says journalist Steven Borowiec.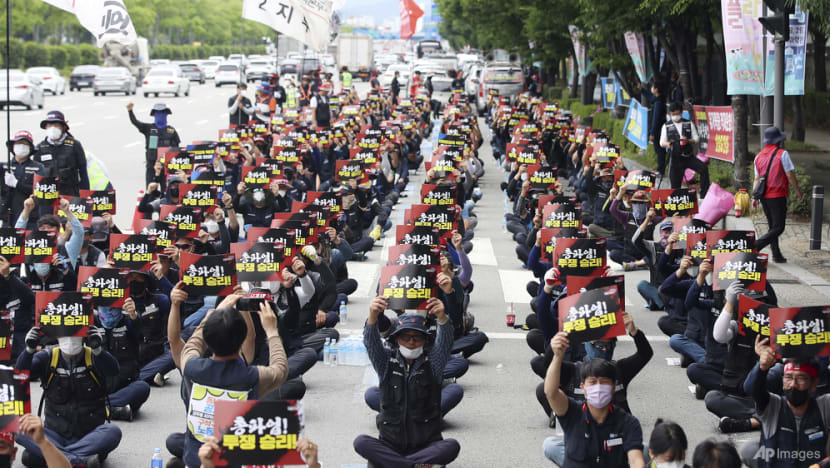 SEOUL: South Korean media warned ominously of the possibility of "booze riots" earlier this month. As a strike by unionised freight truckers disrupted the movement of goods around the country, restaurant and bar owners fretted over the possibility of having to turn away thirsty customers if stocks of beer and liquor ran dry.
The strike reverberated throughout the economy, from small operations like restaurants "waiting helplessly" for blocked products to companies that form the spine of South Korea's export-led economy, including steelmaker POSCO which had to halt or slow production at factories after they ran out of storage space for finished products. 
The drivers were seizing a pivotal moment to seek changes to a system they argued was unfair to them. Soaring fuel prices had eaten into their earnings and the union representing drivers pledged to stay off the job until the South Korean government took steps to guarantee them a living wage.
In recent years, South Korea's economy has kept up its growth, driven by brisk exports of cars, semiconductors and other high-tech products. Average daily shipments of petrochemical products fell by 90 per cent during the strike.
HUMAN LABOUR AT THE HEART OF SOUTH KOREA'S ECONOMY
The strike was meant to demonstrate how fundamental truckers were to the functioning of the economy that even corporate heavyweights were crippled without trucks on the road. Even in a country as technologically advanced as South Korea, human labour is still essential to getting things done. 
It was therefore unsurprising that the truckers dominated headlines for days, provoking mixed reactions from the public.
Those who sympathised with the drivers' push for better conditions saw the strike as a last resort to protect their livelihoods. Others bristled at the resulting inconvenience and considered the truckers selfish for threatening to tank the economy at an already tough time.
In a late-night deal, the truckers and the government reached an agreement to end the strike by extending a system that guaranteed minimum freight rates. The strike caused an estimated US$1.2 billion in losses in less than one week, according to the Ministry of Trade, Industry and Energy.
TRICKLE-DOWN ECONOMICS AMID RECORD INFLATION?
Shortly thereafter, new President Yoon Suk-yeol put forth his vision for his economic policy, a key pillar of which is a cut to the corporate tax rate. Lower corporate taxes and less regulation will lead to more hiring and higher growth, Yoon said. 
This belief in trickle-down economics has not garnered much support on the ground. Studies indicate that previous tax cuts in South Korea had the effect of worsening inequality, by allowing wealth to accumulate at the top of the economy without much creation of quality jobs. 
A growing consensus in South Korea thinks that the government ought to play a more active role in assisting the members of society who aren't able to prosper in the modern, hyper-competitive economy. 
Kyunghee University Professor Kim Man-kwon argued in a recent column that when assessing the truckers' action, it is important to consider that throughout the economic slowdown exacerbated by the pandemic, many large companies saw their fortunes rise. 
"Ironically, it is the essential workers who were burdened the most," Kim wrote, adding that such workers are vulnerable due to the lack of a robust social safety net.
South Korea spends a paltry 12 per cent of gross domestic product on social welfare, far below the average for wealthy countries. And things are getting tighter for households, as consumer inflation hit a 13-year high in May and is projected to surge further.
On the ground, many citizens worry that Yoon's administration won't be able to improve things. A poll conducted in mid-June found 53 per cent of respondents saying they expect the economy to worsen and only 18 per cent saying they expect things to get better.
SOUTH KOREAN GOVERNMENT SHOULD FOCUS ON PEOPLE
Less than two months into his tenure, these negative sentiments are already bleeding into the public's perception of Yoon as the president. A Gallup Korea poll showed that Yoon's approval rating fell below the 50 per cent mark for the first time during the truckers' strike. 
Gallup found that the rising negativity was attributable to Yoon's approach to his job, saying Yoon should focus less on private activities and more on "the public's livelihoods and security".
There are signs that Yoon's government is listening. In the wake of the trucker strike, the government is taking steps to ease households' economic burden, announcing plans to extend a fuel subsidy to the maximum permitted under the law, and waive tariffs on imports of 13 staple food items, including cooking oil, flour and pork. 
Before things get any worse, Yoon can learn from the truckers' strike: What solved that impasse was the government recognising the importance of the drivers' work and agreeing to provide them with material help.
It would be wise to also boost government initiatives focused on helping people, like retraining dismissed workers while expanding unemployment benefits and pensions for the elderly. 
South Korea will surely be faced with more similar challenges, like many countries facing soaring inflation and labour challenges against the backdrop of post-pandemic economic recovery and the Ukraine war. 
If Yoon wants to be successful, he will need to achieve real improvement to regular peoples' lives, not corporations.
Steven Borowiec is a journalist based in Seoul.