Commentary: Why Southeast Asia should care about the 2024 elections in Taiwan
ASEAN states will have to determine their response to how the unfolding effects of Taiwan's election will impact US-China relations and regional security, say global affairs experts Dylan MH Loh and Jeremy Huai-Che Chiang.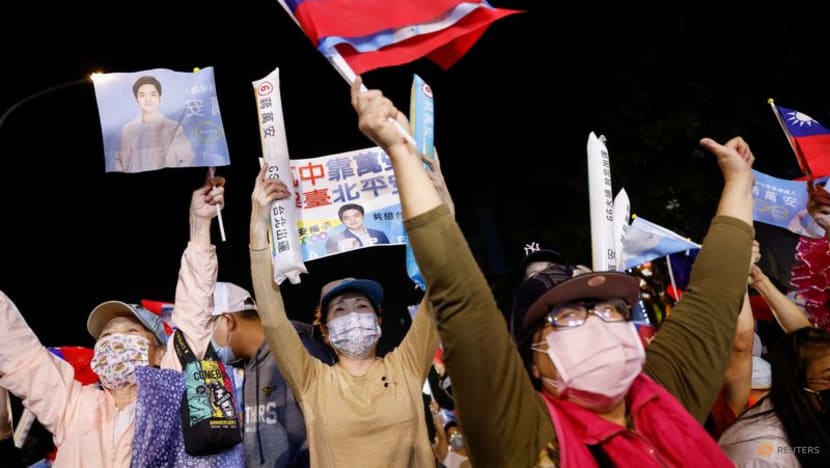 SINGAPORE: Southeast Asia has several upcoming elections to look forward to. Indonesia, for instance, will hold its general election on Feb 14, 2024, Cambodia will hold its general election in July this year, while Singapore will hold a presidential election by Sep 13. These elections are significant and will certainly be closely watched. 
Further afield, Taiwan is scheduled to hold its presidential election on Jan 13, 2024. How this election plays out will have ramifications for US-China relations and prospects for peace and stability across the straits. 
The three main contenders - William Lai (Lai Ching-te) of the Democratic Progressive Party (DPP), Hou Yu-ih of the Kuomintang (KMT) and Ko Wen-je of the Taiwan's People Party (TPP) - have already formally announced their candidacy and started campaigning.  
The Legislative Yuan, Taiwan's Parliament, is also up for re-election. According to recent presidential polls, Lai remains slightly ahead of Hou, while Ko trails in third place. 
However, the outlook for DPP's Legislative Yuan races appears less optimistic, as many predictions suggest that it would be difficult for the party to maintain its legislative majority, a position it has held since 2016.
If Lai secures the presidency with a minority in the Legislative Yuan, it could present challenges for the party in implementing significant reforms and in increasing military spending amid escalating cross-strait tensions, similar to the difficulties encountered by the DPP during the Chen Shui-bian administration from 2000 to 2008.
During that period, the DPP administration had obtained US approval to acquire eight diesel electric submarines. However, the budget for this acquisition was unable to pass due to the KMT-led pan-blue majority in parliament. Therefore, the composition of the Legislative Yuan bears watching as well.  
2024 ELECTION HAS BEARING ON CROSS-STRAIT TIES 
Due to Taiwan's strategic location within the so-called "first island chain" and its status as a potential flashpoint between the US and China, the outcome of the 2024 election in Taiwan will have implications for both cross-strait ties and US-China rivalry. 
Lai, for example, has emphasised his commitment to upholding President Tsai Ing-wen's "status-quo approach" to cross-strait relations, as well as her efforts in strengthening US-Taiwan relations and fostering ties with democratic nations worldwide.
He has also expressed his intention to enhance Taiwan's self-defence capabilities, stressing that true peace can only be achieved by being able to defend oneself with strength. 
Despite Lai's repeated assertions on preserving the status quo, it is likely that Beijing will maintain its assertive stance towards Taiwan under a Lai presidency. 
Hou, on the other hand, is likely to receive a more positive response from Beijing as he represents the traditionally China-friendly KMT. However, his foreign policy and national security platform is still being fleshed out.
While he has publicly rejected both the "One Country, Two Systems" formula and Taiwan independence, he has yet to comment on the 1992 consensus that former president Ma Ying-jeou (2000 to 2008) committed to, which states that both sides of the Taiwan Strait belong to one China.
The trajectory of cross-strait relations under a Hou presidency largely hinges on his decision to accept or reject the 1992 consensus, especially the extent to which he is willing to accommodate Beijing's narrow interpretation of the formulation.
The United States, for its part, may have questions about Hou's willingness to strengthen defence capabilities, given that some KMT personalities have, increasingly, narrated scepticism and passivity towards Washington. 
Ko's chances of winning the presidency are less likely, but his party is expected to solidify its position as the third-largest party in the Legislative Yuan. They would play a crucial role as a minority if both the DPP and KMT fail to secure a parliamentary majority. 
Throughout his tenure as Taipei City mayor (2014 to 2022), Ko's policy positions have undergone an observable shift. Initially, he was largely aligned with the DPP, which played an important role in supporting his first mayoral victory in 2014. However, over time, Ko has adopted policy positions that appeal more to KMT supporters. 
This shift is also evident in his current views on cross-strait relations and Taipei's external policy. He has, in fact, labelled the DPP as "pro-war" and accused them of manipulating the unification-independence issue in Taiwan. Simultaneously, he criticises the KMT for being too accommodating towards China, aiming to attract pan-blue voters dissatisfied with the KMT's increasingly unpopular cross-strait approach. 
CONCERNS FOR SOUTHEAST ASIA
While all 10 Association of Southeast Asian Nations (ASEAN) member states adhere to and respect their One China policies, any Taiwan contingency would quickly become a humanitarian one: How to extract their respective countrymen safely and swiftly. This is further complicated by differing humanitarian and disaster relief capabilities across Southeast Asian states.
According to April 2023 statistics from Taiwan's Ministry of Labor, there are about 256,000 Indonesian, 257,000 Vietnamese and 154,000 Filipino migrant workers in Taiwan. This represents a significant number of Southeast Asians that would be at the top of minds for these countries in any contingency scenarios.  
Beyond the sizeable presence of Southeast Asian nationals in Taiwan, countries in the region will have to carefully navigate between possible requests from the US for help and pressure from China to stay neutral. 
While Southeast Asian countries have no say over Taiwan's electoral outcome come January 2024, they will have to determine their response to its unfolding effects on US-China relations and regional security. At the same time, ASEAN states must ensure that the region remains as open and inclusive as possible, and stays engaged in matters that might have once been deemed as low priority. 
Dylan MH Loh is Assistant Professor at the public policy and global affairs programme at Nanyang Technological University. Jeremy Huai-Che Chiang is Associate Research Fellow at the Foundation for Future Generations, Taiwan.