Commentary: Telegram's lenience on disinformation has made it a valuable tool in the Ukraine war
Telegram's advocacy for privacy and free speech is being challenged in the Ukraine war, as both sides use it extensively to propagate their narratives, says the Financial Times' John Thornhill.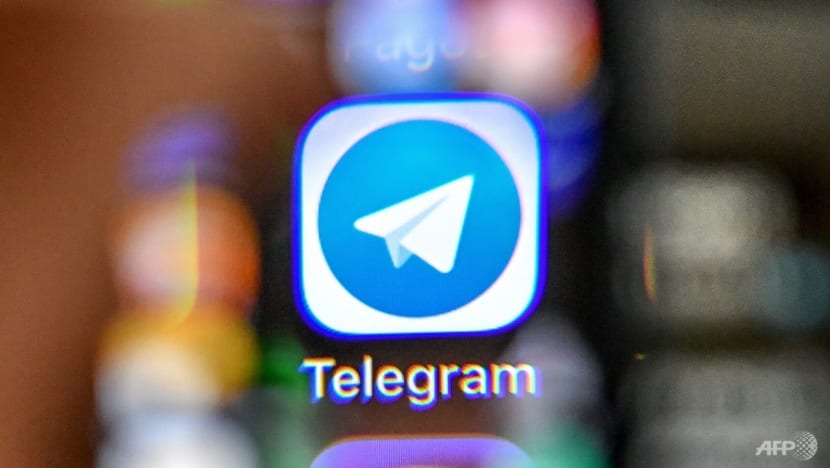 LONDON: Not much unites Ukrainians and Russians in wartime but one thing that they both share is an enthusiasm for the Telegram messaging app. Now used by more than 500 million monthly active users, Telegram has become the messaging service of choice for political dissidents and libertarians around the world. 
But in some countries, such as Russia, it has become a favourite platform for state propagandists and security services, too.
With such a wide spectrum of users and uses, Telegram reflects the adage that technology is neither good nor bad, nor is it neutral. The company's experience explodes the industry myth that social media firms can just be passive platforms. 
Through its policies and actions, Telegram is actively shaping, and limiting, public debate in important ways in many countries. That should make its users stop and think about where the company is heading.
Since its launch in 2013, Telegram has trumpeted its commitment to privacy, security and free speech. Pavel Durov, the mercurial Russian co-founder, had previously been forced, by the Kremlin, out of another company that he had created, VKontakte, known as Russia's Facebook. 
When I interviewed him back in 2015, Durov made a passionate libertarian argument that Telegram would always resist state pressure. Since then, Telegram has been heavily used by anti-government protesters in many places, including Iran, Hong Kong and Belarus.
USING TELEGRAM FOR GOOD
Telegram users rave about its smooth design, ease of use and flexible functionality that they claim beats rival products, such as WhatsApp. 
Not only does Telegram enable messaging between individual users, but it also makes it easy to host group chats and run information channels for millions of followers. That facility has been skilfully used by Volodymyr Zelenskyy, Ukraine's president, to broadcast defiant video messages during the war.
Ukrainian Telegram users also depend on the service to connect with family, friends and colleagues who have been tragically scattered across the country and abroad. 
Ukrainian tech entrepreneurs tell me the service has been essential in helping to evacuate their employees, coordinate assistance and even arrange counselling.
But Telegram's operations in Russia are more mysterious and contentious. In the past, the app has been banned in Russia, albeit ineffectively, amid accusations that it was hosting "extremist propaganda". 
But it was unblocked in 2020 and remains accessible today in spite of the Kremlin's recent moves to ban Facebook, Instagram and Twitter. That prompts the question: Why?
THE DUALITY OF TELEGRAM'S SERVICES
The obvious answer is that the Kremlin benefits from its services, too. Telegram has been careful not to take sides during the Ukraine-Russia war in the way that it clearly did in supporting the protest movement in Belarus. That may partly reflect Durov's divided personal loyalties. 
"From my mother's side, I am from Ukraine and from my father's side, I am from Russia. Personally, I think they are probably the closest relatives in the family of nations," Durov told me.
But Telegram may be susceptible to pressure. It has previously blocked the Russian opposition's smart voting app. It also promised to step up content moderation in Brazil after a supreme court judge temporarily banned the service for posting fake news put out by allies of President Jair Bolsonaro.
Some internet scholars, such as Tetyana Lokot of Dublin City University, who researches digital protests in Russia and Ukraine, argue that the Kremlin is exploiting Telegram for surveillance and information purposes. 
"State and pro-state actors see Telegram as an opportunity to seed disinformation narratives and pollute the space where people spend so much of their time. It is a convenient tool for them," Lokot says.
That should concern Telegram's users, given industry warnings that the company is lax on security. Moxie Marlinspike, the founder of the rival Signal messaging app, criticises Telegram for not offering end-to-end encryption as a default option and for insecure data storage practices. 
"These critiques are legitimate and Telegram is not helping resolve this scepticism," says Mariëlle Wijermars of Maastricht University, co-author of a paper on the app. 
She argues that the company should adopt the Ranking Digital Rights Corporate Accountability Index's recommendations and implement higher standards of transparency and governance.
As a Dubai-based private company, Telegram is under less public scrutiny than other messaging services and has fewer obligations to explain its actions. But in times of war, it has an even higher duty to protect its users. Telegram should ensure that its policies are as clear and functional as its products.
Source: Financial Times/geh