Commentary: Boring Formula 1 music line-up? My fellow 90s kids disagree
Some netizens may be underwhelmed by the Formula 1 Singapore Grand Prix concert line-up, but don't mock 90s boy bands like Westlife who still have plenty of star power, says Karen Tee.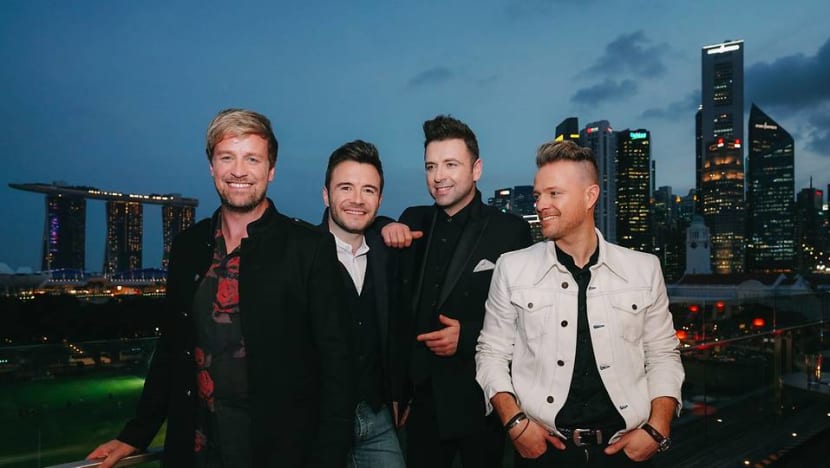 SINGAPORE: Like many, I had been eagerly awaiting the concert lineup for this year's Formula 1 Singapore Grand Prix ever since it was announced that the race would return. Two years of pandemic living and restrictions on live performances have starved us of the thrill and energy of large concerts.
So, when the first three acts – American rock band Green Day, Irish boyband Westlife and DJ Marshmello – were recently revealed, I thought the organisers had curated a diverse group of crowd-pleasers that catered to a range of musical preferences.
But it seems online commenters did not feel the same way. Many were underwhelmed, calling them boring and "has-beens". Most of the scorn was heaped on Westlife for being an over-the-hill boyband, perhaps implying that their fans in their 30s and 40s are too uncool for a marquee event like F1.
I won't lie. I did not rush to my computer to snap up tickets to watch Westlife perform. But that's mostly because they are not a boyband I used to adore. 
Backstreet Boys, NSYNC or Take That – it would have been an entirely different story if it had been one of my beloved boybands. I would have been first in the digital queue for the most premium tickets to get me as close as possible to my teenybopper obsessions.
BOYBAND FANS ARE ALL GROWN UP
Growing up in the 90s and noughties, boybands were everywhere. I remember saving up my allowance to buy their cassette tapes and CDs, as well as British pop music rags such as Smash Hits. 
The now-defunct Tower Records and Sembawang Music Centre were our regular haunts to listen to albums. We waited patiently by the radio to record our favourite songs onto cassette mixtapes.
Back then, I desperately wished the popular boybands would hold more concerts in Singapore. But such acts were few and far between as the little red dot had, at that time, not yet established itself as a regional entertainment hub. Even if they did perform here, I couldn't have afforded to pay for their shows as a student.
Now that I am a self-supporting, financially stable adult, like many of my peers in this mid-career stage of our lives, we have disposable incomes for occasional indulgences like pricey concert tickets.
And despite the trolls' sneering comments, we fans are immune to side-eye judgements about our music preferences. We can laugh at ourselves, these aunties screaming over the uncles on stage, and go right back singing along to the catchy tunes we unabashedly remember the words to.
So no surprises perhaps, that the additional multi-day walkabout tickets released after the entertainment line-up announcement are already sold out, at least in part due to the purchasing power of erstwhile boyband fans.
RELIVING OUR YOUTH WITH BACKSTREET BOYS, NSYNC
After all, oldies can be goldies. And we wouldn't be the first generation willing to pay to relive the exuberance of our youth. 
Our parents jumped at the chance to see their idols like Bee Gees, Air Supply or even Fei Yu Qing perform. My younger self used to be baffled at why my aunts and uncles would go gaga when these guys came to town. 
According to Daniel Levitin, a neuroscientist and the author of This Is Your Brain On Music, we start developing our music tastes as teenagers and these musical tastes become a badge of identity. The music we love in our formative years means so much more than its instrumentation or lyrics.
Surely this means that young people today can look forward to living a similar phenomenon with the current chart-toppers like Justin Bieber and Harry Styles in time to come? 
Plus, we should give some of these acts credits simply for their staying power. Manufactured boybands were constantly churned out back then, but not all of them continue to reinvent themselves or go on world tours 20 years later. 
For instance, Backstreet Boys held a sold-out concert at the Singapore Indoor Stadium in 2019 as part of their DNA world tour. In the United States, they did a series of cruises where fans could interact and take photographs with them. 
More recently, Take That revealed that they had shot a cameo scene for a movie at the star-studded Cannes Film Festival and are planning to work on a new album next year. As I wait with bated breath for the inevitable promotional world tour, I am going to play their old hits on Spotify to relearn the lyrics so I can sing along with abandon at the concert.
REMINISCING SIMPLER, HAPPIER TIMES
Nostalgia sells. And the particular period of nostalgia on trend now is that of my generation. From 90s fashion trends, such as butterfly hair clips, crop tops and wide-legged jeans, to the runaway popularity of Netflix shows like Stranger Things that are set in the 80s, pop culture is practically living in the past.
This is to be expected. Experts say that people tend to remember happier times as a way to feel better about current struggles. 
Indeed, there is no doubt that Westlife and Green Day will provide concert-goers with a cathartic walk down memory lane as they celebrate the return of Singapore's glitziest event. 
And when the reality is a global pandemic, a war in Ukraine and rising inflation, no wonder many of us yearn for a dose of escapism to simpler, joyful times.
Karen Tee is a freelance lifestyle and travel journalist based in Singapore.