How a small family's 3-bedroom condo got a hotel makeover using wallpaper
CNA Lifestyle's Making Room series looks at small homes that were given big transformations. This week, see how this 1,100-sq-ft condominium can feel like a 5-star hotel.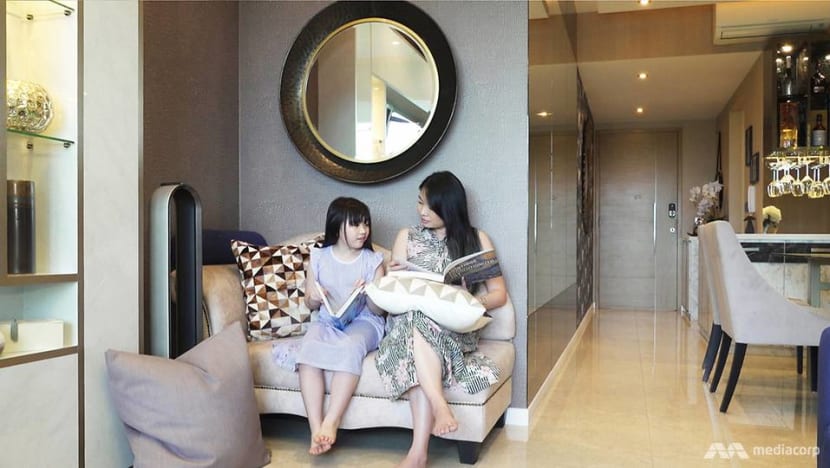 Luzanne Chong and her husband Chris have two reasons for falling in love with their new 1,100 sq foot, three-bedroom condominium apartment: The convenient location in Tampines, and the unblocked view of the greenery from the sixth floor.

Ironically, for them to truly feel at home, they needed the space to remind them of their holidays, or more specifically, the high-end hotels they had stayed in, such as Bangkok's Marriott Marquis, the Intercontinental Singapore at Bugis, and the Ritz-Carlton Millennia Singapore.

CNA Lifestyle's Making Room series looks at small homes that were given big transformations. This week, see how this 1,100-sq-ft condominium can feel like a 5-star hotel.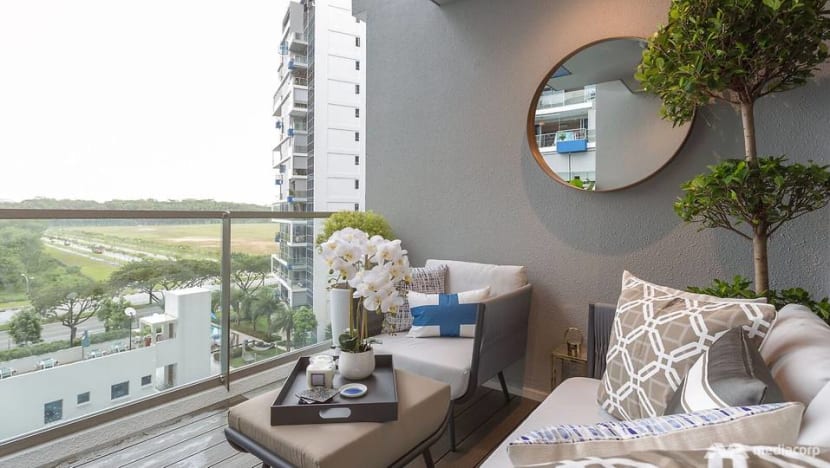 The first things that Luzanne and Chris turned their attention to were the apartment's bare walls. "When you enter a hotel room, you do not see white or painted walls," said Luzanne, who works as the head of customer experience at an insurance firm. "So we covered the entire apartment's walls with wallpaper," she said, revealing that she sourced the wallpaper from Retro Dec.

The entrance of the apartment is marked by a striking feature wall upholstered in cowhide print, and accented by an oversized, gold-framed, sunburst mirror. The living and dining areas' walls are clad in a muted gold sheen, while a reading nook is done up in faux crocodile "to make it feel a bit more sophisticated", said Luzanne.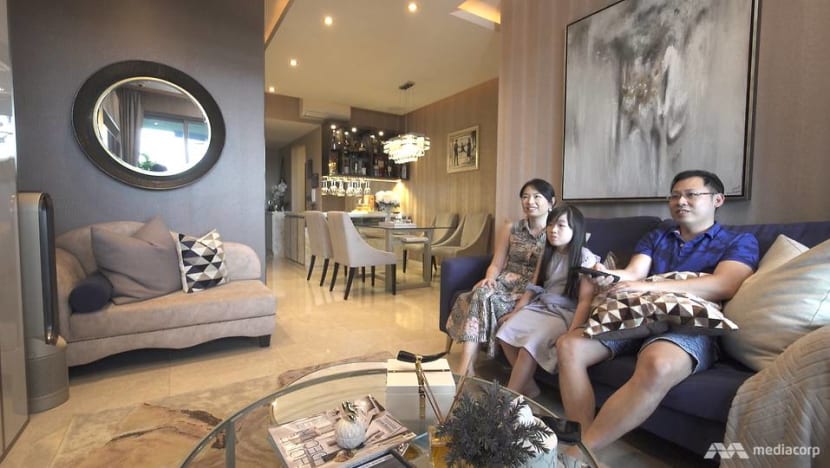 Opulent fabrics, rich textures and understated colours were used throughout the entire apartment to envelop it in warmth and luxury, while the liberal use of mirrors provide the illusion of spaciousness.

Indeed, the dining area looks twice its size, thanks to an entire wall covered with a floor-to-ceiling mirror. The glass-topped dining table, accompanied by four dining chairs upholstered in pale grey velvet, and topped by a contemporary crystal chandelier, create the impression of light and transparency.

The dining area even houses its own swanky bar. "One of the things that I specifically wanted was a whiskey bar corner. It's to show my collection of memories and the places I went to. Some of the bottles are also gifts from my colleagues and friends," said Chris, who works as the chief marketing officer at a media firm.

A velvet, royal-blue, three-seater sofa anchors the living area. A set of nesting steel, glass and stone coffee tables, a rug, a painting in soft abstract designs, and a flat-screen TV mounted on the feature wall complete the ensemble.
Each of the bedrooms has its own distinct personality. Rainie's bedroom boasts a pink-and-white colour scheme and floating shelves for her toys. "My daughter loves playing games and painting. So, we found space in her room for her to do her art," said Luzanne. "We chose two wallpapers: A flower version to reflect her very girly personality, and a polka-dotted one to keep it fun."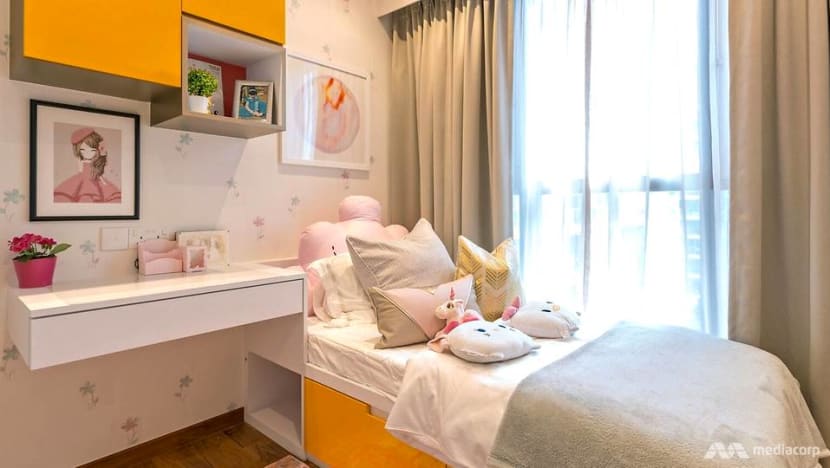 "As for the master bedroom, we wanted to make sure that the space is not only very comfy, it is also intimate and very luxurious," she added. The room is done up in a calming palette of gray tones, from the tufted velvet headboard of the bed to the throw cushions and chenille throw tucked over crisp, white bedlinens. 
Even the window treatments are reminiscent of an upmarket hotel's, featuring sheer, gauzy day curtains over a second layer of black-out drapery. Matching marble-like lamps and floral arrangements further enhance the plush factor.

This family home is as smart as it is luxurious. The curtains, lights and air-conditioning operate via voice command or an app. The master bedroom's walk-in wardrobe features an automatic sliding door in dark-tinted glass.

"I am a gadget lover. The advancement of technology should help in the ease of living as well as bringing in comfort," said Chris, who also feels that "accessories are very important in order to give a small space a sense of luxury".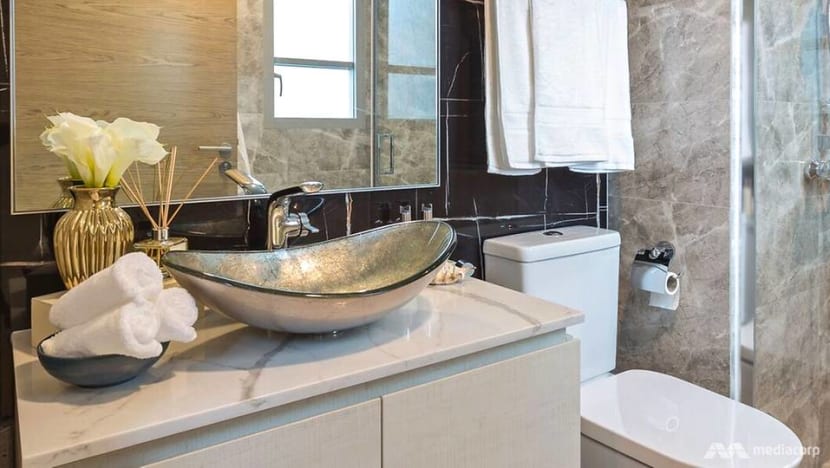 As such, the marbled luxury of the bathrooms and the sleekly functional kitchen are further accentuated with accessories. These include mirrored, leather or wooden trays corralling agate or lacquer coasters, cut crystal, gilded or marbled vases, and elegant aromatherapy diffusers.

"My favourite activity at home is sitting in the balcony. I love the sky, I love the sea. I just want to connect with nature even if I'm home. It's just really comforting and very, very relaxing for me," said Luzanne.