A 1,000 sq ft BTO flat that's black, white and grey – and inspired by hotel rooms
CNA Lifestyle's Making Room series looks at small homes with big transformations. This week, a couple takes inspiration from their overseas trips for a monochromatic home with a touch of gold.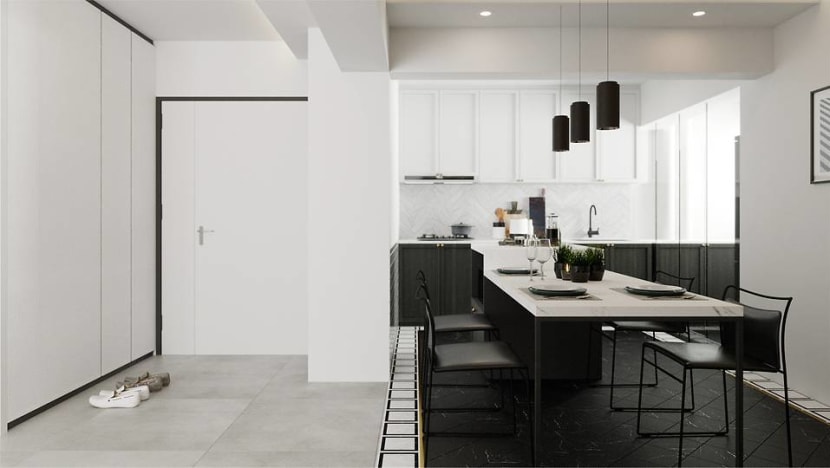 As travel industry professionals, Sharifah Alawiyah and Jeeveraj Naufal have seen a lot of places for work – and that includes different types of accommodation.
"We've stayed in many hotels, many bedrooms," shared hubby Jeevaraj. So it wasn't a far-fetched idea for the couple to take some inspiration from these when they engaged interior firm Fifth Avenue Interior for their 1,000 sq ft four-room HDB BTO flat.
CNA Lifestyle's Making Room series looks at small homes with big transformations. This week, a couple takes inspiration from their overseas trips for a monochromatic home with a touch of gold.
But it's hardly a matter of cutting and pasting ideas – their home had to reflect who they were.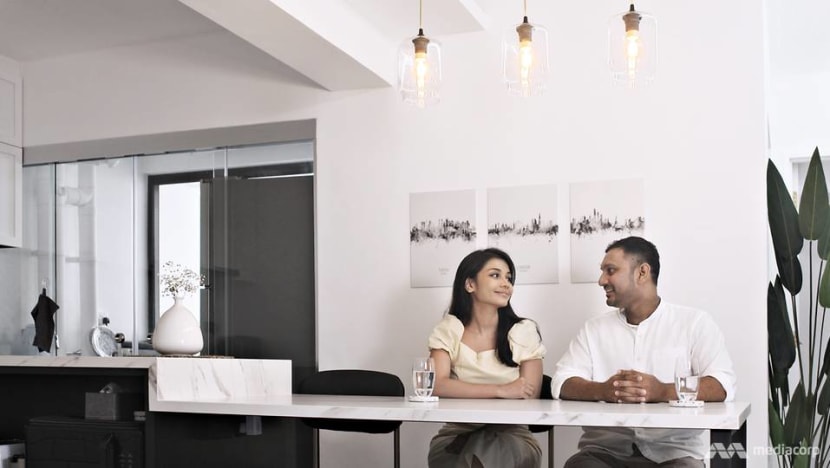 "We are really simple people; we love functionality, practicality and something timeless, so this is where the house defines the both of us," said Wiyah.
"Basically, the colour themes that we chose – white, grey and black – are our favourite colours. To spice it up, we put in some gold as well."
The very first impression one gets when stepping into their home is of calm, understated luxury. 
This is thanks to the muted greys of the marble-textured floor tiles used in the entryway and the living area right beyond it, and the skilful placement of cove lighting, recessed spotlights and glass-and-brass light fixtures that bathe the apartment in an inviting glow.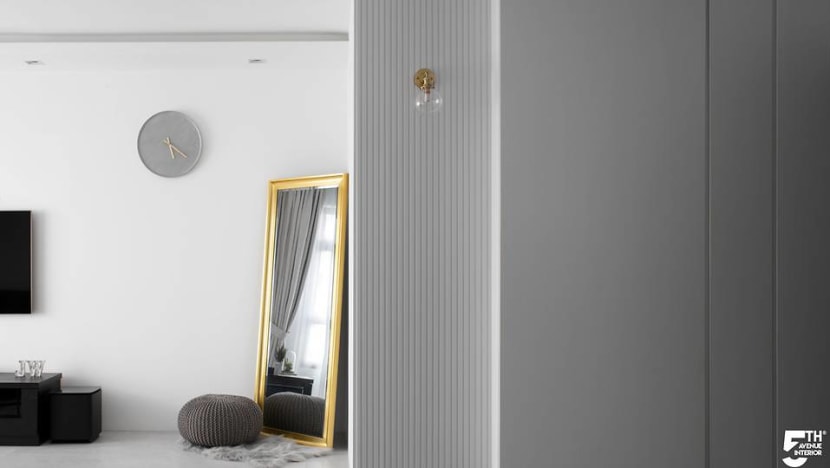 "Some people say we have too many lighting fixtures, but I feel it's never too much," said Jeevaraj.
The entryway looks immaculate, thanks to concealed cabinetry built flushed into the walls on either side, which provide storage for shoes and other objects, while hiding the bomb shelter door at the same time.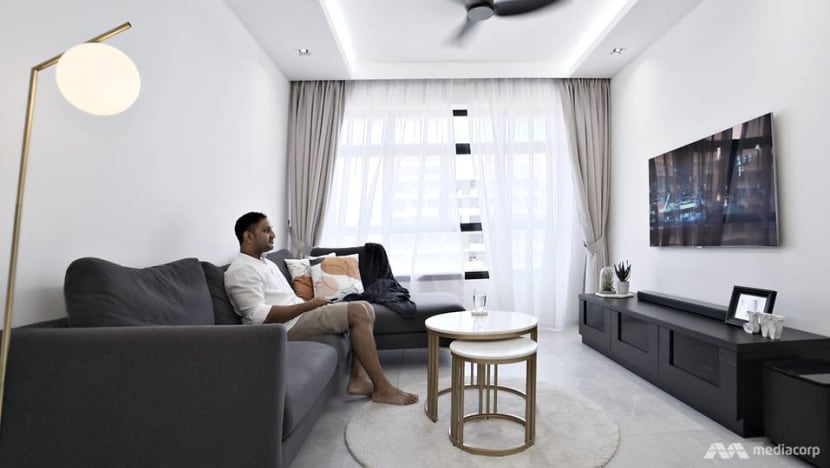 A white, fluted wooden panel feature wall, adorned with a wall-mounted globe lamp with brass fittings, leads the eye towards the living area, which is where Jeevaraj spends most of his time gaming and watching movies.
It is furnished simply with an L-shaped sofa upholstered in deep charcoal, and a wall-mounted flat TV above a minimalist rectangular black wooden TV console, for a spacious, uncluttered feel.
A set of two round nesting coffee tables with pale beige tops and brushed gold metal frames, sitting atop a round rug in pale grey, and a rounded pouf clad in a cosy grey knit, help to soften the severe lines and sombre hues of the sofa and TV console.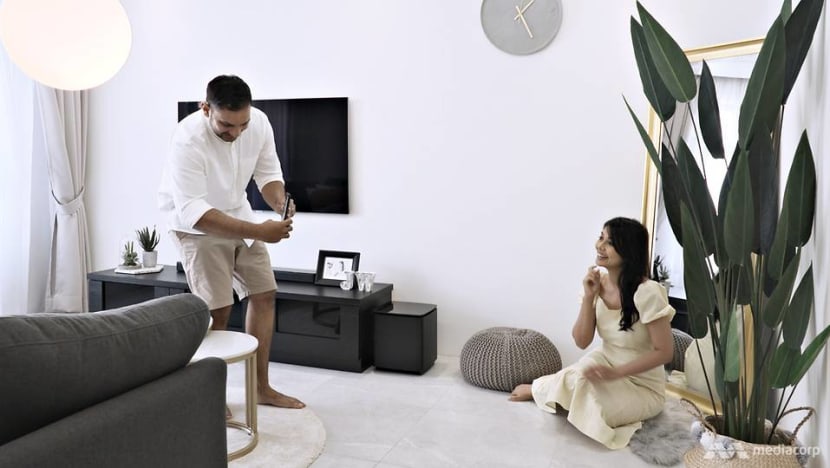 In the corner, a large potted palm, and a glamorous gold-framed floor mirror leaning against the wall, add a pop of colour and light into the space.
Another highlight of the home is its open-concept kitchen-dining area – Wiyah's favourite part of their home.
The walls separating the front of the kitchen from the dining area, and the back of the kitchen from the service yard, were all removed. This made the entire area brighter and a lot more open.
A long, continuous countertop was built, spanning the entire length of the kitchen through to the service yard, where the washer, dryer, fridge and laundry area are.
To prevent cooking smells wafting over to the laundry area, glass panels were installed to section it off.
Opposite the kitchen is an island counter that segues into a seven-seater waterfall dining table, making it easy for the couple to prep and serve family and friends. Below the countertop are deep drawers for keeping kitchen appliances, pots and pans, and condiments out of sight, but within easy reach.
The clever choice of tilework – different sizes, shapes and designs, but all in black, whites and greys, of course – prove that a monochrome colour scheme doesn't have to be boring.
The kitchen/dining area is demarcated by a neat row of white tiles, each featuring a black outline of a square. Within this space, black marble-look tiles are arranged on a diagonal.
Top-hung cabinets in white wood laminate, and white marble-look tiled backsplashes, work and dining surfaces give a light and airy feel. Below waist level, cabinetry, dining table legs and even the upholstery of the dining chairs are in black, for a polished and consistent feel.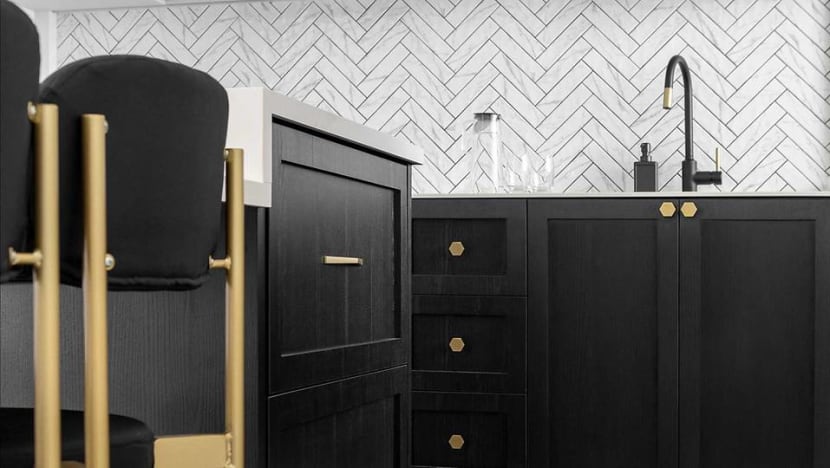 Touches of gold – on the honeycomb shaped drawer and cabinet pulls, on the legs of the dining chairs and benches, and in the trio of matching glass pendant lamps hanging over the dining table – add a subtle and elegant finishing touch. 
"Our family and friends enjoy taking photos at the dining area, especially our dining table, because that marble texture gives a really nice vibe. On days we have friends and family over, it's a great place for us to share and have a meal, and we even have a steamboat right here, said Wiyah.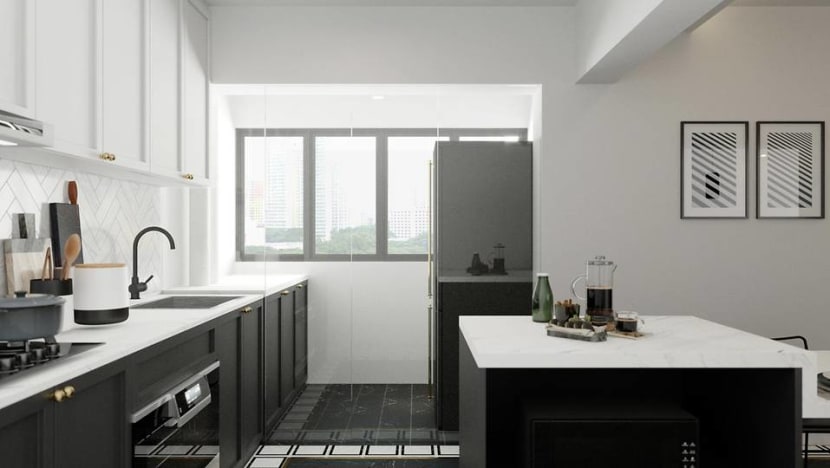 The television is also visible from there, should the couple be in the mood for a literal TV dinner.
Meanwhile, Jeevaraj and Wiyah sacrificed one of the three bedrooms in order to have a larger master suite with a glass-fronted walk-in wardrobe, which they access through a glass door –  much like how one would step into an upmarket boutique hotel.
The master bedroom is a vision of contemporary, understated elegance with its white walls, and black bed base, and a long, black wall-mounted counter and wall-mounted flat-screen TV opposite the bed (just like in a hotel room).
Everything else – floors, full-height built in wardrobes, floating headboard and bedside cabinets, and even bedlinens, in the same shade of pale grey. A series of black and white photos of the couple, placed on the ledge of the headboard, add a personalised and romantic finishing touch.
For a more uncluttered feel, the couple eschewed bedside lamps and opted instead for a pair of minimalist frosted bulbs. Soft lighting LED lights were installed at the headboard to provide more ambient light, and charging points were installed at either side of the bed – another hotel-inspired design tip they'd picked up.
The customised vanity area is a floating countertop backed by a full-length mirror, which conceals behind it a storage space for makeup and accessories.
The mono-contemporary theme runs through the design for both bathrooms, which feature matte black window frames and eye-catching tiles – whether in terrazzo patterns, or in honeycomb shapes.
"We love our home right now, and I don't think there will be anything we want to change. It's very bright, the colours are perfect," says Jeevaraj.