He has an HDB 'man cave' where you can play all the games you want
Keen on playing some virtual games or even try a flight simulator? Norman Ng's unusual The Gaming Mancave provides an escape from WFH life – and all are welcome, not just men.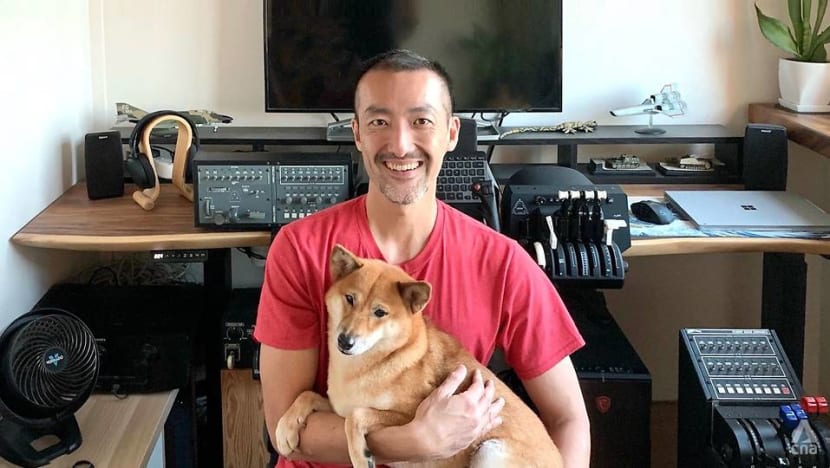 Remember when hanging out with friends after school meant following your classmate home and holing up in his room to play computer games?
If you were friends with Norman Ng back then, you'd be taking down invading aliens or engaging in a virtual dogfight in the historical Battle of Britain. "Actually, my secondary school friends used to call my place the House of Vice," said the 46-year-old freelance photographer, laughing.
Norman Ng's The Gaming Mancave in an HDB flat provides an escape from WFH life – and all are welcome, not just men.
And it seems like things haven't changed for Ng. Fast forward 30-odd years later and he's still chilling and gaming with other people. Except that he's upgraded, updated and upsized his modus operandi – he's turned it into a home business.
If you happen to drop by his two-room HDB flat in Buangkok Crescent, one of the first things you'll see is the tongue-in-cheek logo for The Gaming Mancave, a home entertainment centre for hire.
"The Gaming Mancave is my personal space where I can work, rest, play and hang out with friends," said the former US-based photojournalist. "It is for those who are hungry for different experiences during this period of travel lockdown."
And for Ng, a way to supplement his income. "When the COVID-19 pandemic hit last year, work as a freelance photographer basically dropped to zero as no events were being held," he said. "This helps with the upkeep of my equipment and at the same time, bring joy to people who may still have cabin fever."
The Gaming Mancave is for those who are hungry for different experiences during this period of travel lockdown.

Ng assured us that the nature of his home business is akin to private chefs who operate out of their homes. "The Gaming Mancave operates under HDB's Home-Based Small Scale Business Scheme, similar to chefs offering private dining experiences or home bakers selling their creations online," he said.
And even though it's called a "mancave", it's a gender-neutral space. "It's a place where everyone can relax and recharge," he said.
LOCKED AND LOADED

Ng's pad feels like walking into a Muji catalogue – pleasant, familiar and feels right at home. Customised cabinetry displays diecast model planes and tanks from the World War II era. And, of course, Star Wars paraphernalia and posters.
"I was even asked if I'd chosen my dog to fit the colour scheme of my apartment," he joked of his "gaming partner", Aki, a rescue shiba inu.
"I call her the gamer dog because although she has some anxiety issues, she seems to be able to sleep through the explosions and cacophony of battle during my gaming sessions."
So what exactly can you do in The Gaming Mancave? Ng has hundreds of games that include PS4, 2D video games, arcade games, about 20 virtual reality ones and even board games on ancient military strategies. 
This is virtual reality heaven where zombie-killing games such as The Walking Dead: Saints & Sinners take on a whole new meaning. You leave the real world behind and are transported to a walker-infested New Orleans as soon as Ng helps you to strap on the headset. Your hands unconsciously grip the hand controllers tighter and tighter as the game's ominous introduction trailer plays.
Your breathing quickens, sweat starts pooling. You're trying to load a pistol when your friends simultaneously scream. There's a zombie about to eat you on your left! You punch, box and would have kicked, too, if VR allowed that function.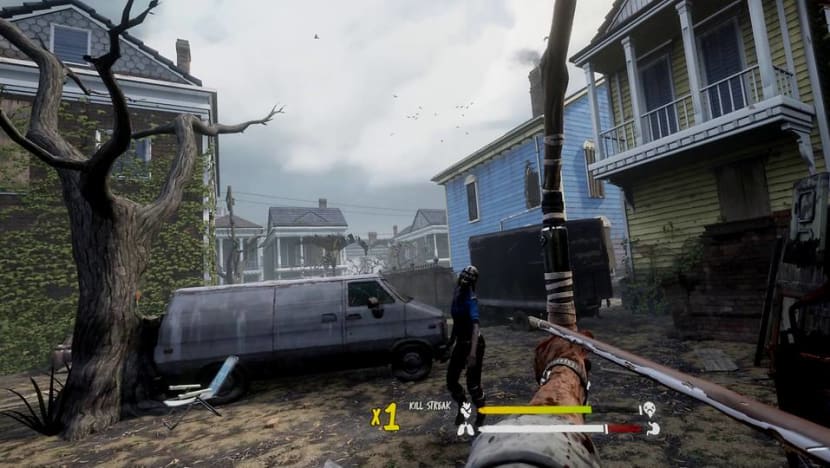 Not immersive enough? There's Half-Life: Alyx's post-apocalyptic world to scratch your first-person shooting itch as a 19-year-old rebel guerilla fighting against an invasive alien force.
The game opens with you standing in a balcony overlooking the alien-infested Quarantine Zone. Floating above is the Combine's citadel – so looming, so real, you could almost smell the smog that shrouds it. 
And the details. In the world of 3D, even the scuttling critters, which are nothing more than crowbar fodder in the other Half-Life games, are terrifyingly real when they leap at your face. Just don't attack Ng, who's always nearby to guide you through the game.
READY FOR TAKE OFF
But the piece de resistance has to be the comprehensive flight simulation equipment that the aviation enthusiast has collected over the years to the tune of more than S$20,000. Toggle switches, levers, buttons and other hardware that wouldn't look out of place in a plane's cockpit are all there. Your fingers itch to press and flick them. You also wonder if Ng has unrealised pilot dreams.
And as it turns out, he does. "As bad eyes and fate did not allow me to be a fighter pilot in real life, historical gaming experiences have been a way for me to make history come alive," he said.
Ng's fascination for military history stems from his father, who lived through WWII as a boy. "He would tell me stories about his experiences," he said. 
The younger Ng would lap up military books and war movies with his father. "There's something about the scenes, where brave, young pilots scramble to their fighter planes and take off into the wild blue yonder to combat the enemy, that always sets my heart racing."
Looking back, I have always treated gaming like an education. I would play a game about a certain time period, say, the Age of Sail, and I would go read up on it or watch movies on the subject.

To replicate flying WWII bombers, the gamer commissioned a Russia-based artisan to customise a centre-mounted joystick that is reminiscent of those found in WWII fighter planes. "The rudder pedals are also replicas of those mounted in the BF-109," he said. 
You'll have to try the flight simulation yourself to experience the sound – and vibrations – of the German engine roaring to life as you throttle up and take off into a sky before it was dominated by jets.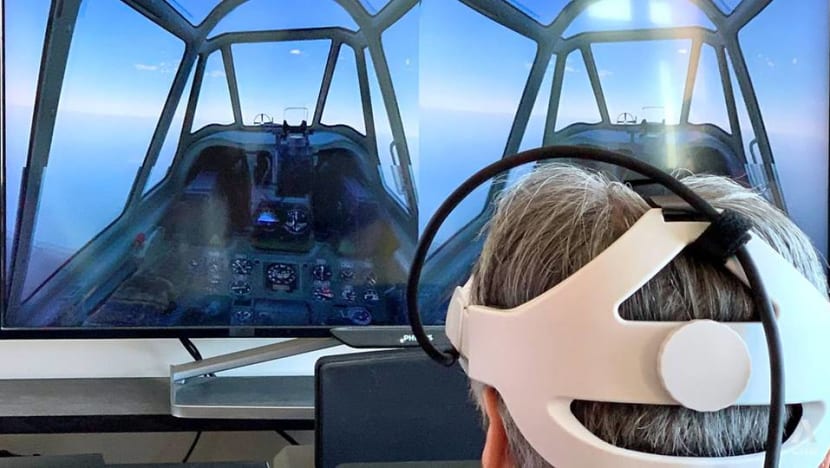 But a word of warning: If you're prone to motion sickness, be prepared to feel nauseous from the highly immersive experience, especially if you attempt rolls and dogfights. "I have a Muji lounge chair for recovering," Ng said.
'HOUSE OF VICE' OPENS AGAIN
Before opening his door to business at the end of 2020, Ng had been inviting friends and family over since mid-2019 and post-lockdown. "My secondary school friends texted in our group chat, 'After 30 years, Norm's House of Vices is finally open for business again!'," he said.

An advantage of hosting small groups at places like mine is a lower risk of intermingling between groups.

Ng's girlfriend is supportive of his new business as is his mother. "My mum actually thought it was a great idea, which is unusual because she'd always come down hard on me for playing computer games and for good reason," he said. 
"Looking back, I have always treated gaming like an education. I would play a game about a certain time period, say, the Age of Sail, and I would go read up on it or watch movies on the subject." Nerding out certainly pays off as Ng often provides interesting nuggets of information, which adds to the gaming experience.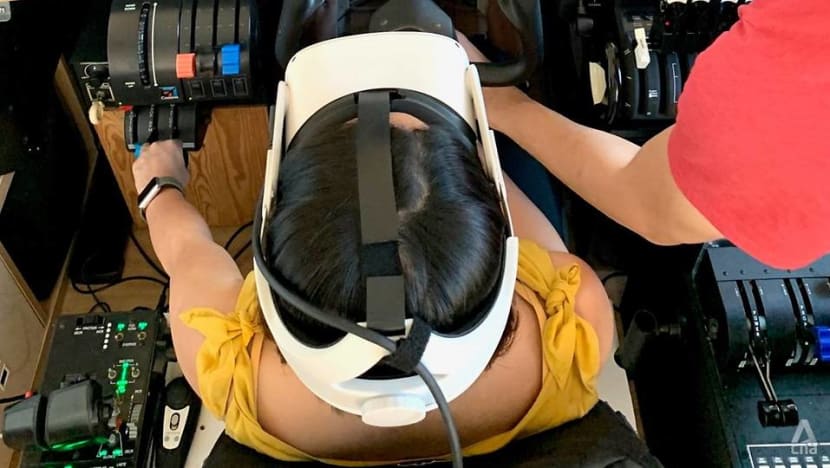 Even if you can't tell your index from your middle finger to fire a virtual shotgun in the thick of action, Ng has other experiences such as boxing, rock climbing, surgery and short films of various genres that don't require finger dexterity to enjoy the wonders of virtual reality.
If you prefer PS4 games, The Gaming Mancave has a big screen projector for up to four players to play cooperatively or competitively. There's also a two-player arcade station that serves up nostalgia with favourites such as Street Fighter, Bubble Bobble and Super Mario Bros. 
And just an arm's length away is a fridge stocked with beverages such as Ng's homemade iced tea. You can order some bites to nibble on while you take a break from screaming at your friend for getting eaten by zombies.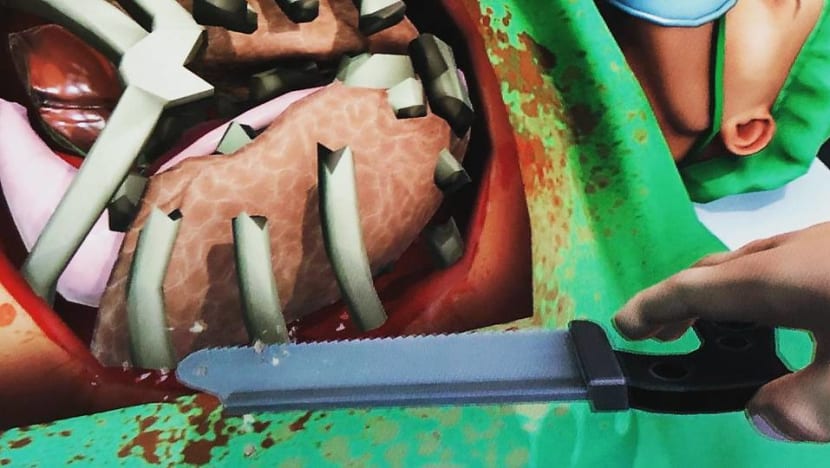 Recently, Ng hosted a surprise stag party for a gamer groom-to-be. "He was led blindfolded to my door by his buddies. At the end of the night, he said it was far better than a sexy dance from a girl," joked Ng.
Sometimes, the company is all it takes for a good time. "A good friend, who is based overseas, booked us for her elderly parents to try the VR experiences and also as a gift for her dad's birthday," recounted Ng. 
"After lunch, and despite my best efforts, her parents absolutely refused to try the VR experiences, resistant as they are to newfangled technology. But, over a birthday cake and song sung over an international video call with my friend, we managed to have a good time and they left with smiles on their faces."
To keep his mancave safe for guests, Ng cleans and disinfects the headsets, hand controllers and anything guests touch. He wipes down the gaming equipment after each player and leaves hand sanitiser for guests to use. "An advantage of hosting small groups at places like mine is a lower risk of intermingling between groups," he said.
The Gaming Mancave is 36sqm and only allows for one VR player at any one time, so even groups of eight (the limit for gatherings in Phase 3) aren't recommended. Instead, Ng suggested a maximum of four or five guests.
"The more people there are, the shorter the individual game time," he said, adding that most players book the space for four hours.
Some of the VR games may take a long time to complete, so to get more bang for your buck, he suggests going with the short VR experiences. "I always try to find out about my guests before they arrive and will tailor the experiences to them," he said.
Bookings go for S$45 per hour for weekdays and S$55 per hour for weekends. Food and drinks are charged separately. For details, visit The Gaming Mancave. 
Editor's Note: This story has been edited for clarity to reflect that The Gaming Mancave venue is Mr Ng's home and primary residence.​​​​​​​