How Hong Kong's well-heeled set is celebrating the Year of the Ox in style
It may not quite reach the extravagant heights of Bling Empire's Christine Chiu, but there's no shortage of ways for the well-to-do in Hong Kong to splash the cash this Chinese New Year.
The 2020 figures from Mainland China were nothing short of astonishing. In a year when COVID-19 decimated global economies, the Chinese domestic luxury goods market grew by 48 per cent to a total spend of RMB346 billion (S$71 billion).
In 2021, Hong Kong's spend on luxury goods is projected to reach a cool S$8.2 billion, with luxury watches and jewellery set to top spending. And the one time of year when spending really takes off? Why, Chinese New Year, of course.
Overall, the general sentiment in Hong Kong seems to be cautious optimism that a corner could be turned sooner rather than later. But for those for whom money is little or no object, then the sky's the limit.
How about a S$53,000 mah-jong set by Hermes? Crafted from rosewood and calfskin, its leather tiles will definitely keep those clicking noises down as you shuffle them.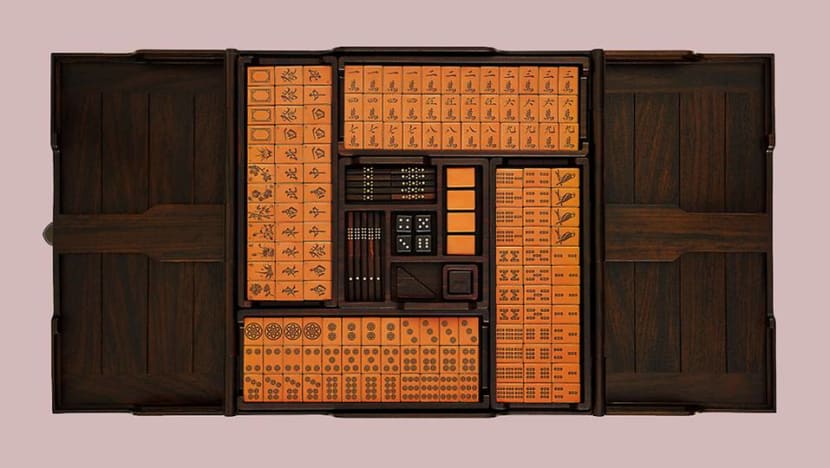 If you fancy buying yourself a timepiece, then Piaget's white gold Altiplano, set with 78 white diamonds around a suitably festive ox motif, could be yours for a cool S$92,000. While you admire your purchases, kick back with a cuppa served in your 24K gold-painted bone china teapot by Fortnum & Mason, a snip at S$1,200.
One thirty-something equities trader who preferred to remain anonymous told CNA Luxury that "When travel is back, you better believe that people are going to go crazy on spending. But for now, private yacht charters and staycations are where it's at, as well as home dining prepared by Michelin-starred chefs."
He's right that personalised travel experiences within Hong Kong – social distance and government rules permitting – remain all the rage.
As if to underline his point, Hong Kong-based Simpson Marine recently sold a Sanlorenzo 500 EXP Explorer yacht – complete with helipad, helicopter, swimming pool, gym and the ability to cross the Atlantic and back on the same fuel tank – to one lucky Hong Kong customer, whom they referred to as a "young entrepreneur".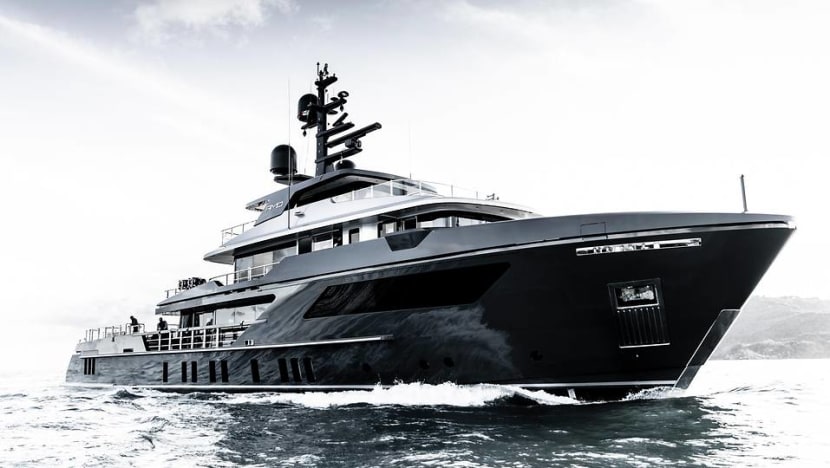 Although Simpson Marine declined to give any figures, other list prices suggest your bank account would be some S$23 million lighter once you set sail. Kung Hei Fatt Choy indeed!
Even after a full calendar year without any foreign travel for the vast majority of the city's 7.5 million people, a three-week enforced hotel quarantine on return also continues to put off all but the most avid travellers.
But if you really have to travel, then 21 nights in the vast Entertainment Suite at The Landmark Mandarin Oriental could soften the blow to the tune of a cool S$170,000, making it the world's most expensive quarantine.
At the Rosewood Hong Kong, their Good Fortune Staycation lives up to its name. One night in their 40th floor Manor Suite with truly jaw-dropping views of Victoria Harbour brings almost 2,000 sq. ft. of prime real estate to call your own, a personal butler and access to their swanky Manor Club, yours for S$6,000 per night.
Staying Kowloon-side, The Ritz-Carlton Hong Kong are tempting guests with a Chinese New Year staycation, charmingly called Bring It Ox. Champagne, a New Year dinner and a picnic basket are all included for stays, but to take things up a notch, then their Carlton Suite on the 116th floor – yup, that's not a typo – ensures that Chinese New Year hotel hospitality doesn't get any loftier.
Naturally no Chinese New Year celebration would be complete without an abundance of auspicious food front and centre, another area where those in Hong Kong have no shortage of options to spend in style.
The city's prolonged evening closure of restaurants, bars and more has people clamouring to spend big on entertaining as soon as the government relaxes restrictions – for now though, home deliveries are the way forward, or private dinners by stellar chefs.
At the Four Seasons Hotel Hong Kong, S$2,400 gets you the Ultimate hamper from their three-Michelin-starred Cantonese restaurant Lung King Heen that overflows with gourmet treats promising good luck, prosperity and health.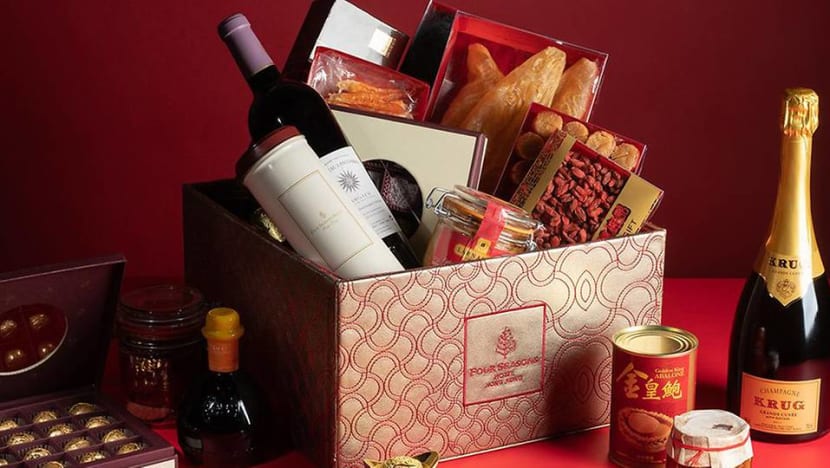 Alternatively, the holy grail of fortunate ticket prices, HK$8,888 (S$1,525) gets you Island Shangri-La's Golden Jubilation Hamper with turnip pudding featuring seven-year aged Iberico ham, white truffle pate, a fish maw gift box and a bottle of Dom Perignon P2 champagne.
But if you really want to ratchet up those Bling Empire feels, then Royal Caviar Club's Lucky Red Royal Hamper (S$1,100) sets you up with 100g of rare imperial Oscietra caviar, a bottle of Page 2015 Castillon Bordeaux – and a very precise 23.75K of edible gold flakes to truly let you gild your tastebuds.
Marking the arrival of the Year of the Ox with a toast also allows those in the +852 to show abundance and good fortune in the form of expensive and exclusive wines, such as champagnes by Mod Selection.
If the brand name sounds familiar, it's thanks to the people behind it, legendary champagne house Maison Pierre Mignon in partnership with none other than hip hop star Drake.
Jason Ginsberg, co-owner of Ginsberg + Chan, the brand's sole Hong Kong stockist, told CNA Luxury: "For the Chinese New Year celebrations we have seen strong sales of our Mod Selection Champagnes, especially the 2008 Vintage Rose at HK$4,000 (S$700) a bottle."
With bottles of bubbles up to a jeroboam at S$2,800 also selling, it's clear that for some at least, the sentiment is that Chinese New Year could give reason to cautiously celebrate and look ahead to a brighter Year of the Ox.