Jackfruit 'ngoh hiang' and soy 'kalbi': Singapore restaurants serving alternative meats
There's more to plant-based meats besides Impossible burgers. Here are seven restaurants – including those famous for their meat-centric menus – where you can get a taste of the food of the future.
People choose to eat less meat – or not at all – for many reasons. But no matter where your beliefs lie, one thing is for sure. With a growing consumer demand for alternative or plant-based meats as more people seek to minimise animal suffering and mitigate global warming, we are likely to see an increasing number of alt-meat options showing up on the menus of our favourite restaurants in time to come.
For instance, when American company Eat Just's Good Meat Cultured Chicken was launched in Singapore earlier this year, private member's club 1880 scored a coup by being the first restaurant to offer the lab-grown meat on its menu.
The novelty factor certainly attracted attention but by most accounts, most diners not only said the cultured chicken tasted as good as, or better than, conventional chicken, but would consider substituting regular chicken with cultured chicken.
While only members can make reservations to dine at 1880, the brand has also recently launched an exclusive menu prepared in collaboration with its chef Kaimana Chee, which can be ordered by the public via foodpanda. Dishes include katsu chicken curry and Caesar salad.
And even if you are a devoted meat lover, having access to a wider variety of alt-meats is not necessarily a bad thing. For one, it means there will be more places where it will be a breeze to satisfy gatherings where you have friends of varied dietary preferences.
Plus, one of the greatest joys of dining out is discovering something new and interesting that might just change some preconceived notion that you might have about your palate. To inspire your foodie adventures, CNA Luxury did a taste test at some of Singapore's most well-regarded restaurants to hunt down the most delicious plant-based meat dishes available.
ADDA
Adda, the new restaurant by Manjunath Mural, former executive chef of Michelin-starred The Song of India, is a fun destination to enjoy a more relaxed but still elevated take on Indian cuisine. Mural's playful version neo-Indian soul food is most evident in the three TiNDLE chicken dishes on the menu.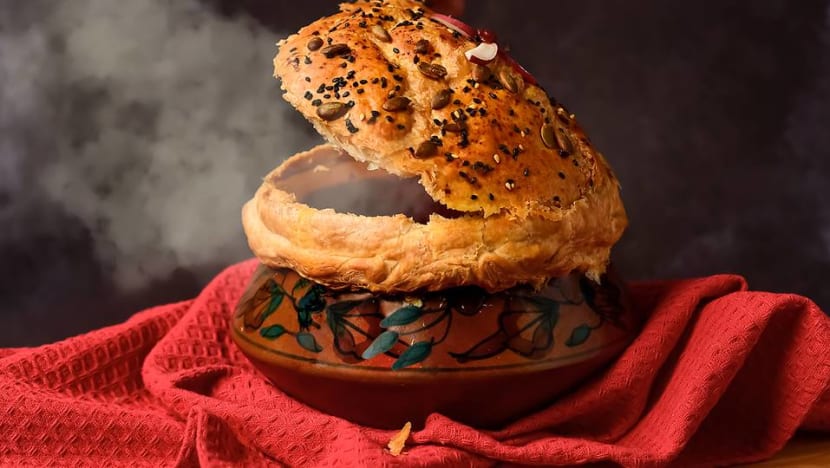 For a showstopper, order the butter TiNDLE pot pie where the classic British pot pie meets Indian favourite butter chicken. The murgh makhani curry is served in a pot which is sealed with a wonderfully flaky pastry crust that is sliced open when served at your table.
Sink your teeth into generous chunks of plant-based chicken, with generous lashings of rich, creamy curry and be slightly in awe as you tear apart what might just be the meatiest non-meat dish you have ever tried.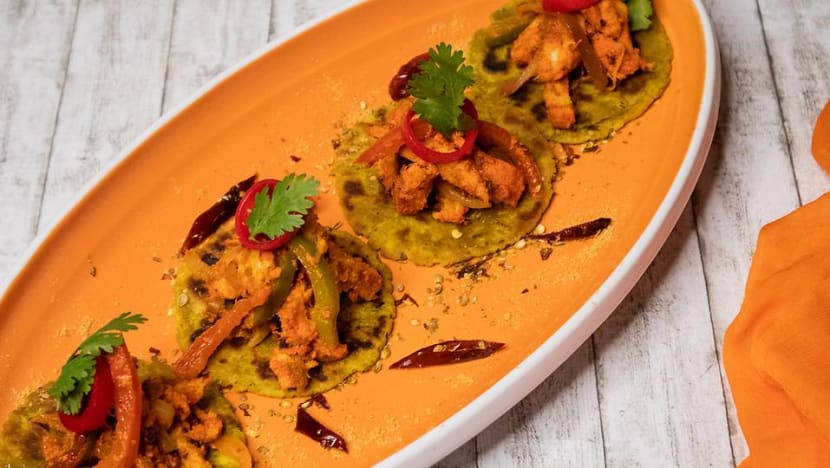 Another winner are the desi tacos, where TiNDLE chicken strips are marinated overnight in spices before they are cooked, imparting flavours that are as intense as tandoori chicken fresh out of the oven.
ABURI-EN
It is indeed a sign that the times are a changin' when a restaurant known for its grilled-meat donburi bowls – always a treat in Japan-mad Singapore – is the first in the country to debut Next Meats, billed as the world's first plant-based yakiniku meat.
The two sets, kalbi or boneless short rib don and stamina teishoku (stir-fried kalbi with cabbage), are the first plant-based dishes on Aburi-En's menu.
Made largely from soy proteins, the slices of alt-meats certainly look realistic and the kalbi don even smells irresistibly like chargrilled meat. The stamina teishoku is garnished with a vividly hued Okinawan egg, which adds a creamy smoothness to the dish when it is mixed in.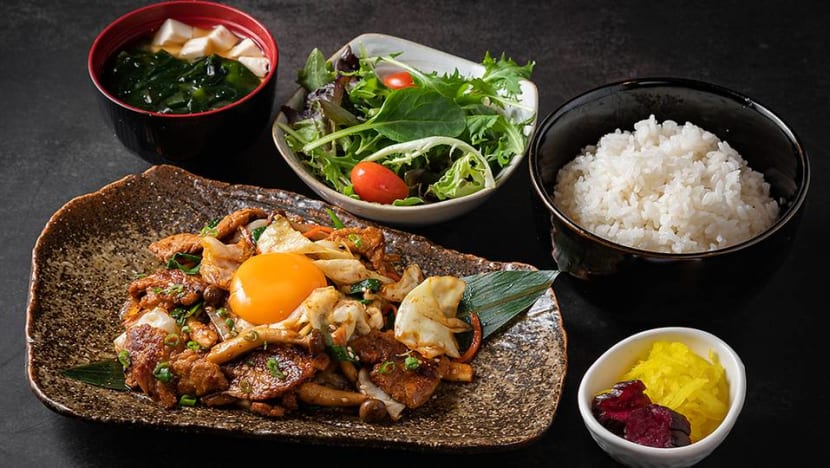 Still, when you bite into the meat slices, it is clear that you are eating a very well marinated, chunkier, seitan-like meat alternative. That said, this is not a bad thing. We imagine these bowls will be popular among non-meat eaters who wish to have something other than salad when they dine with their meat-loving friends.
After all, many vegans and vegetarians will likely tell you they don't necessarily crave the taste of meat anymore. These bowls are also a good choice for those who wish to dig into a hearty meal that does not necessarily have to taste just like beef or pork.
BUTCHER BOY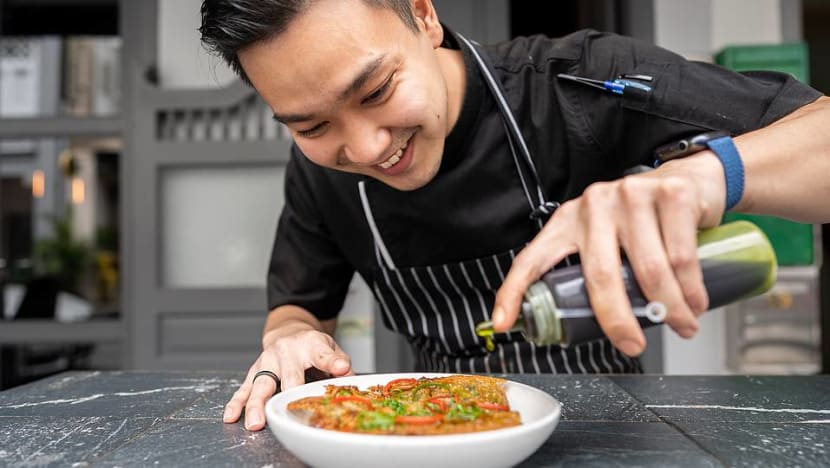 Another gem of a find is Asian fusion grill and bar Butcher Boy, which surprisingly has a decent list of plant-based food options to complement its meat-centric menu.
We especially love their juicy Karana potstickers, which are stuffed with mushrooms and jackfruit "meat" and fried to give a delightfully crispy crust. What pulls this dish together is the specially concocted spring onion vinaigrette which adds a fresh tangy burst of flavour to this dish.
Combine this with its other yummy vegetarian dishes like aubergine tempura or edamame hummus for a wholesome yet filling plant-based meal.
CANDLENUT
Peranakan food, as most of us know, tends to go heavy on the meat and seafood ingredients. So it is great to know that one-Michelin-starred joint Candlenut is taking baby steps to adapt to changing dining sensibilities.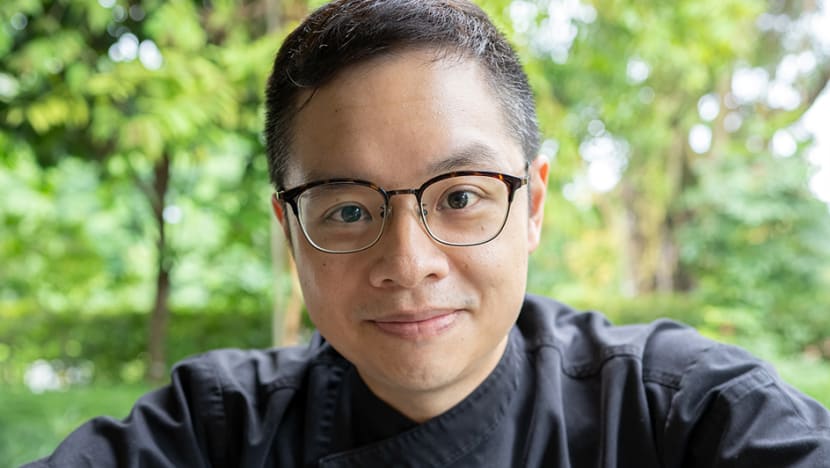 Its Karana ngoh hiang, which is made with jackfruit-based "pork", is a good start. Sourced from small farms in Sri Lanka, Karana is made from jackfruit which quite magically does not have the pungent flavour of the fruit, which can be an acquired taste, while still preserving its shredded or minced meat texture.
When marinated with five spice and dipped into sticky, sweet sauce and chilli, this plant-based ngoh hiang is a yummy and guilt-free appetiser to start off a hearty Peranakan meal.
EMPRESS
Non-meat eaters have long gravitated to this beautifully designed restaurant along the Singapore river for its wide selection of well-executed meatless dishes.
So it is not surprising that Empress, part of the Prive Group, also offers a carefully curated range of alternative meat dishes made from a variety of brands including OmniMeat, Impossible and TiNDLE.
Its Dragon's Breath Hor Fun, made with Impossible meatballs, is an immediate winner. The noodles are masterfully scorched with dragon's fire (we mean wok hei) and the juicy Impossible meatballs are just the slightest shade of pink in the middle. So good you won't even miss the absence of seafood or real beef.
Another fun dish to try is the lemon TiNDLE chicken, which looks and tastes pretty much like a katsu-style patty. This homegrown, soy-based chicken, which contains just nine ingredients including sunflower oil and coconut fat for texture and mouthfeel, has a tender bite and none of that stringy dryness that plagues real chicken meat when it gets overcooked.
TUNGLOK SIGNATURES
The next time you host a family luncheon at TungLok Signatures, one of the grand dames of elegant Chinese dining in Singapore, add the vegan sweet and sour "pork" with vintage vinegar to your order.
With a delicately crispy coating, this umami-laden dish is a dead ringer for the real deal thanks to the chunky texture and juicy bite of the soy-based meat substitute NoChicken Chunks by The Vegetarian Butcher, which does not have the chalky taste of some other soy-based meats.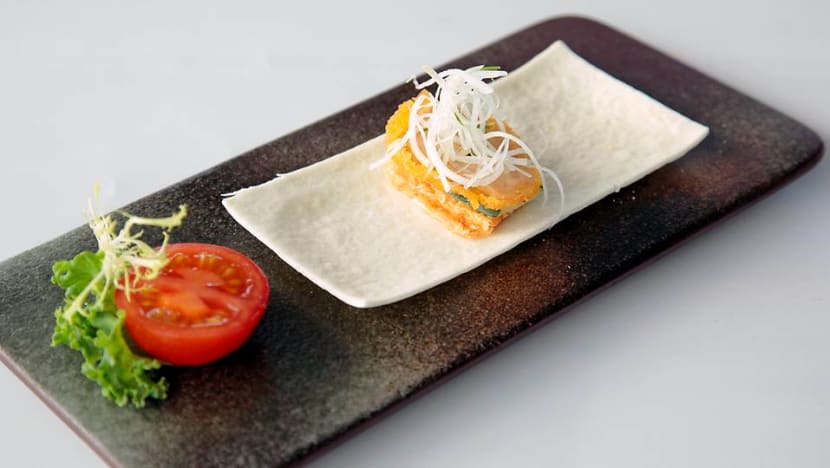 Or better yet, call ahead and ask the chefs to whip up a custom plant-based menu for you, including the hugely addictive vegan chicken chips and stir-fried ee-fu noodles with vegan chicken for you to get a better sense of the versatility of the alternative meats.
The Vegetarian Butcher, which started out as an alternative butcher in Holland before it was acquired by Unilever, has partnered with the TungLok Group to offer plant-based proteins at six more of the group's dining concepts, including Qin, TungLok Heen and Duckland.
YAN
With a focus on light, flavoursome dishes, fine Cantonese restaurant Yan's newly launched Joy of Spring a la carte menu offers a range of vegetable-forward fare that include plant-based dishes created in partnership with social enterprise Green Monday.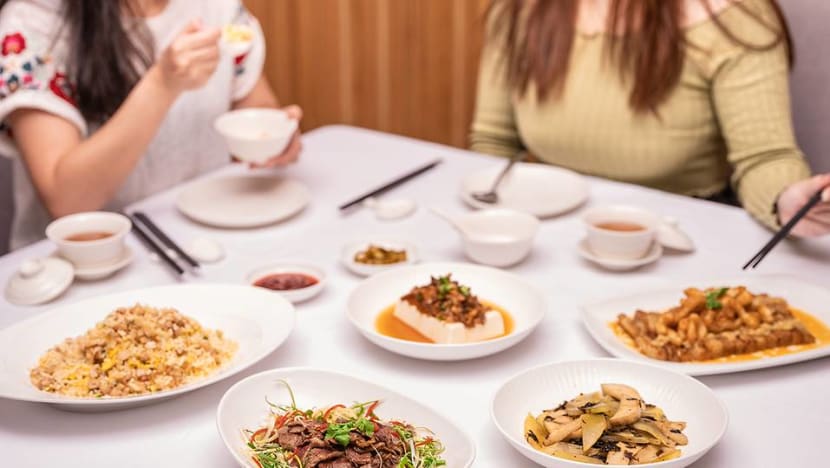 What this National Gallery dining spot, which is popular among business executives and ladies who lunch alike, gets right off the bat is that the plant-based meats are best used to complement the dishes by adding a "meaty" texture, while allowing the flavours of other ingredients to shine.
Don't miss the delicious braised rice vermicelli with minced OmniMeat and eggplant – the noodles are braised in such a rich vegetable stock that all it takes is a sprinkling of minced meat substitute to give the dish some "bite".
Another favourite is the nostalgic steamed beancurd with pickled vegetables and minced OmniMeat, in place of regular minced meat. Again, this comfort food derives most of its taste from the mushrooms and pickled veggies, so you won't even quibble over the use of a plant-based meat even if you not-so-secretly prefer the actual thing.