First look at the Samsung Galaxy Note 9 – and its Bluetooth stylus
CNA Lifestyle was in New York to check out the latest addition to the Note series, which also includes an intelligent camera and storage of up to 1TB.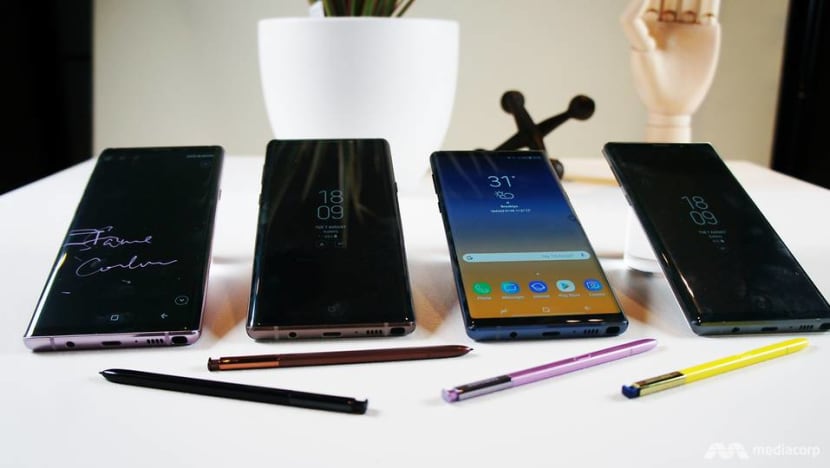 An eye-catching Bluetooth-enabled yellow stylus, loads of storage space, an intelligent camera, and more – Samsung Electronics unveiled its latest smartphone, the Galaxy Note 9, at its Galaxy Unpacked event on Thursday (Aug 9).
Or, to be more precise, much of it was a confirmation of the premium smartphone's features following various online leaks way before the launch held at Brooklyn's Barclays Center, where Samsung also announced a new Galaxy Watch and smart speaker, as well as a collaboration with Spotify.
In his opening address, Samsung CEO DJ Koh described the Note series as being the "leading smartphone for achievers and creators", adding that the latest iteration would "raise the bar for speed, power and performance once again".
BATTERY AND STORAGE
Taking note of just how much Galaxy Note users use their phones, Samsung has beefed up the Galaxy Note 9 in terms of power and storage to keep up with the demands of work, gaming, watching movies and more throughout the day.
"You shouldn't have to plan your day around your phone's battery life," said Drew Blackard, Samsung product manager, at the event. "You can power through your entire day with just the phone in your pocket."
Its 4,000mAh battery is the biggest ever on a Samsung phone – 21 per cent bigger than the Galaxy Note 8. It also offers the fastest network speed, capable of up to 1.2 gigabits per second (GBPS), meaning superfast streaming and downloading of movies, which is good when you're in a rush.
And, finally, there's all that space you'll need so there's no fretting about deleting photos, videos or apps. It's available with two internal storage options, 128GB or 512GB. Together with the option to insert a microSD card of up to 512 GB, that's a whopping 1TB of space. (In comparison, Apple's iPhone X has 64GB and 256GB options, while Samsung's own Galaxy Note 8 and S9 has 64GB, and S9+ goes up to 256GB).
THAT'S ONE INTELLIGENT CAMERA
Described as Samsung's smartest camera yet, the Galaxy Note 9 improves on the camera platform found in the Galaxy S9 and S9+ phones, which includes the Dual Aperture lens feature.
It now also has an AI-based Scene Optimiser that automatically analyses the image and does the necessary tweaks for more dynamic photos. There are 20 scene categories, such as "flowers", "landscapes" and "beaches".
The Flaw Detection feature can now also spot if you've got problems with blinking eyes, blurred images and backlighting, in addition to previously calling out if there's some smudging on the lens. For low-light environments, the HDR and Live Focus improvements are set to be a boon.
S-PEN WITH BLUETOOTH
Samsung has cited the S-Pen as the number one reason for Galaxy Note fans' loyalty. And while hardcore users might have fun debating about aesthetics of having a yellow S-Pen for its main Ocean Blue-coloured model (the rest come in matching colours), the stylus' Bluetooth capabilities is another matter altogether.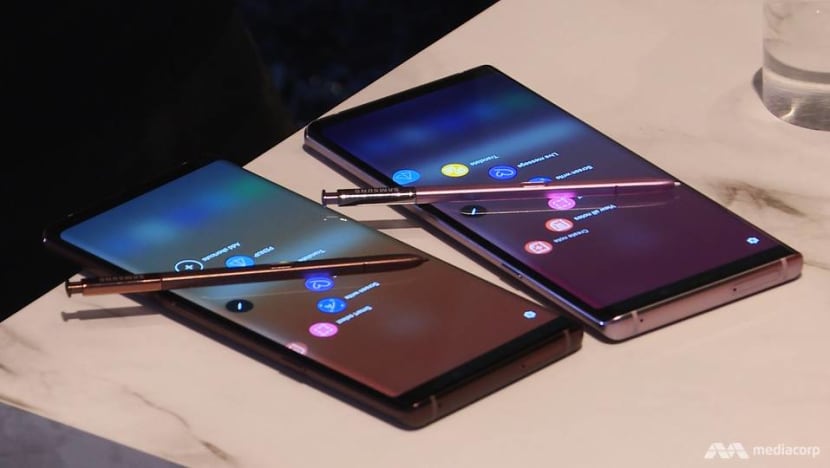 With a few clicks, you can control the phone with it from a distance of up to 10m, for a variety of things: Taking photos, playing YouTube videos and going back and forth within the photo gallery. You can also play around with the AR Emoji stickers on Live Message by drawing and writing on it.
Don't think your photos make the mark? The S Pen also lets you trace over your own photos to make it look a bit more "artistic".
The S Pen's Bluetooth features run for up to 30 minutes standby time or 200 button clicks per full charge, which takes around 40 seconds when you insert the stylus into the phone.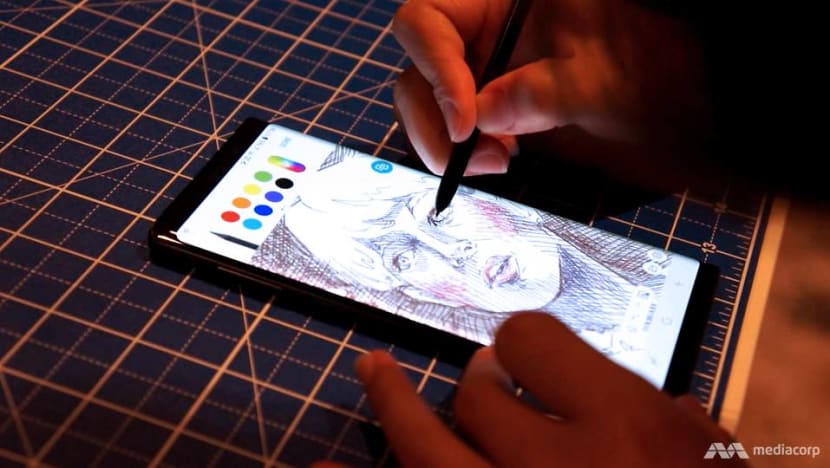 NOTED FOR WORK AND PLAY
Gamers will also be pleased with the phone's robustness – aside from the long battery life, the Galaxy Note 9 also has a new water-carbon cooling hardware system, which is said to prevent overheating by 21 per cent. An AI-based performance adjusting algorithm software also manages the phone's functions when it senses it's getting too hot.
These, together with its 6.4 inch AMOLED infinity display (slightly bigger than the Note 8's 6.3 inch display) and stereo speakers, means a steady, long and intense gaming experience.
In relation to this, Epic Games CEO Tim Sweeney dropped by to announce that their popular online game Fortnite will be available for download on Samsung mobile devices, the first time it can be played on Android phones.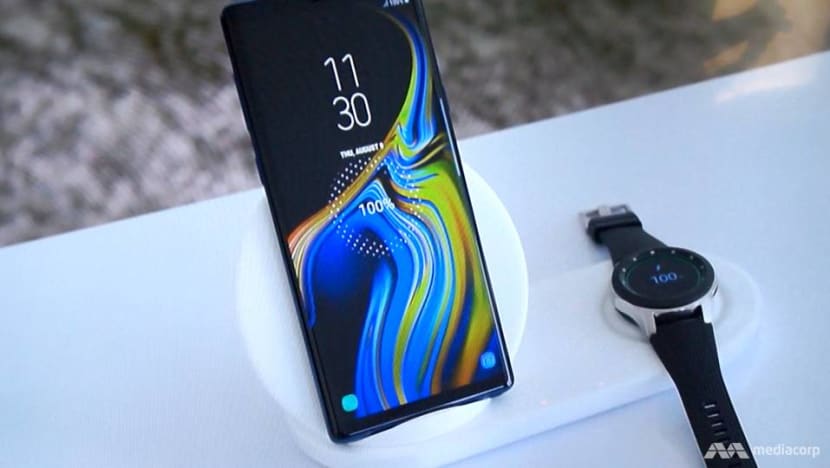 Work-wise, Galaxy Note 9 users can still tap into the Samsung DeX experience – but it does one better than the S9's docking station by skipping that entirely and simply plugging directly into a monitor using an HDMI adapter.
The phone can then function as a touchpad and controller, or even serve as a second screen for taking down notes – which means easy multi-tasking at, say, a meeting or presentation with just one device.
The Galaxy Note 9 will be available in Singapore from Aug 25 in Midnight Black, Metallic Copper with matching S Pen, and Ocean Blue with a Yellow S Pen. Preorders available from Aug 10. Prices start from S$1,398.
CNA Lifestyle was in New York at the invitation of Samsung.