Bling enthusiasts: You know you want a Cartier icon, but do you know why?
When the going gets tough, it's tough designs that get going. Cartier's most successful products, for example, are also its most trend-resistant, and their popularity is now at an all-time high.
In times of uncertainty, people reach for the certain. After all, truisms can be grounding and comforting: Chicken soup is great for colds. There will always be a market for gold. Someone will want your Rolex Daytona. Everything is going to be alright.
It is the things that have stood time's many, many tests that offer us hope that we can survive along with them. Knowing this reveals a big part of how luxury's biggest brands are weathering this storm. The reason they have such healthy reserves is because over decades – and even centuries in some cases – they have mastered the art of timelessness.
Given how the past year has been, this is a powerful boon.
According to Deloitte's Global Powers of Luxury Goods 2020 report, creating legendary and iconic products is just as vital as promoting product scarcity and exclusivity where adaptability is concerned.
It stated: "Luxury goods create status that is resistant to the passing of time; and this makes luxury goods, handbags and watches in particular attractive to personal collectors and a secondhand market. In times of uncertainty luxury collectibles are considered a secure longer-term investment."
Among these collectibles, there is one brand that is successful almost to a point of (well-deserved) smugness: Cartier. Its brand value has been on a non-stop climb in recent years, from US$6.7million (S$8.9 million) in 2017 to US$15 million in 2020. It was also last year that a Cartier Tutti Frutti bracelet sold for US$1.3 million at a Sotheby's auction, breaking the record for highest price for any jewel sold in an online sale.
But it's not these one-off, high jewellery pieces that the majority have access to, nor surprisingly even want.
Antonio Achille and Daniel Zipser of McKinsey & Company believe that "after a large-scale crisis with a heavy emotional toll, consumer preferences could shift… toward 'silent luxury' – paying more attention to classic elements, such as craftsmanship and heritage, and less to conspicuousness and 'bling'."
Not that Cartier ever needed bling to shine.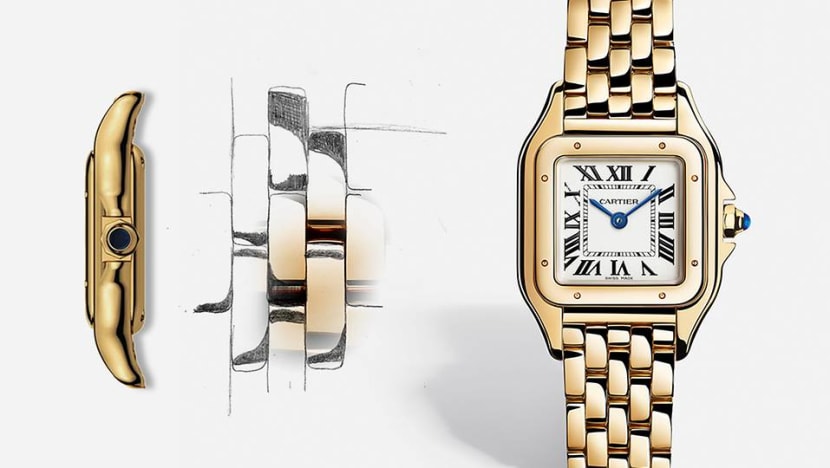 A lot of what makes something iconic is recognisability, and Cartier has achieved this from form alone. If we asked you to picture a rounded square watch with exposed screws on the bezel, chances are high you'll be thinking of a Santos or a Panthere. "Love" and "bracelet" are generic words until they're put together, and then an image of a bangle that needs a dedicated screwdriver to unlock might spring to mind.
Which brings us to Cartier's next asset: Comfort.
The entire point of the Love Bracelet is that it's hard to take off, giving its wearers some pretty story about being locked into love, so the bracelet had to be comfortable enough to be worn at all times. With this, Cartier essentially extended the jewellery occasion into an all-day, everyday affair.
It's not just the Love Bracelet that has been engineered to be worn round the clock. The links in watch bracelets, the gentle curvature of a watch face, the rings' smooth edges – every detail has been devilishly looked after.
Moreover, not a single line or stroke could be wasted in the drafting of these designs. Because when the overall shapes are so basic to begin with, it's the minutiae that sets them apart.
Think about how the Tank watch manages to differentiate itself from every other rectangular dress watch on the market. To the casual observer it just has an angular case that extends straight into the lugs, but in Cartier's words, it's all about the "purity of the line" and the "accuracy of the shape". Basically, Cartier knows how and when to leave things alone.
There is a fine line between purity and laziness, but it's one that Cartier doesn't tread – it just hunkers down and does the homework. Yes, the Juste un Clou really is "just a nail" as its name audaciously declares, but the precision of the bracelet's proportions, together with its representation of freedom and rule-breaking, has made it a cult jewellery piece.
Likewise, the Ballon Bleu is not just another round watch, but an obsessive study in symmetry. The Trinity ring couldn't have gone on to spawn bangles, earrings, pendants (and in some cases another shape entirely) if Cartier hadn't added perspective and created depth to give dynamism to a familiar form.
Minimalism as a design movement only really took off in the 1960s and 1970s, which makes Cartier's much older icons, like the Trinity ring, Santos and Tank watches, all the more remarkable in their longevity. Keeping things simple also allowed Cartier to introduce a great many variations, through complications, metals, precious stones and jewellery types, ensuring its designs reached as wide a demographic as possible.
Clearly, that strategy worked.
Cartier's watches and jewellery are worn by men and women young and old, by celebrities and by normal folk. All because the brand was smart enough to see itself as a designer first and watchmaker/jeweller second.
Just like people, long-lived things have stories to tell. And Cartier has ensured that its story can be told again and again, in different guises, and across the generations. That's the beauty of icons – they never get old.