He left school at 16 and later started an app to address mental healthcare in Asia
A string of failed business ventures started while studying at Raffles Institution and a battle with anxiety led Theodoric Chew, 25, to start Intellect, an app that claims to have attracted two million users since it launched in April 2020.
If 2020 was the year of change, then our shifting circumstances were mirrored by our lifestyles: Long hours in the office replaced by telecommuting, happy hour with friends played out across a pastiche of unconvincing Zoom backgrounds.
As digital platforms inevitably increasingly frame the way we work, play and consume amid a welter of pandemic-induced restrictions, mental wellness apps such as Headspace and Moodfit are surging in popularity.
According to mobile app market intelligence firm Sensor Tower, the world's top 10 English language mental wellness apps generated two million more downloads in April 2020 compared with January the same year.
This figure supports a recent report by the Global Wellness Institute, which estimates the global mental wellness economy to be worth US$120.8 billion (S$162.7 billion). 
Theodoric Chew, the co-founder of Singapore-based startup Intellect, wants a slice of this pie – dolloped with soothing tracks and bite-size pointers.
The company's eponymous app – which it claims to have been downloaded by two million users from 180 countries since its launch last April – was named among the best Android apps for personal growth in 2020 by Google Play Store.
Intellect's clout is complemented by fattened coffers, the result of a recently completed seed round led by Insignia Ventures Partners. Angel investors include Carousell co-founder Quek Siu Rui and Sequoia partner Tim Lee.
APP-ETITE FOR CHANGE
Chew – who at the age of 20 sold his self-help content platform Existgreat to American entrepreneurs in "a modest acquisition" – is in the habit of shtumming when asked to share funding figures. But he is more forthcoming about his personal motivations for entering the mental wellness space.
"I've received therapy since young, having struggled with anxiety in secondary school. I saw how it helped me, but noticed gaps in mental healthcare regionally and globally," he shared.
The 25-year-old – who first sought professional help after suffering a panic attack – cites social stigma and hefty private treatment costs as barriers preventing individuals from prioritising their mental well-being.
"I largely kept my mental health journey to myself when I was younger, feeling I would be judged for it," he revealed, adding that while mental health awareness in Singapore has grown over the past year through a combination of grassroots initiatives, government support and positive media coverage, more can be done to overturn perceptions.
"In Asia, there's a tendency to associate mental health with things like suicidal thoughts and schizophrenia. The biggest challenge is switching the narrative whereby mental healthcare is not just viewed in the clinical setting but made accessible for everyone," he posited.
Enter Intellect's tech-steered solution for tap-happy legions of smartphone users: A free mobile app offering self-guided programmes focused on areas such as relationships, self-esteem and anxiety. Users are initiated into the various segments with psychometric tests that, while seemingly frothy, are a precursor to exercises dispensing cognitive behavioural therapy techniques, sans the cold clinical parlance.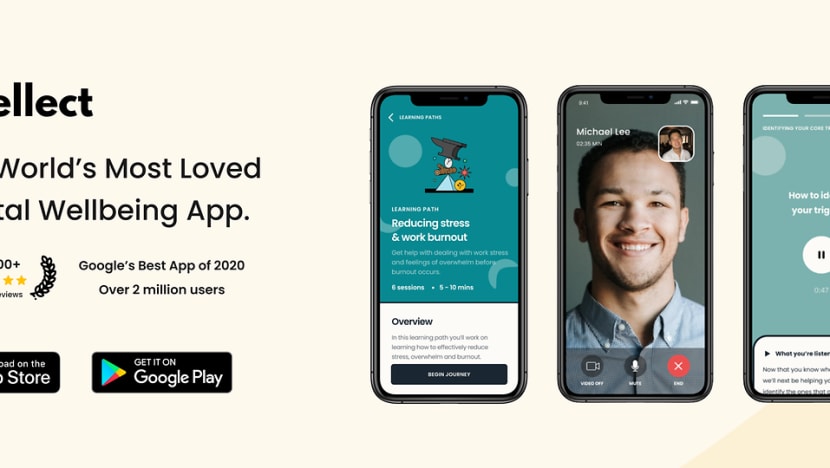 According to Chew, the app was developed with the help of a clinical psychologist and other mental healthcare professionals, and its efficacy is currently being validated through studies conducted in collaboration with research institutions in Singapore.
The consumer product is supplemented by a paid iteration for companies that comes with a more comprehensive raft of features, including a tele-health service connecting users with life coaches and mental healthcare professionals. Its most obvious antecedent is the Employee Assistance Programme (EAP).
"An EAP is basically like a distress hotline that employees can call – it is a reactive solution with low adoption rates, as it is mostly used in times of crisis. We are trying to build something more proactive for everyone," explained Chew.
While employee mental health benefits may be more prevalent among progressive global firms, Intellect's commercial app has been adopted by local public hospitals, start-ups as well as multinational companies such as foodpanda and manufacturing giant Norma Group.
Timing may have played a role in its steady uptake. 
"A year ago, companies might have said this is a nice but not exactly necessary tool, whereas it has since become a much more urgent need. We have had clients saying they need this [platform] as a reaction to something happening in the company over the pandemic, while some want it for the year ahead," he shared.
The clincher to Intellect's slick pitch? Their platform helps bottom lines by fostering a healthier and thereby more productive workforce. Although this remains to be proven, Intellect's consumer app – with its succinctly structured lessons encouraging reflection – certainly feels like an intuitive self-help companion.
TEEN TECHNOPRENEUR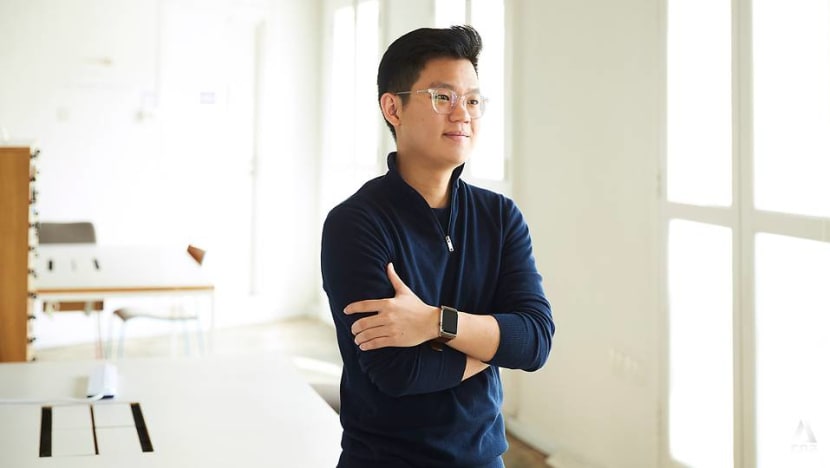 Chew is well-acquainted with the latter. As a student at Raffles Institution, the youngest of four siblings pored over tomes by the likes of self-styled motivational authors Anthony Robbins and Napoleon Hill – hardly considered literary canon for the average adolescent.
Wielding know-how culled from a hodgepodge of resources, he dabbled in a slew of digital businesses including an online pet store and a drop shipping service. Admittedly, most of these ventures were hamstrung by Chew's lack of experience and failed to take off.
"They were pivotal in showing me how technology can help us, as well as the fundamentals of being an entrepreneur. You have to be resourceful in building something out of nothing," he recounted.
Despite being educated at an elite school, the quiet student chose to not matriculate at a college after completing his O-Levels – a decision he says, was much to his parents' disdain, though they eventually got behind it.
"I don't see myself spending a super long time in a cubicle working on something I may not feel for. What I really want to do is build something around making an impact; it may not always work out but personal fulfilment is key," he mused.
For someone once hobbled by bouts of panic, and who still gets antsy when crossing big junctions, it's evident this millennial doesn't have time to fritter away when it comes to realising his ambitions. It comes across in his rapid-fire delivery that seems to slightly lag behind his train of thought, and his understated self-assuredness.
He started Existgreat while serving his National Service, populating the unknown media platform with educational content authored by doctors and self-help gurus, as well as interviews with high-profile technopreneurs such as Gary Vaynerchuk and Rand Fishkin.
"Our focus was bringing them to an Asian audience and showcasing their mission here," he said. Although he sold the company in 2016 to allow it "to further grow under more experienced hands", Chew is certain that it has taught him how to run a lean operation by being a generalist.
It's safe to say that the short run properly piqued his interest in the tech scene, which eventually led him to start Intellect with chief technology officer Anurag Chutani – a software engineer from India. The team has grown to a headcount of 15, and with the app now available in seven languages, it has made headway in capturing the nascent Asian mental wellness market.
"There's a silent pandemic going on, with a high number of suicides in Korea, Japan and Singapore that requires a whole shift. What we are trying to create is a new end-to-end mental healthcare system for this side of the world with increased accessibility and affordability," he shared.
"What we are trying to create is a new end-to-end mental healthcare system for this side of the world with increased accessibility and affordability." – Theodoric Chew