Father arrested after 11-year-old sons found dead in Upper Bukit Timah, will be charged with murder
The siblings were found lying motionless near a playground at Greenridge Crescent on Friday evening where they were pronounced dead at the scene by a paramedic.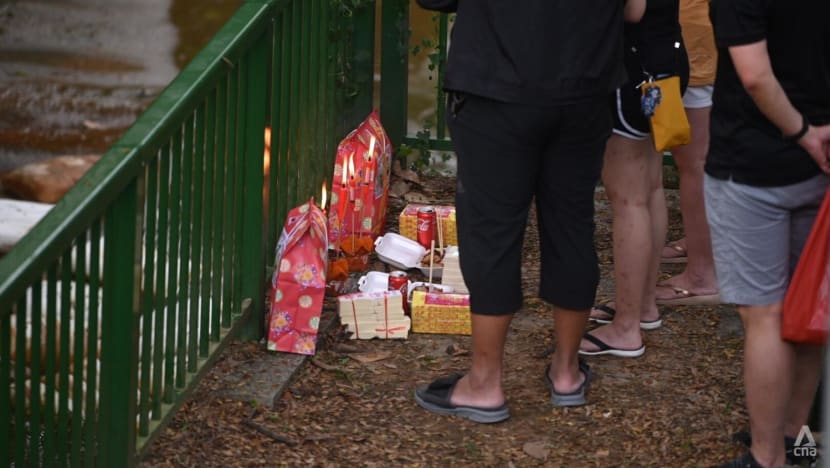 SINGAPORE: A 48-year-old man has been arrested for his suspected involvement in the death of his two 11-year-old sons, the police said late on Saturday (Jan 22).
The man will be charged in court on Monday with murder, an offence that carries the death penalty.
News of the arrest, which was announced by the police at 11.15pm on Saturday, capped a day of investigations by police officers, who conducted interviews with residents in Greenridge Crescent, located in Upper Bukit Timah near Toh Tuck Road.
The area around the playground in the residential estate was where the police found the bodies of the 11-year-old boys.
Police have not revealed the exact location, but on Saturday afternoon, CNA spotted plainclothes police officers walking along the canal and looking into it.
A group of people comprising the sister of the deceased, as well as family friends, were seen offering prayers next to the canal on Saturday afternoon.
Residents told CNA that police officers had also gone around the estate requesting footage from car cameras and closed-circuit television cameras from homes.
Those CNA spoke to added that they did not know if the two children lived in the estate.
But one resident, Mr Yim, said: "My helper heard some distress call - somebody asking for help … and it (apparently) sounded like a lady.
"After two shouts, everything was quiet. It didn't alarm her because there are usually a lot of children and adults playing in the park."
HEAVY POLICE PRESENCE
It was at 6.25pm on Friday that the police received a call for assistance by the father at a playground along Greenridge Crescent
"When police officers arrived at the scene, the man's two 11-year-old sons were found lying motionless in the vicinity of the playground and were pronounced dead at scene by a paramedic," they said.
Accounts from residents painted a scene of heavy police presence on Friday night, with one resident, a 57-year-old who wanted to be identified as Mr Raj, describing "police, vans and soldiers with red berets … encircling the forest" near the playground.
Another resident spoke about the use of a floodlight and police dogs, as well as the presence of a fire engine, with operations only winding down past midnight.