3 in 5 'excess deaths' in Singapore during COVID-19 pandemic caused by the virus: MOH
"Excess deaths" refers to the increased death rate during the pandemic, compared to the rate expected in the absence of a pandemic.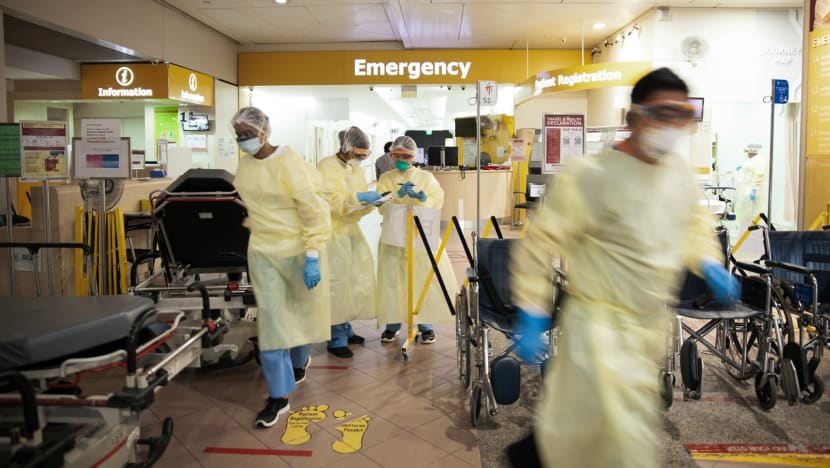 SINGAPORE: Nearly three in five "excess deaths" in Singapore during the COVID-19 pandemic were directly caused by the coronavirus, and the remainder were patients who had died of other illnesses within 90 days of being infected.
In a report released on Sunday (Sep 18), the Ministry of Health (MOH) said that Singapore recorded an estimated 2,490 excess deaths during the pandemic from January 2020 to June 2022.  
Of these, 1,403 were Singapore residents who died from COVID-19.
The term "excess deaths" refers to the increased death rate during the pandemic, compared to the rate expected in the absence of a pandemic. 
Two in five excess deaths were people who had died from other illnesses after being infected with the coronavirus.
"In other words, COVID-19 aggravated existing illnesses, resulting in death," said MOH. 
The Health Ministry noted that compared to other countries, Singapore has managed to keep its COVID-19 death toll low. 
The report also explored possible reasons for the excess deaths, with MOH suggesting that the pandemic may have changed people's "health-seeking behaviours", such as putting off health screening and medication for chronic illnesses. 
But a more significant explanation is death due to underlying medical conditions made worse by COVID-19, MOH said. 
"The gap between (the) official death toll and estimated excess deaths can be explained by deaths in patients recently infected with COVID-19 in the past 90 days. 
MOH said that among COVID-19 deaths, people who were not fully vaccinated were "over-represented", accounting for 28 per cent of deaths occurring in the first half of this year, even though only about 5 per cent of the eligible population had not been fully vaccinated as of mid-March. 
The ministry also said that while Singapore's public hospitals were strained during the pandemic, intensive care beds "were able to support patients with urgent medical needs". 
But the Health Ministry urged the public to "be mindful that when healthcare capacity is overburdened during a pandemic, it will have very adverse impact on health outcomes from other diseases. 
"As such, preserving healthcare capacity and ensuring that our healthcare workers are well-resourced remain priorities". 
Editor's note: A reference in this article to how there were no overall excess deaths after excluding recently infected people from the analysis has been removed after MOH updated its report.