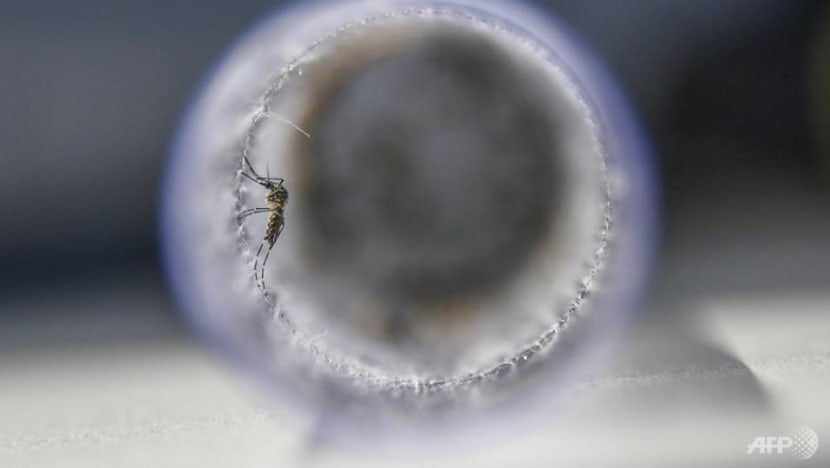 SINGAPORE: The National Environment Agency (NEA) on Friday (May 12) reported three local cases of Zika virus infection in Kovan.
All three cases either live in Kovan or work in the area, the agency said in a news release.
Two of them are currently recovering at home, while the other is stable in the hospital. None of them are pregnant. 
The last Zika case in Singapore was reported between Oct 30 and Nov 5 last year, according to data from the Ministry of Health (MOH).
NEA said that MOH has alerted doctors to be vigilant and to test for Zika among patients with clinically compatible symptoms, especially for individuals living or working in the Kovan area.
The family members of the three cases have also been advised to monitor their health closely for the next two weeks, the agency added.
NEA advised residents, especially pregnant women, in the Kovan area to monitor their health and to seek medical attention if they show symptoms of Zika virus infection.
They should also inform their doctors where they live and the location of their workplace, it added.
"While MOH and NEA have stepped up precautionary control measures, we cannot rule out that there are further cases, as most infected persons may display mild or no symptoms," the agency said.
Zika symptoms include fever, rashes, joint pain, muscle pain, headaches and conjunctivitis. Although rare, Zika virus infection can cause microcephaly in unborn babies of pregnant women. 
It is a condition where a baby's head is much smaller than expected.
CONTROL MEASURES
Like dengue, the Zika virus is transmitted primarily by the Aedes mosquito.
Authorities are carrying out indoor spraying of insecticides at residential premises within the vicinity of Kovan to eradicate any adult mosquitoes, NEA said.
Larviciding has also been conducted at common areas to destroy any mosquito breeding and source reduction efforts are ongoing.
"Residents are urged to allow NEA officers to inspect their premises and conduct spraying of insecticide, to enable immediate removal of adult mosquitoes to stop the chain of Zika transmission," the agency said.
NEA officers and community leaders will also conduct outreach activities in the vicinity to raise general awareness of Zika, reiterate the need for source reduction to prevent mosquito breeding and encourage residents to apply repellent as a precaution.
To prevent mosquito bites, individuals should apply mosquito repellent with DEET as the active ingredient, wear long sleeve clothing, and stay in rooms that are air-conditioned or have wire-mesh screens.
Editor's note: An earlier version of this article said the last local case of Zika occurred in Aug 2022. That is incorrect. A case was reported between Oct 30 and Nov 5 last year according to MOH data. We are sorry for the error.