Repealing 377A does not signal state's hostility towards the family unit or religious freedom: Pritam Singh
The Leader of the Opposition also lifted the party whip for Workers' Party MPs on this debate.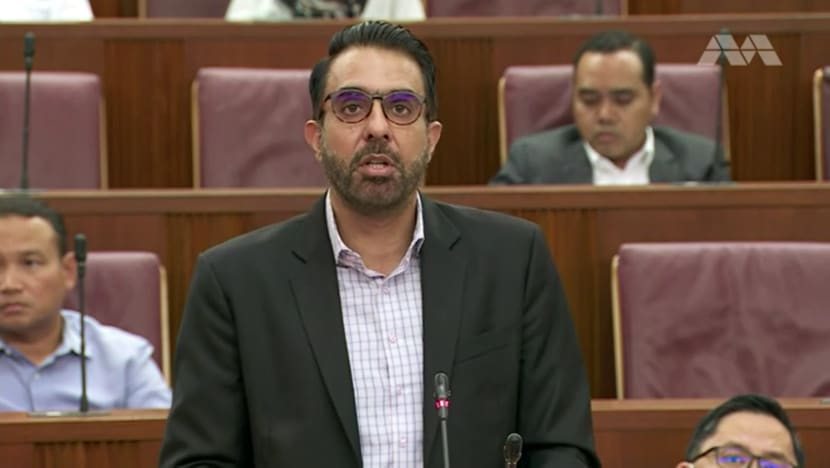 SINGAPORE: The repeal of Section 377A in the Penal Code "does not in any way signal the state's hostility towards the family unit or religious freedom", said Leader of the Opposition Pritam Singh (WP-Aljunied) on his personal belief about the repeal on Monday (Nov 28). 
Prime Minister Lee Hsien Loong first announced at the National Day Rally in August, the Government's intention to repeal Section 377A, a law that criminalises sex between men.
This was discussed at Monday's debate in Parliament, along with another Bill to amend the Constitution to protect the definition of marriage from legal challenges. More than 30 Members of Parliament (MPs), Non-Constituency Members of Parliament (NCMPs) and Nominated Members of Parliament (NMPs) were scheduled to speak. 
Mr Singh, who was the first to speak, expressed support for both the Penal Code and the Constitution amendment Bills.
He also stated that he had lifted the whip for the Workers' Party MPs, to allow those not in favour of the repeal of 377A to "vote freely".
As of 5pm on Monday, MPs Dennis Tan (WP-Hougang) and Gerald Giam (WP-Aljunied) had said they did not support repealing 377A during their speeches. MP Faisal Manap (WP-Aljunied) also did not support the repeal, said Mr Singh, although he was not present at Monday's debate as he had tested positive for COVID-19. 
"What the repeal of 377A certainly does not signal is Singapore becoming a more liberal or permissive society. What it does is make room in our shared public space, for members of our common Singaporean family to not be discriminated against due to their sexual orientation," said Mr Singh. 
"Religious Singaporeans are free to maintain their beliefs about homosexuality, but this should not interfere with what is legal in our public sphere. Likewise, supporters of repeal have no business interfering with the private beliefs of religious Singaporeans." 
APPROACH ISSUE THROUGH "COMPROMISE AND ACCOMMODATION" 
Mr Singh acknowledged that in singling out homosexuality between men, in particular, keeping 377A "appears to the LGBTQ+ community and not a small number of Singaporeans to be unjust and unequal".
However, repealing 377A will "no doubt cause anxiety, if not outrage, amongst Singaporeans who believe that our laws must also reflect cultural or religious attitudes towards homosexuality", he added. 
"The reality of our political culture, which leans towards conservatism on social issues, is that such concerns cannot be summarily ignored or dismissed." 
Mr Singh added that he sees the decision to protect marriage from constitutional challenge as an institution between men and women only, through a "very narrow lens" – it "represents a balancing exercise to ensure that society doesn't fray over the decision to repeal 377A". 
He hopes that Singaporeans who are against the repeal of 377A can approach the issue, despite their personal beliefs and religious convictions, through "the lens of compromise and accommodation". 
"In repealing 377A, religious Singaporeans are not asked to endorse homosexuality, but to instead honour the equality of all Singaporeans in the eyes of the law, that no consenting adults should be regarded as criminals because of what they do in private," added Mr Singh. 
"Equality and justice – both stars in our flag – are plenty and bountiful. Unlike finite resources, we do not have less of either by extending it to our fellow citizens. We all gain from a more just and equal society."
WP ON 377A
Mr Singh noted that in 2019, he had stated his party's position on 377A was similar to that of Singapore as a whole in a speech to the National University of Singapore Political Association. 
"It was varied and diverse, with no consensus as to whether 377A should be repealed," he said. 
In that same speech, Mr Singh said the LGBTQ community "should not be exploited for political points".
"At that time, I believed there was more to consider than deciding which was the 'right' side in this matter, particularly in a society which generally eschews hosting open and frank conversations on difficult matters in the public realm," he said.
"Against this political culture and backdrop, the Workers' Party neither took up the cause of LGBTQ+ rights, nor stood against it. I still believe that had the Workers' Party openly supported a repeal of 377A, it would not have been good for Singapore politics. More crucially, it would not have served the interests of the LGBTQ+ community."
On issues of "great social division and contending values", we "do not need politicians to be seen as siding with particular groups", added Mr Singh. 
At the People's Action Party (PAP) conference on Nov 6, PM Lee had noted that the opposition is sometimes "missing in action" when spiky issues emerge such as the decision to repeal Section 377A of the Penal Code.
LIFTING THE PARTY WHIP 
Mr Singh on Monday also told the House that WP MPs have "different views" on a repeal of 377A in their individual capacities, and as such, he has lifted the whip on this issue, allowing WP MPs to vote freely. 
He added that he would not usually lift the whip for Parliamentary debates, and noted that the People's Action Party is not lifting the whip for this debate.
"Given the varied public opinion on the impending repeal of 377A, there is a risk that the democratic value of Parliament could be diluted if the views of Singaporeans on this subject are not adequately ventilated in this House," he said. 
"Not lifting the whip would deny WP MPs not in favour of a repeal of 377A the opportunity to vote freely and in doing so, to also represent Singaporeans who see this issue as a matter of deep religious belief and conscience." 
In lifting the whip, Mr Singh asked all WP MPs who will speak on the matter to "carefully reflect on the position they take and to envision a set of principles or perspectives from which society as a whole, with its different views, can move forward". 
MPs Faisal Manap (WP-Aljunied) and Louis Chua (WP-Sengkang) were not present for the debate on Monday as they are COVID-19 positive, added Mr Singh. 
Mr Faisal disagrees with the repeal of 377A as "a matter of religion and conscience", while Mr Chua agrees to a repeal.
MPs Dennis Tan (WP-Hougang) and Gerald Giam (WP-Aljunied) also said during their speeches that they did not support repealing 377A. Mr Giam supported the amendment to the Constitution Bill.
OPPOSITION SPLIT ON 377A REPEAL, DEFINITION OF MARRIAGE 
Opposition MPs and NCMPs were vocal about their stand on both Bills in Monday's debate. 
The House heard that WP MP Dennis Tan (WP-Hougang) did not support the repeal of 377A, citing his own conscience as guided by his faith and beliefs. 
"This is both a most difficult decision and it's the most difficult speech I have (had) to make to date, given the divided issues at play for different segments of my constituents and for Singaporeans. Being very careful not to cause hurt or offence and yet having to be principled with my own beliefs," he said.
"It is also not made easier because, like many fellow MPs and Singaporeans, I also have many friends and good friends who are from the LGBTQ community," he added.
"And some have over time shared with me some of their very difficult circumstances and experiences in life, which makes my decision today even more difficult and humbling. I humbly seek their understanding."
Nonetheless, Mr Tan said his position does not change how he treats his constituents and Singaporeans, and that he would continue to serve his constituents to the best of his ability.
Similarly, WP MP Gerald Giam (WP-Aljunied) said he did not support the repeal of 377A, but he would support the amendment to the Constitution Bill. 
"My sincere belief is that retaining Section 377A without enforcing it provides the best balance of the conflicting interests in our society," he said. 
"It is important to me and the example that I set for my children that I hold fast to the values that I've established to be true without wavering because of political headwinds."
Even though some people, especially those in the LGBT community, and many of Mr Giam's friends, residents, party members and volunteers may strongly disagree with his position, he hopes that they will "accept that these are my sincerely held values", which he is "trying my best to uphold".
"My vote is not an attack on their values nor a diminishing of their humanity in any way," he added.
"Some have criticised me for allowing my faith to inform my vote in Parliament, arguing that the two should be kept separate. However, what one member, informed by their faith and conscience, believes to be in the best interest of the country in some issues, may differ from what another member believes. This issue is certainly one of them." 
On the other hand, WP MP Sylvia Lim (WP-Aljunied) supported repealing 377A, but said she would cast a vote of abstention on the Constitution Amendment Bill. 
Ms Lim, whose main areas of interest as a lawyer include constitution law, said she understood that the proposed amendments to the Constitution Bill via Article 156 were "an attempt at a quid pro quo" for the repeal of 377A in the Penal Code.
She added that she appreciated the difficulties the Government has in navigating this issue, and understands the signal the Government wishes to send.
However, Ms Lim expressed concern about "whether the carve-out of judicial oversight on the institution of marriage will set a precedent for future carve-outs, even if this is not the intention today". 
She clarified that she was not advocating for gay marriages, but whether it is "justified to exclude judicial scrutiny on this topic". 
"The Constitution is the fundamental legal safeguard of citizens, to protect them against illegal laws and policies that violate the Constitution. And it is the job of the Courts to assess whether any law is constitutional or not," said Ms Lim.
"It is not the same thing to say that the courts are intervening in a political sphere when they are doing their constitutional duty. This Bill today seeks to exclude the courts from reviewing the constitutionality of laws and policies concerning marriage."
NCMP Hazel Poa from the Progress Singapore Party (PSP) said her party was able to come to a compromise and support the repeal of 377A, despite members having differing views. 
But PSP's position on the definition of marriage is that it "should be decided via a national referendum rather than by Parliament".
"This will allow the many Singaporeans who have expressed concerns to have a say in this matter," she said.