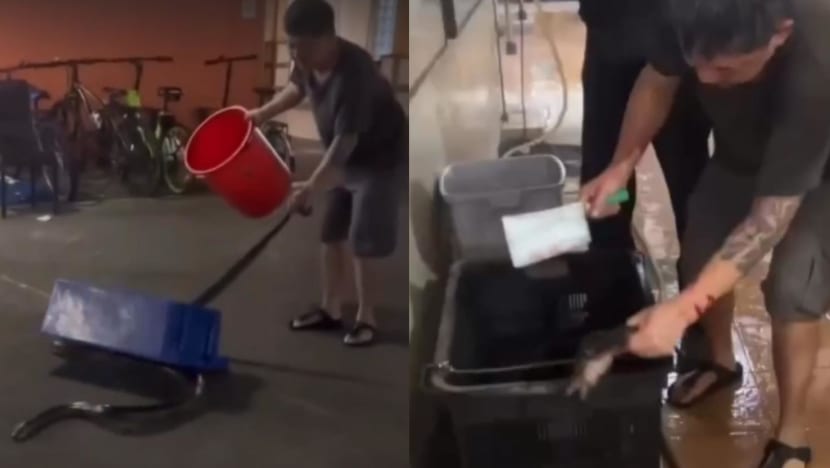 SINGAPORE: Singapore's Animal Concerns Research and Education Society (ACRES) is appealing for information on a group of men filmed attacking and killing a snake at a market.
The animal welfare charity posted on social media a video it received at 11.25pm on Tuesday (Apr 18), which showed several men hitting a reticulated python outside Boon Lay Place Market using crates and pails.
They are also seen kicking the reptile and grabbing it by its tail to drag it along.
After bringing the python into the market, one of the men uses a cleaver to chop at its head, killing the creature.
The men can be heard laughing throughout the video, which ACRES said was a screen recording sent by a concerned member of the public.
ACRES is appealing for any eyewitnesses as well as information on the men in the video. 
The animal group said it was "shocked and disturbed by the celebratory tone and all the cheering in inflicting suffering and death" on a protected species of snake native to Singapore.
It noted that there were no indications of anyone in the video calling relevant authorities like the National Parks Board (NParks) or ACRES for help.
"Such incidents involving killing or hurting snakes have been happening repeatedly, and we hope that this case will result in prosecuting the individuals involved, serving a severe deterrence for the future of our animals in the community," said ACRES. 
ACRES said it conducted investigations and interviews at Boon Lay Place Market on Wednesday morning, and has since submitted information to NParks for the agency to investigate.
Responding to CNA's queries, NParks said it is aware of the video and is investigating the matter.
Nparks said it is an offence under the Wildlife Act to "kill, trap, or take wildlife without the Director-General's approval". It added that offenders may be fined up to S$50,000, jailed for up to two years, or both if the offence is committed in respect of a protected wildlife species.
However, there would be no offence if the wildlife is an exempted species, said NParks. These include mynas, pigeons, crows or invertebrates. No offence is also committed if the killing or trapping of wildlife is for the protection of crops or property, as stated in Section 6(1) the Wildlife Act, said NParks. 
Under the Animals and Birds Act, first-time offenders caught causing cruelty to an animal can be fined up to S$15,000, jailed up to 18 months, or both.
What to do when you encounter a snake
When encountering a snake in a public area, members of the public should observe it from a safe distance. They should not approach or attempt to handle the snake. Instead, they should stay calm and back away slowly, giving it space to retreat.
The snake should also be left alone, especially if it is in its natural habitat. Pets should also be kept on a tight leash as they might chase the snake and frighten it.
For snake encounters at home, members of the public should call for professional help. They should also keep all family members and pets away from where the snake is. 
If the snake is found in a room, they should keep all doors and windows that lead outside open for the snake to exit. 
A potential cause for snakes in homes could be improper waste disposal, which attracts pests that snakes prey on. To keep them out of their homes, members of the public should practice proper food waste disposal to keep rodents away. 
Unused pots or containers, as well as holes and gaps in property could be potential hiding places for snakes. Members of the public are advised to remove them to keep snakes out of their homes. 
To keep out territorial snakes, wire mesh or acrylic panes at least 1m high can be installed, and dug into the ground surrounding the property. 
Homeowners should also keep the grass short and seal up any holes or burrows in gardens. Pets should be kept indoors and their cage should be snake-proof.
According to NParks, pythons play important ecological roles such as pest control and keeping a balanced ecosystem. They act as a vital biological control for local rodent populations and are vital components of the food web as predators of small animals and prey to larger mammals and birds. 
Snakes are generally shy creatures and will usually try to slither away from humans, said NParks, adding that they are generally not aggressive and will not attack unless they are disturbed or provoked.
"If members of the public encounter a snake in a public area, they should observe from a safe distance, stay calm and back away slowly, giving it space to retreat. Do not approach or attempt to handle the snake."
If assistance is needed, members of the public can call NParks' 24-hour Animal Response Centre at 1800 476 1600.