'Everything is messed up': People in Singapore with ties to Afghanistan worry about country's future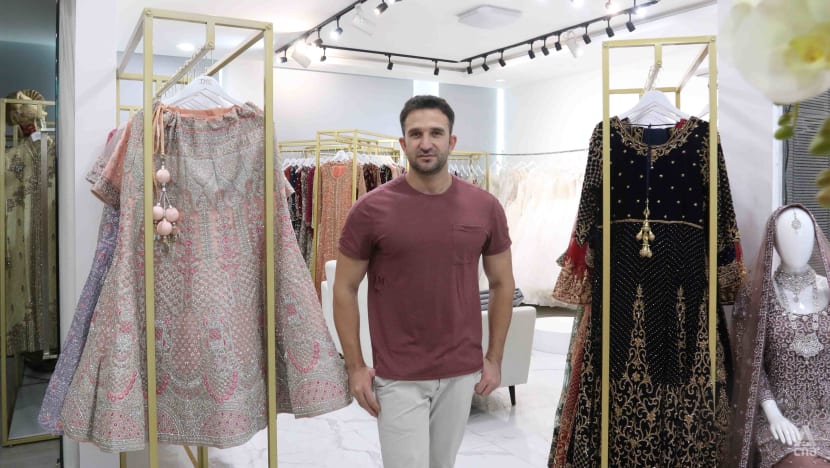 SINGAPORE: Mr Najeeb Ahmadzai, an Afghan living in Singapore, remembers how things were looking brighter for his country in recent years.
Years after the Taliban were driven out in 2001, Afghanistan had been experiencing relative growth and stability, he said. Friends and family still living there told him they were "happy".
"Recently, things were getting digitalised. They said the progress was going very well, with the big projects and all," the 30-year-old told CNA at his Singaporean wife's clothing boutique in Kaki Bukit.
"But all their hopes were dashed in a few days."
Mr Ahmadzai and his family left Afghanistan for Pakistan when he was barely a year old. He went to school in Africa, sometimes returning to Afghanistan to get official documents, before getting a job in Dubai.
In 2019, Mr Ahmadzai moved to Singapore. Still, he retains a strong connection with Afghanistan, and knows snippets of what life was like for his compatriots over the years.
"When we hear good news about our country, we feel like we are glowing," he said. "When we hear things like (the recent events) happening, internally we are dying."
THE FALL OF KABUL
On Aug 15, two weeks before the US was set to finish withdrawing its troops after a two-decade war, the Taliban entered the Afghan capital Kabul.
Militants seized control of the presidential palace and President Ashraf Ghani fled the country.
The Taliban ran the country in the late 1990s, and while the US-led invasion of Afghanistan in 2001 ousted them from power, they never really left.
After the militant group assumed power once more, thousands of Afghans raced to the airport in Kabul, desperate to flee the country. The Taliban's previous rule largely confined women to their homes, and television and music were banned.
Reports of the militants carrying out door-to-door searches left those who had worked for the previous government or other foreign powers fearing for their lives.
But the Taliban have vowed to respect women's rights, forgive those who fought them and ensure Afghanistan does not become a haven for terrorists.
"The way the Taliban has talked, if they follow through with it, God-willing there will be no problems," Mr Ahmadzai said.
"But if it's only talk – they just want the Americans to leave first, and they start their nonsense again like before – it means people will be pissed off."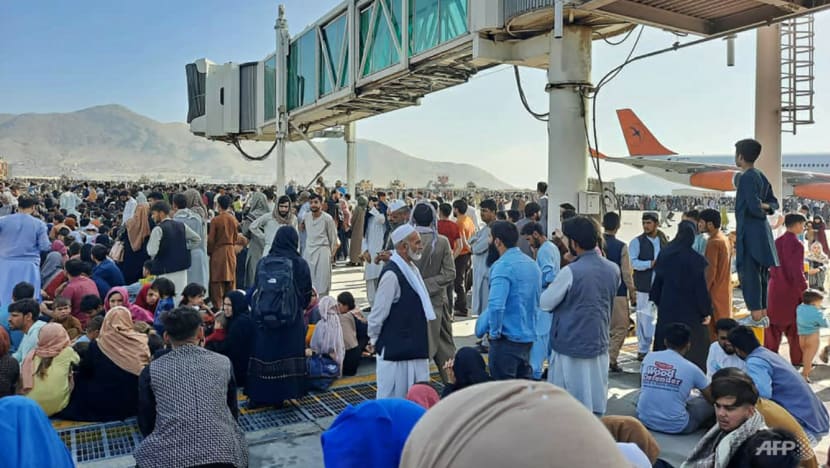 Indeed, many remain unconvinced. Kabul's airport descended into chaos on Aug 16, as people tried to board the few flights available and US troops fired shots into the air.
Videos online showed crowds dramatically running alongside a US air force plane as it rolled down the runway, with some clinging to its side. Other videos showed desperate scenes of people trying to cram into the back of a cargo plane.
"When you see this – people hanging from the airplane – we also don't feel good," Mr Ahmadzai said. "They were scared, that's why they did that. We feel ashamed to see this kind of thing."
The US and allied forces have since mounted a two-week effort to ferry foreign nationals and tens of thousands of at-risk Afghans out of the country.
The airport became the scene of a bloodbath last Thursday, when a suicide bomb attack outside the airport gates killed at least 90 Afghans and 13 American soldiers. The Islamic State has claimed responsibility for the attack.
The attack further destroyed hopes that the transition of power to the Taliban would be peaceful, and left people even more "confused", Mr Ahmadzai said.
"The government is gone, the Taliban came and we went backwards already. Then there was a bomb blast," he said. "So, we are facing problems from all areas. We are again scared about what is happening in the country."
The US and its allies have taken about 113,500 people out of Afghanistan in the past two weeks, but they acknowledged that many more who want to leave will be left behind.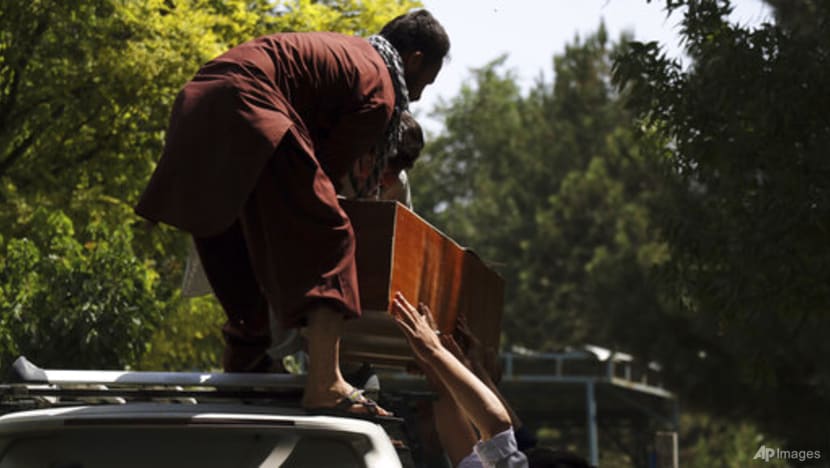 DECLINING SITUATION
After Kabul fell to the Taliban, streets were "literally deserted", said Dr Wee Teck Young, a Singaporean who lived in Afghanistan from 2004 to 2020 and remains in contact with some people there.
"And that was not because there was security. That was because of fear. That has continued until today," the 52-year-old told CNA.
Dr Wee, a former general practitioner who prefers to be known as Hakim, quit his job in 2002 before moving to Quetta, located along the Pakistan and Afghanistan border. There, he worked as a doctor with a non-governmental organisation. 
In 2004, he shifted to Bamiyan province in Afghanistan to do humanitarian work, then to Kabul in 2012. He returned to Singapore in March last year because of the COVID-19 pandemic.
Mr Hakim continues to work remotely with a peace and humanitarian group in Afghanistan.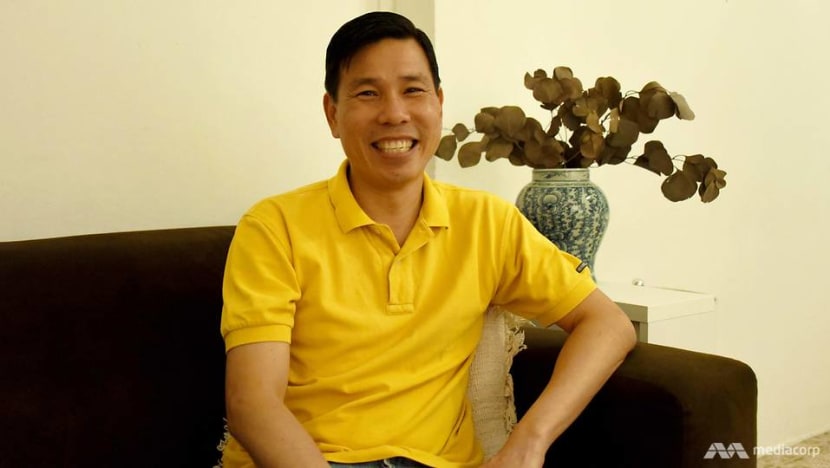 In Kabul, people trying to withdraw money formed long queues outside banks, with some shattering glass panels at the branches, he said.
Banks closed after the Taliban took power, but officials ordered them to reopen last Saturday and imposed a withdrawal limit of US$200, or 20,000 afghani. 
"Now, it's almost as if Kabul is in lockdown. Not from the pandemic, but because of fear and uncertainty from the new rulers," Mr Hakim said.
Mr Ahmadzai said nobody there knows what is going to happen next, highlighting that the prices of commodities have spiked while the currency value has plunged.
"Everything is messed up. We don't know the target of where we (as a country) are going," he said.
"There is lawlessness and no leadership. Anything can happen. Maybe (the Islamic State) wants to take over and kill the Taliban. Again, there will be a fight."
Mr Ahmadzai said his long-time friend, who works at a bank in Kabul, has stayed home every day since the Taliban took over.
He said his friend fears going out even to buy bread, as anybody could pose as members of the Taliban to commit crime. The friend also holds a senior position at the bank, and could be targeted by robbers.
Mr Ahmadzai said he gets worried when his friend does not reply to his text messages.
"So far he's safe; nothing happened," he said. "But it's not enough to say, 'Sit at home where everyone is secure.' What to eat? What about your career?"
Mr Hakim said some people have begun going out to "try to survive and live" by working and putting food on the table.
"They don't know what the new government would be like, but they're not hopeful. They don't trust the Taliban, they certainly don't trust the world for what it has done to Afghanistan. So who can they trust? They are living in fear," he added.
STAY PUT OR ESCAPE?
This is why many are desperate to leave the country.
Mr Hakim said he knows of young Afghans who have left their parents behind to flee the country. "I cannot imagine how that feels. It breaks their hearts," he said.
"And some of them say, 'No, I don't want that grief, I want to stay with my parents.' Their parents will obviously tell them, like all parents would, to leave. You find your life, survive." 
Mr Ahmadzai said he has friends who have been evacuated to Germany and Canada after working with authorities from these countries.
His friend working at the bank had considered heading to Pakistan via the land border, but decided against it, fearing the risky journey and for the safety of his three young children.
Likewise, Mr Hakim shared that one of his friends decided to remain in Kabul with his family.
After the Taliban took over, his family stayed at home, frightened. But after a few days, his friend decided to go to the city to buy food for his family. 
"He saw the armed Taliban across the city, and he was fearful just walking past them," Mr Hakim said. 
After getting home that evening, the friend told Mr Hakim over the phone that the armed Taliban members did not seem to be harassing anybody.
"That's not true for everybody though, there are isolated accounts of people who are being harassed," Mr Hakim said.
When asked why his friend wanted to stay in Kabul when so many others had chosen to leave, Mr Hakim said the reasons were "very complex".
Some of the older generations of Afghans feel the country is their home, he said, and are reluctant to leave behind emotional and social ties for an unfamiliar place. Then there is the issue of money and the risks involved with seeking refuge elsewhere.
Some Afghans could also decide to stay if they find a place within Afghanistan that is "relatively safer" and can provide self-sustenance, like in the mountains, he added.
While the friend who remained in Kabul told Mr Hakim he was feeling okay, he admitted that as a family they were not coping very well psychologically.
"A few of them are really reaching out to me, they just want to talk because they feel paralysed with fear, uncertainty about what's going to happen tomorrow," Mr Hakim said.
"This Afghan friend of mine feels that way as well. All his hopes for education are gone," he said, adding that his female Afghan friends feel the same way.
CONCERN FOR FRIENDS, FAMILY
Mr Hakim said he checks in with his Afghan friends every day, adding that they are like family now. He simply listens over the phone and lets them cry if they need to, adding that they have experienced trauma all their lives, and "now very intensely on a daily basis".
"Mainly I see my role in the privileged space that I am in Singapore to be the one who is supporting them, both emotional and human support-wise, and also to think along with them on what's the safest options," he said.
"We have to support one another through all that on a daily basis now, and then try to get organised to support with food and water as much as possible."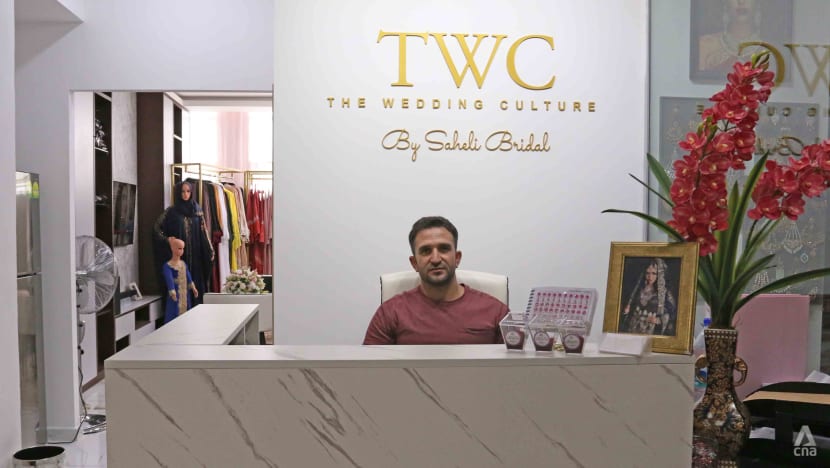 Mr Ahmadzai hopes the Taliban make good on their promises, especially on promoting women's rights and education, and start building ties with other countries to continue reviving the economy.
He also wants to see them appoint people with relevant expertise to be in government, noting that there are many talented Afghans who can contribute to nation-building.
The situation in Afghanistan has also left Mr Ahmadzai worried about his status in Singapore, where he is on a long-term visit pass. However, his Afghan passport is expiring soon.
Mr Ahmadzai said he does not know if he can renew it at an Afghan embassy abroad, and is unsure if the embassies are functioning as usual after the Taliban took over. He also fears he cannot re-enter Singapore with an Afghan passport.
"My wife is here; I cannot leave," he said. "It's a big issue because Singapore is very strict. That's why we are scared and thinking of all these things."
Ultimately, Mr Ahmadzai said Afghans yearn for peace above anything else.
"Once peace is there, people will come to do business and reconstruction in my country," he said. "A blessed country is a peaceful country. That's what we are hungry for."
How Singaporeans can help
Since the fall of Kabul, all non-governmental organisations there have closed down. "You could say they're underground," Mr Hakim said. 
Up to two weeks before that, the peace and humanitarian group he works with was still trying to keep some of its activities going. 
"When it became more and more apparent that Kabul may fall, we then made plans in case the worst happened, which was really prioritising food, water and safe shelter. And then before the fall of Kabul, they very wisely decided to close down," he said.
Singaporeans can help people there by donating to international groups that provide these basic necessities, he added.
This includes the UN High Commissioner for Refugees programme, which works with internally displaced people and Afghan refugees who have fled the country. 
The UN World Food Programme has also made an appeal to deliver food to Afghans. The country has had acute food crises over the past few years, and now more so, said Mr Hakim.
There are also humanitarian hospitals accepting aid. Emergency Hospital, an Italian organisation, is the main hospital across Afghanistan that takes in war casualties, he said.
"As humanitarian doctors, they do not discriminate. They treat everybody, including the Taliban," he said, adding that this is why the Taliban has always negotiated with them to facilitate their humanitarian work.
Doctors Without Borders is also on the ground in Afghanistan and calling for donations, Mr Hakim said, adding that Singaporeans can donate directly to these two organisations.
While there are other organisations on the ground in Afghanistan, the UN has negotiated with the Taliban to make sure they can continue their humanitarian work, he stressed.