Singapore offers to help US evacuate refugees from Afghanistan using RSAF tanker-transport plane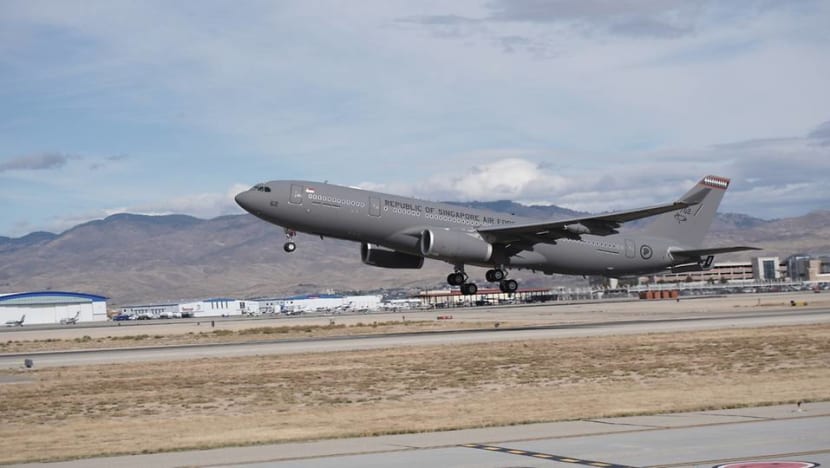 SINGAPORE: Singapore has offered to help the United States evacuate refugees from Afghanistan using the Republic of Singapore Air Force's (RSAF) A330 multi-role tanker transport (MRTT) plane, Prime Minister Lee Hsien Loong said on Monday (Aug 23).
The RSAF MRTT can carry up to 266 passengers or 37,000kg of cargo, and can be used to evacuate sick or injured personnel. 
"I mentioned to Vice President (Harris) that we knew that the US was conducting an evacuation operation of refugees from Afghanistan, and Singapore would like to offer to the US the use of (RSAF's MRTT) aircraft in order to help with the airlift," said Mr Lee.
His comments came during a joint press conference with US Vice President Kamala Harris, who is in Singapore for an official three-day visit to reaffirm the US' commitment to the Indo-Pacific.
The countries have also agreed to deepen collaboration in multiple areas, including cybersecurity, defence and the climate crisis.
Ms Harris thanked Mr Lee for the "very generous offer" regarding Afghanistan, saying that she looked forward to following up on that discussion.
US President Joe Biden said in a White House briefing on Sunday that the US has an unwavering commitment to getting its citizens and at-risk Afghans out of Afghanistan.
The US is moving out thousands of people each day, Mr Biden said, adding that he hoped not to have to extend the Aug 31 deadline for evacuations.
This comes after the Taliban seized power in Afghanistan last week and beat back thousands desperate to flee the country, as the US and its allies withdrew troops after 20 years there.
The US has also sought the help of six commercial airlines to transport people after their evacuation from Afghanistan, Reuters reported. Mr Biden said people were being assisted by more than two dozen countries in four continents.
AN "EXTREMELY DIFFICULT" SITUATION: PM LEE

Mr Lee said the Biden administration inherited an "extremely difficult" situation, highlighting that the US had invested "considerable blood and treasure" in Afghanistan.
"But it was an intractable task given the complex history, geography and tribal rivalries of the place," he said.
Mr Lee said successive US presidents had declared their resolve to withdraw from Afghanistan, adding that he told Ms Harris that Singapore understands Mr Biden's reasons for his decision.
"The US intervention has stopped terrorist groups from using Afghanistan as a safe base for 20 years," he said.
"For this, Singapore is grateful. We hope Afghanistan does not become an epicentre for terrorism again, and post-Afghanistan in the longer term, what matters is how the US repositions itself in the Asia-Pacific, engages the broader region and continues the fight against terrorism."
Mr Lee pointed out that Singapore participated in the International Security Assistance Force in Afghanistan, and sent provincial reconstruction teams to support the Afghan people in their reconstruction of the country.
These efforts were made as Afghanistan is a "key battlefront" in the global fight against extremist terrorism, Mr Lee explained.
"Extremist ideas and capabilities were exported from there, (to) all over our region, and they pose a security threat to Singapore too. The Jemaah Islamiyah group, for example, had direct links to Al-Qaeda in Afghanistan," he said.
Nevertheless, Mr Lee said countries all over the world are watching developments in Afghanistan "very closely".
"Foremost in everybody's minds is the safety and security of the civilians, and I hope all sides will work to ensure this," he added.
When asked by a reporter "what went wrong" in the US' withdrawal from Afghanistan, Ms Harris said there will be "plenty of time to analyse what has happened".
"But right now, we are singularly focused on evacuating American citizens, Afghans who worked with us, and Afghans who are vulnerable, including women and children," she said.
"That is our singular focus at this time, understanding that we have a priority in making sure that the people that, in particular, helped America achieve its responsibilities in terms of our priorities and the reason we went to Afghanistan in the first place ... are safe."
Ms Harris said there has been a "successful drawdown" of the US embassy in Afghanistan without American casualties, adding that the US military has done "very hard and difficult work" to contain Kabul airport and ensure successful evacuations.
Mr Lee acknowledged that countries adjust their positions from time to time and this could sometimes result in "hiccups".
But he reiterated that going forward, perceptions of the US' commitment to region would be influenced by how it engages its broad range of allies in the region.
"Countries remain with long-term interests, with long-term partners, and the mark of a country which can succeed, (is) that it takes these interests and partners seriously," he said.
Ms Harris said her task at hand relates to the US' relationship around the world, and the agreements reached with Singapore were evidence of an enduring relationship and commitment.
"I'm standing here in Singapore, because of our commitment to a long-standing relationship, which is an enduring relationship with the Indo-Pacific region, with Southeast Asian countries and in particular, with Singapore," she added.
RSAF A330 MRTT
The RSAF's MRTT has better endurance, cargo and passenger capacity than its predecessor the KC-135, allowing the Singapore Armed Forces to better contribute to international humanitarian assistance and disaster relief missions and peace support operations.
The MRTT can also refuel more of the RSAF's F-15SG and F-16 fighter jets in a single flight, enabling them to more easily reach faraway destinations.
In May, manufacturer Airbus announced that it had conducted successful flight tests with RSAF on a fully automated air-to-air refuelling process, calling it a "game-changing" capability.
Defence Minister Ng Eng Hen, who declared the MRTT fully operational in April, said: "The MRTT marks another step up in extending the range of RSAF's fleet of planes."