Why a former real estate agent was fined less than the S$1.25m revenue for subletting apartments on Airbnb, HomeAway
SINGAPORE: Last Monday (May 30), a former real estate agent was fined about S$1.16 million for a subletting scheme that drew a revenue of more than S$1.25 million.
Simon Chan Chai Wan, 57, pleaded to nine charges under the Planning Act after providing short-term accommodation on platforms such as Airbnb and HomeAway.
His girlfriend Zhao Jing was fined S$84,000 for helping him in the scheme.
The fine handed to Chan was the largest amount given to a person in Singapore for such offences. Under URA regulations, a minimum stay of three consecutive months applies to all private residential properties rented out for accommodation purposes
As part of the scheme, Chan rented out 14 properties – two under Zhao and the others under companies HTM Solutions, HTM Management and SNS Infotech Global – between Jun 30, 2017 and July 2018.
The couple took turns being directors of HTM Solutions and HTM Management for periods of time between 2016 and 2018, and Chan was also the former director of SNS Infotech Global.
The properties were mainly in prime areas of Singapore, including Orchard Road, River Valley, Tanjong Pagar and Keppel Bay.
When he rented the properties from the owners, he did not tell them he would sublet them out.
The scheme pulled in S$1,254,907.78 over 13 months – a monthly average of more than S$96,500.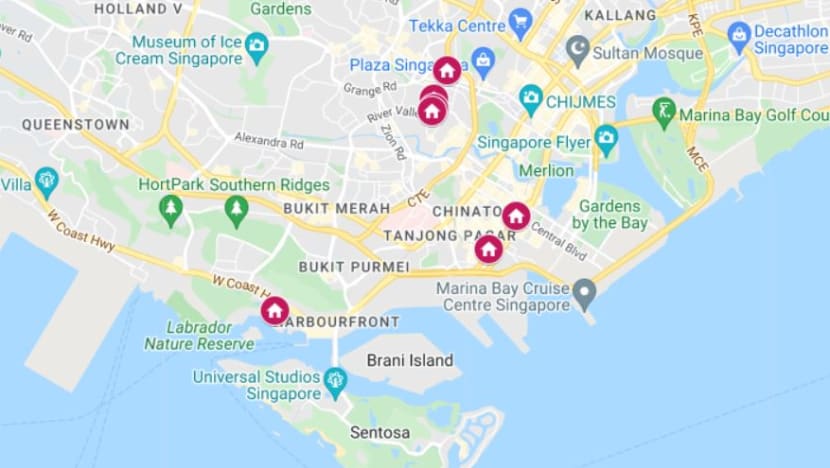 WHY HE WAS FINED LESS THAN HIS REVENUE
Chan pleaded guilty to nine charges under the Planning Act, with five remaining charges taken into consideration. Each charge was related to a unit that he leased.
Under the Act, Chan was liable to a fine of up to S$200,000 per charge as a first-time offender.
In sentencing, District Judge Lau Qiuyu said she was guided by a similar case in the High Court in 2020. In that case, a former real estate agent was also fined for a similar scheme, but on a much smaller scale.
She explained that the fine comprises two parts – a disgorgement component and a punitive component.
The disgorgement component refers to the repayment of ill-gotten gains, and the punitive component is the punishment.
In her judgment, the judge set out with the premise, as with the previous case, that the "entire revenue represents the offender's profits", and the court will only permit a deduction for "necessary expenses". This is defined as expenses that enabled the offender to commit the offence.
The defence asked for the following amounts to be deducted:
Rental payments S$266,400
Stamp duties S$2,753
Security deposits S$53,600
Cleaning and laundry fees (estimated) S$26,400
Utilities (estimated) S$44,750
Furnishings (estimated) S$66,637
Air-con servicing S$7,440
Painting of premises S$37,600
Transport costs – not clear
The prosecution and the court agreed that rental payments and stamp duties should be deducted as "necessary expenses".
They also agreed that the payments totalling S$52,000 paid to Zhao was also such an expense, even though the defence did not claim it.
But the court and prosecution disagreed with the defence regarding the other costs. In some cases, not enough evidence was produced, and the court ruled that the other expenses were not necessary.
In considering the punitive component, the judge deemed the level of harm in this case to be "slight", as there was no evidence of "tangible or appreciable harm or loss caused".
But Chan's culpability was deemed to be in the "medium" category – he was primarily motivated by profit and the duration of the offences was "fairly sustained".
"The business model in this case was fairly sophisticated … Chan did not own any of the properties that were leased for short-term accommodation," said the judge, adding that this business model was self-funding with high returns.
His guilty plea and cooperation with the authorities were also taken into consideration for the punitive component of the fine.
CHAN'S S$1.158 MILLION FINE:
| Unit's location | Disgorgement | Punitive |
| --- | --- | --- |
| International Plaza | S$103,000 | S$20,000 |
| International Plaza | S$103,000 | S$20,000 |
| Robinson Suites | S$104,000 | S$21,000 |
| Claremont | S$104,000 | S$30,000 |
| Claremont | S$104,000 | S$30,000 |
| Claremont | S$104,000 | S$29,000 |
| Residences @ 338A | S$104,000 | S$29,000 |
| Centrepoint apartments | S$103,000 | S$20,000 |
| Caribbean at Keppel Bay | S$104,000 | S$26,000 |
| Total | S$933,000 | S$225,000 |
The judge said the individual sentences and aggregate punitive fine imposed on Chan were "neither unreasonable nor excessive".
If he did not pay the fine, he would have to serve 95 weeks in prison in default.
ZHAO'S FINE
Zhao helped Chan set up and manage host accounts on the Airbnb platform and post listings advertising the units for short-term stays. Two of the 14 units were also rented under her name.
She managed reservations by guests, answered queries and updated the calendar, court documents showed.
Zhao was paid S$4,000 a month by Chan – a total of S$52,000 over 13 months. She was fined the entire S$52,000 as part of the disgorgement component.
For the punitive component, her level of harm was deemed "slight", and her level of culpability "low".
Her guilty plea and cooperation with the authorities were taken into account, and the judge ordered a fine of S$84,000 for her.
If she did not pay the fine, she would have to serve 12 weeks in prison in default.
ZHAO'S S$84,000 FINE:
| Unit's location | Disgorgement | Punitive |
| --- | --- | --- |
| Claremont | S$13,000 | S$8,000 |
| Claremont | S$13,000 | S$8,000 |
| Claremont | S$13,000 | S$8,000 |
| Residences @ 338A | S$13,000 | S$8,000 |
| Total | S$52,000 | S$32,000 |