All in a day's work: Digging out condoms, hardened grease and rags from the sewers
PUB attends to 36 sewer choke cases causing service disruptions per month.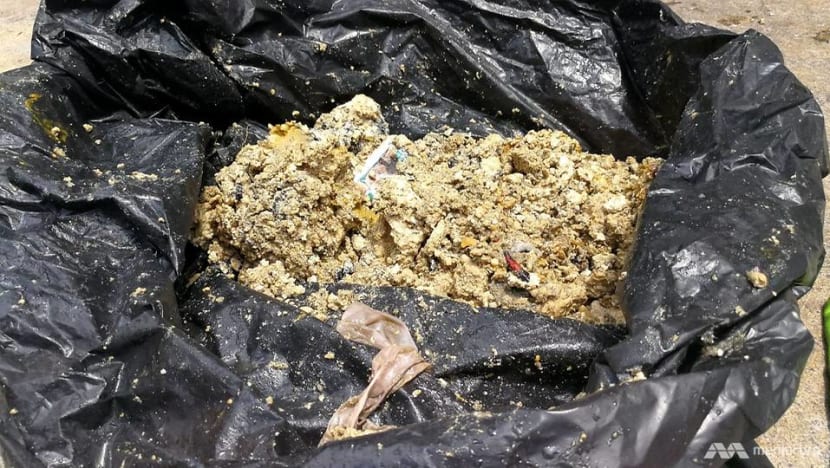 SINGAPORE: When PUB assistant engineer Azmi Talib and his team opened a manhole along the back alley on Sam Leong Road in Little India, cockroaches of different sizes crawled out haphazardly, accompanied by the acrid smell of sewage. 
The team did not flinch. Such sights and smells are an everyday affair for the "choke busters" from the national water agency.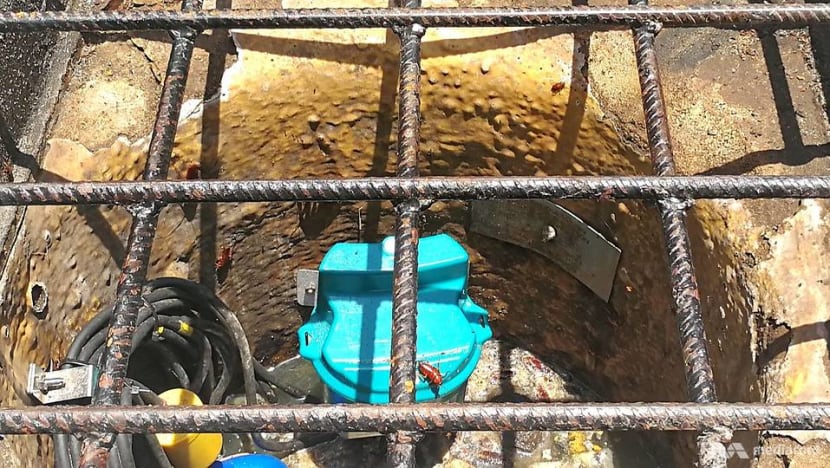 For the next two hours, the team toiled in the sun to remove what was choking the length of pipe underground. Someone along the street, which is lined with eateries, had complained that they could not flush a toilet.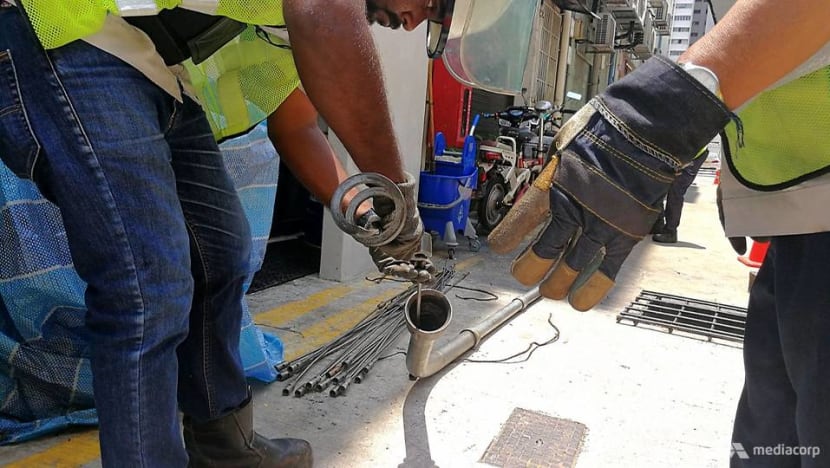 It was a highly manual process: The men inserted the spiral nozzle into the manhole, fitted to it rod after rod to extend its reach, pushing the nozzle deeper into the sewer pipe and waited for the nozzle to hit the blockage which was then disintegrated through a circular motion.
When the choke seemed to have been cleared - a good hour later - the team used a net to dig up the debris. Although it is nowhere near the size of the "monster fatberg" seen recently in London, the pipe did have its fair share of gunk. 
What they saw was of no surprise to them - broken down hardened grease and fats combined with other items such as cigarette packs and paper towels.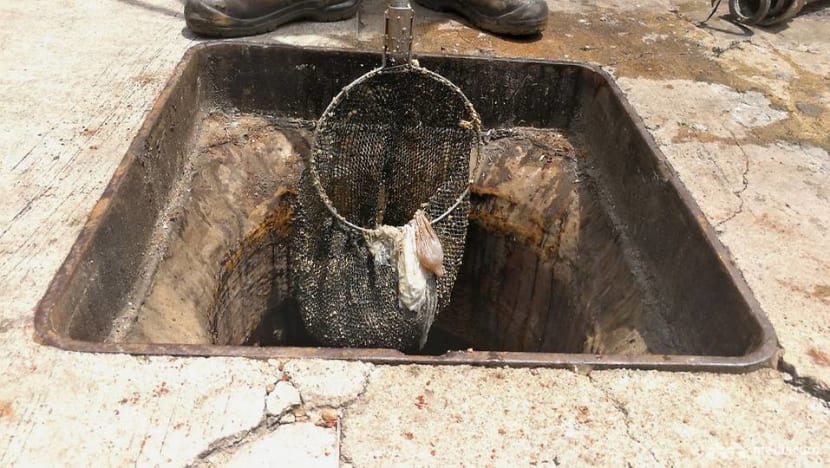 There were also one or two condoms, which drew laughter from the team despite their weariness, along with some coins and a wiry kitchen scrubber.

The expectation is that once the choke is cleared, water would rush through, but it did not happen. The water level in the manhole on the other end, about 100m away, had barely subsided, a sign that the choke may not be fully cleared.

They took to the rods again, fixing and turning on repeat, with visibly less energy. Not much else was fished out, but Mr Azmi was eventually able to inform the complainant that the choke had been cleared, and that it is safe to flush the toilet.

For stubborn blockages, manual rodding as in this case is used. However, most sewer blockages are cleaned with a high-pressure water jet that is fitted to a vehicle called a hydraulic mobile cleaner, PUB said. In some areas with limited vehicular access or parking restrictions, a mechanical rodding machine is used. 

PUB attends to 36 such sewer choke cases causing service disruptions per month on top of scheduled cleaning and maintenance that is done regularly.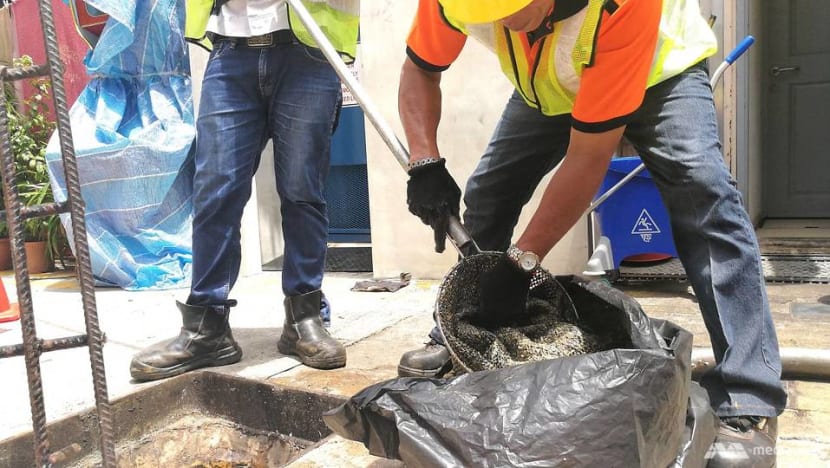 Other than getting alerts from members of the public, islandwide sensors provide early warning when there is an overflow or blockage, PUB said.
A MAN WITH A PASSION FOR THE WORK

Others may turn their nose up at a job dealing with sewage, but the task is a satisfying one for Mr Subramaniam Pavaday.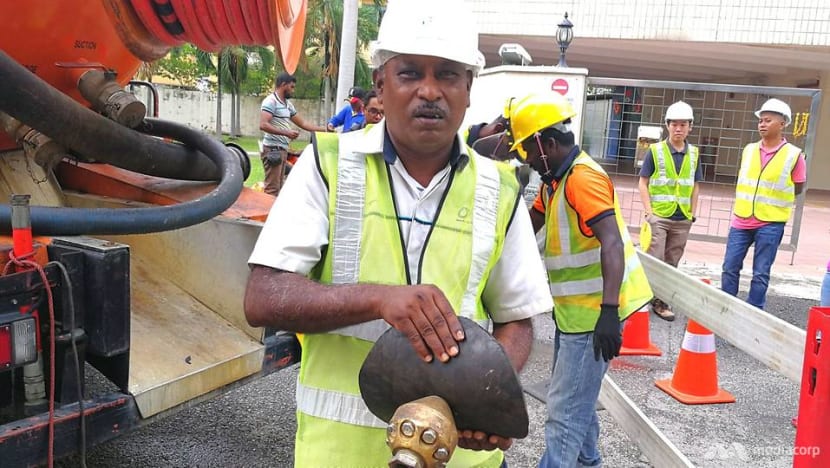 After all, he has spent his entire working career, 38 years, with PUB's sewage department. The 57-year-old started out cleaning manhole openings, then moved on to inspecting pipes that had been newly constructed before they are deployed for use.

He has crawled into them, mirror and torch in hand to ensure that they are ready. He has also gone down into an existing manhole, after taking the necessary safety precautions.

But nothing has been more challenging than being in the maintenance department, he said. He has gotten used to the smell and the snide remarks from some people - but there are others who still frequently question his cleanliness.

The most difficult aspect of the job? Getting permission from residents living in private property in which manholes are situated to enter their homes to carry out routine maintenance or to clear blockages.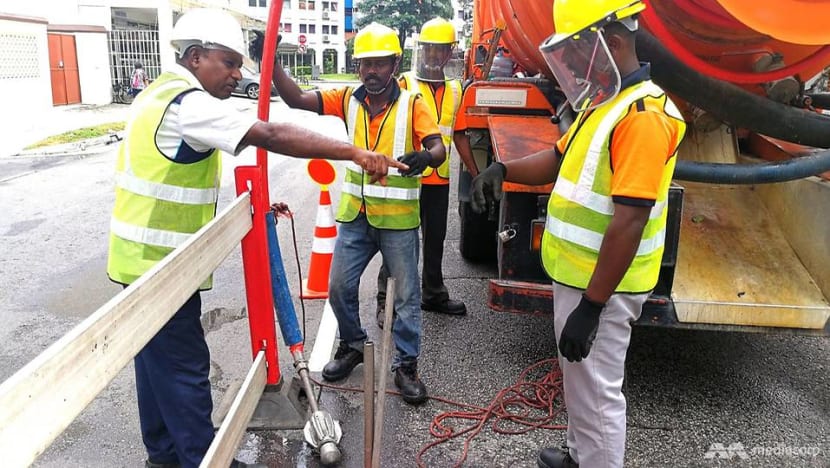 "They will ask for an appointment letter, or why we put the manhole there, although it was already there before they moved," he said.

PUB explained that it is unable to give advance notice because the map does not indicate if the manhole is situated inside a house or along the roadside.

Mr Subramaniam said it can get frustrating when residents put up resistance to his team's work.

"We are doing good for them, and they are doing like that. We are cleaning your dirt, not mine," he said, adding that there are days when he has had to wait a whole day or half a day before starting the maintenance work because he does not have permission to enter a house.
He told Channel NewsAsia that his worst days are those spent explaining to condominium security guards and management in order to start work.

Other challenges include ensuring safety while working on the road, and handling foreign nationals from PUB's contracted company, he said.

A DIFFICULT, BUT SATISFYING JOB

Despite the challenges, Mr Subramaniam enjoys the satisfaction of doing good for the public. He first joined PUB fresh from school at the age of 18.

It was his father, then a repairman with PUB who recommended him for the job. Mr Subramaniam, who is single, is now in a supervisory role in the maintenance team.

His knowledge and experience were hard not to notice during the two site visits Channel NewsAsia went for, one for routine cleaning and inspection and another for a blockage case.

In each instance, he was seen guiding staff and his institutional knowledge was apparent. He was able to explain each and every cleaning nozzle in the arsenal, and reminded the foreign workers to adopt proper safety measures.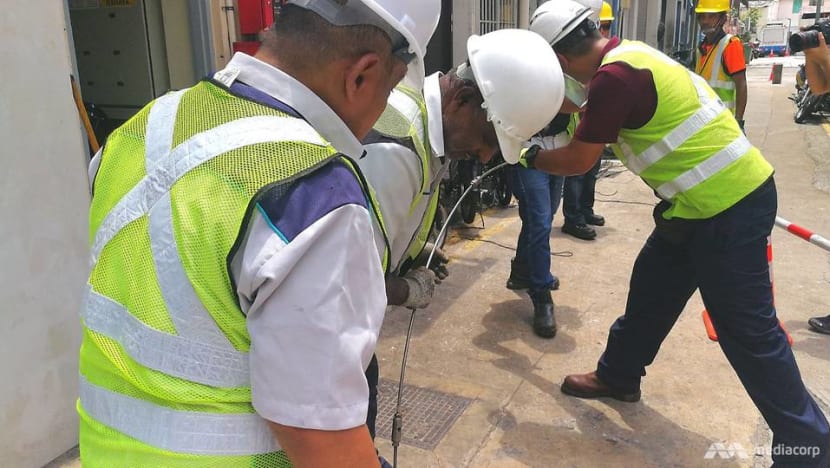 Mr Subramaniam plans to work for as long as his health allows him to, as the job is all he has ever known.
"You can't say this is a dirty job. Every job has its challenges. We are helping the public," he said.