Company director did not foot all bills on China trips with former Ang Mo Kio Town Council GM: Defence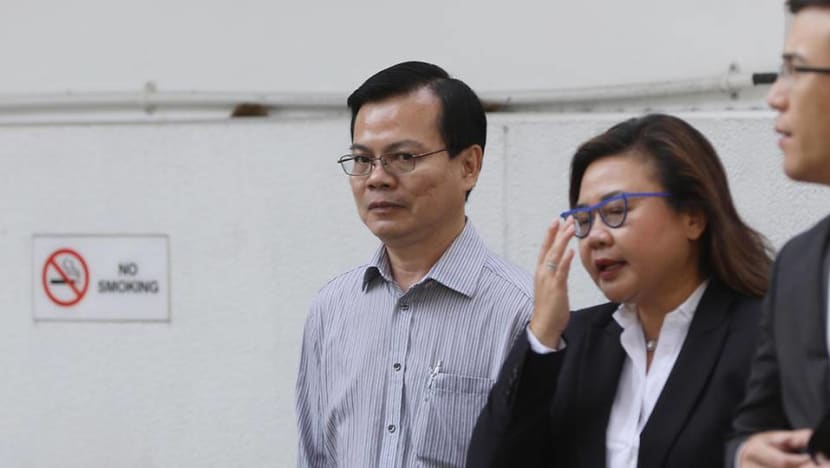 SINGAPORE: The expenses for two trips to China by a former Ang Mo Kio Town Council (AMKTC) general manager and the director of firms that did repair works for the town council were shared among "friends", the defence argued on Thursday (Sep 27).
On the third day of the corruption trial, the defence said that there was "no consistent pattern" that company director Omar Chia Sin Lan paid for all the expenses of former AMKTC general manager Victor Wong Chee Meng during their two trips to China in 2016.
The case centres around Wong, 58, who is accused of receiving "a steady stream of gratification" of S$107,000 between December 2014 and September 2016 from Chia, 63.
This took the form of money remitted to Wong's mistress in China, a discount on a car Wong bought, entertainment expenses at karaoke lounges and nightclubs, a phone line and a job for Wong's daughter-in-law, among other things.

Chia was the director and major shareholder of two firms - 19-ANC Enterprise and 19-NS2 Enterprise - that tendered for and performed repair and redecoration works for town councils including AMKTC.
Chia and Wong were friends for more than a decade, and frequently went to nightclubs and karaoke lounges together. They also travelled to China together twice.
On Thursday, Chia's defence lawyer Michael Loh cross-examined Principal Special Investigator Keith Peh Wan Hao, an officer with the Corrupt Practices Investigation Bureau (CPIB) who had given testimony the day before.
In his testimony on Tuesday, Mr Peh had shared that while Chia initially denied giving any cash to Wong, he later admitted to giving him S$20,000 for his girlfriend in his second statement a day later.
"I put it to you that in all of your four statements, there is actually no allegation of wrongdoing by Chia," said Mr Loh on Wednesday.

"As far as taking Victor out for meals and entertainment, I understand it may look like it's wrong," said Mr Loh. "It may smell like it's wrong, because Victor was general manager of a town council. But throughout the four statements, no allegation was made to Chia that doing so was wrong."
He charged that Mr Peh "had no information at all of the other times that Victor paid for meals they had together, entertainment and outings they had together". Mr Peh agreed.
He also argued that Chia was tired and "not in the right frame of mind" or "the best of health" when he gave the second statement admitting to giving Wong money.
According to Mr Loh, Chia said that he remembers correcting a description given in one of the four statements he gave to Mr Peh.
"He remembers that he was quite insistent, because he remembered those times in China. When it came to expenses that involved Victor, visiting Victor's girlfriend, everything was paid by Victor or his girlfriend," said Mr Loh.
Mr Peh conceded: "If I recall, there was one statement where he mentioned something like that."
At this point, Mr Loh pressed to find out how many statements exactly Mr Peh had taken from Chia. The court had been told about only four statements before this.
It was revealed that there were three more statements, and the court stood down for the defence to review these statements, one of which was deemed irrelevant to this case.
NEW STATEMENTS CLARIFIED WHO PAID FOR TRIPS, WHY THEY WENT
In the two new statements presented before the court, Chia explained in detail the two China trips he took with Wong, Mr Loh said.
During the first trip in April 2016, he and Wong went to three provinces in China, and he said that his main aim was to visit the manufacturer of the incense burners he supplied to town councils including AMKTC.
Mr Peh conceded that in this statement, Chia said Wong went on the trip because the incense burner supplier, who also knew Wong, had asked him to go. Wong also went because he wanted to visit his mistress Xu Hongmei in China.
"So the way Chia described it in this (new) statement, there was nothing wrong with Victor visiting his girlfriend in China," Mr Loh said. "Hongmei paid for the expenses (when Wong and Chia visited her) as she said it would be cheaper if a local was to pay. It seems like this is a quirk amongst friends."
The second trip in September 2016 was "purely business-related" for Chia, Mr Loh said, sharing his view of the new statements. 
According to the statements, Wong was also invited to attend the listing of Chia's incense burner supplier and he went there alone, meeting Chia there.
"Based on this, the only reason why Victor went this time to China was because he was invited by the incense burner people," said Mr Loh. "He was not invited by Chia. Correct?"
Mr Peh agreed.

Mr Loh submitted that there was "no consistent pattern at all that Chia was the sole payer for all of the expenses of Victor in the trip".
In fact, he said, they took turns paying for the expenses, with Wong's mistress and the incense burner supplier forking out money.
WITNESS SIGNED UP FOR PHONE LINE WONG ALLEGEDLY USED
Towards the end of day three of the trial, another witness was called to the stand. Mr Ng Fook Meng, a foreman for the construction firm owned by 19-NS2 shareholder Tay Eng Chuan, was the man who signed up for an M1 phone line that Wong allegedly used.
Mr Ng was employed by Mr Tay, whom he has known for about 18 to 19 years. Mr Tay, along with Chia, allegedly paid for the S$1,600 monthly salary of Wong's daughter-in-law. Mr Tay's credit card was also the one Chia used to make payment when he took Wong out "for entertainment".
Mr Ng told the court that he was instructed by Mr Tay to sign up for a phone line in 2015. He did so, paying about S$700 for a two-year contract with an iPhone handset.
He passed the phone and SIM card to Mr Tay, and said he did not know who ended up using the phone.
According to the phone bills from October 2015 to October 2016, several calls were made on the phone to China.
When Mr Ng received the bills each month, which were for a few hundred dollars each time, he would pay for them first before presenting Mr Tay with the receipts to be reimbursed.
He eventually cancelled the line after confirming he could do so with his boss, as he realised from the phone bills that were sent to his Tampines home that there were no longer incoming or outgoing calls listed in them.
The trial resumes on Nov 7.