Extensive SERS review unnecessary as not many more eligible sites expected: MND
Only around five per cent of all HDB flats are suitable for the Selective En bloc Redevelopment Scheme, says the ministry in response to a petition filed by Leong Mun Wai.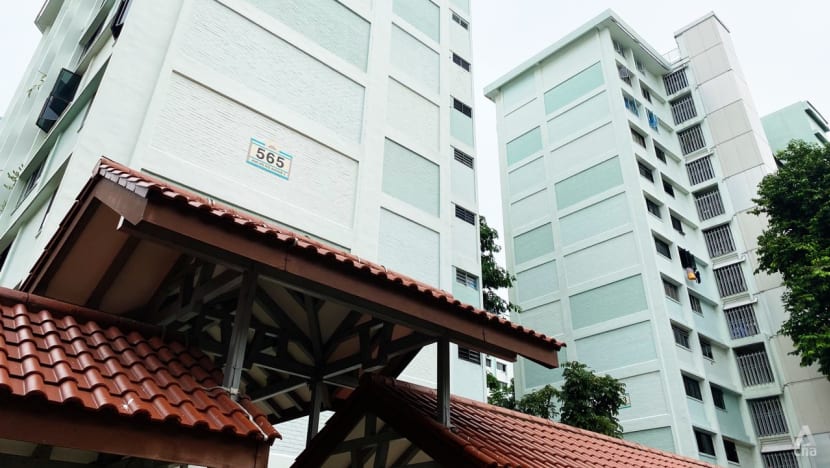 SINGAPORE: An extensive review of the Selective En bloc Redevelopment Scheme (SERS) would be "unnecessary" because not many more sites are expected to be eligible, said the Ministry of National Development (MND). 
In written replies to a committee considering a petition filed in Parliament by Non-Constituency Member of Parliament Leong Mun Wai in August, the ministry noted the scheme as "highly selective". 
The Public Petitions Committee comprises Mr Leong - who is from the Progress Singapore Party - and seven other MPs, including Transport Minister S Iswaran, Health Minister Ong Ye Kung and Minister for Culture, Community and Youth Edwin Tong.
On Thursday (Nov 17), the committee presented to Parliament a report on Mr Leong's petition, which called for a moratorium on SERS and a review of how compensation and relocation options are given to affected residents.
He had filed the petition on behalf of five residents affected by a SERS exercise involving Blocks 562 to 565 at Ang Mo Kio Ave 3, announced in April.
Several residents have raised concerns including having to cough up extra money to buy a replacement flat of the same size, and how the replacement site appears to have fewer transportation options and amenities.
The committee's report on the petition included three rounds of written responses from MND, over a period of Sep 16 to Nov 14.
In its first reply, the ministry noted that by Housing Development Board (HDB) estimates, about five per cent of all HDB flats are suitable for SERS.
"Most of the projects with high redevelopment potential have already been selected," said MND.
SERS, introduced in 1995, is part of the Government's efforts to renew older housing estates. Under the scheme, residents are offered new homes nearby, while the old sites will be redeveloped.
The Ang Mo Kio SERS project was the first SERS announcement in nearly four years. Before that, the last project was in MacPherson and announced in May 2018.
In his petition, Mr Leong had questioned the valuation process for SERS flats and called for a review of the "options of compensation" for flat owners. 
"The existing valuation process for flats acquired under SERS is transparent and independent," MND said in its written reply. 
Market compensation for all SERS flats is assessed independently by licensed private valuers and in accordance with "well-established property valuation principles", it added.
"These include taking into consideration factors such as prices of recent transactions of comparable resale flats, the remaining lease duration of the SERS flat, and flat attributes, including the condition and extent of renovation works," said the ministry.
Flat owners who disagree with the valuation of their flats can engage their own valuers. If they are still dissatisfied after that, they can lodge an appeal to the Appeals Board (Land Acquisition), which will then decide on the market value of the acquired flat as a neutral assessor. 
MND also said it was not clear what Mr Leong meant by "options of compensation". 
"As far as compensation is concerned, the relevant compensation for an acquired flat is the market value of the same," said the ministry. 
HDB reviews the benefits package of each SERS site "holistically", it added. 
For example, for the SERS flats at Ang Mo Kio Avenue 3, the surrounding resale flats would have been transacted taking into consideration the construction of the new Tavistock MRT Station. 
TOP-UPS REQUIRED
After MND's first set of replies, the committee followed up with a request for more information, asking - among other questions - about the top-ups needed for Ang Mo Kio Avenue 3 SERS flat owners opting for other new flats nearby. 
"Whether or not top-ups are needed will depend on the residents' rehousing choice, for example, whether they decide to right-size, move laterally, upgrade to a larger flat, or move to another location," said MND in a reply on Oct 19. 
If the selling price of the new flat is higher than the market value of the old flat after taking into account grants and subsidies, then a top-up will be needed since the resident will be getting a new flat with a higher value than their previous home, the ministry said. 
"This approach has been consistently applied since the inception of SERS in 1995," said MND, noting that this was not the first time residents affected by SERS have had to top up.
In the case of the Ang Mo Kio SERS exercise, a significant number of flat owners are expected to top up if they want to buy a flat of similar size on a 99-year lease at the replacement site, said MND.
This is because the remaining lease of the acquired flats was only 57 years, as of the time of the SERS announcement. 
"Assuming the SERS residents opt for a new replacement flat of similar size, they would be exchanging an older flat with only 57 years left to run with a new flat on a full 99 years of leasehold and this is reflected in the differential in value," the ministry said.
TIMING OF 50-YEAR LEASE OFFER
For the Ang Mo Kio Avenue 3 flats, owners were offered in July an option to buy a replacement unit with a 50-year lease instead of a 99-year one. 
Mr Leong questioned the timing of this 50-year lease option, noting that the offer was made three months after the Ang Mo Kio Avenue 3 flats were picked to undergo SERS. 
MND explained that after the initial announcement in April, HDB officers engaged residents about the scheme and their rehousing options.
"That was when many senior residents gave feedback to HDB that they would prefer to move into a replacement flat of the same size, but they did not need a fresh 99-year lease," said the ministry.
"They were also concerned that they might not have enough cash to top up if they were to buy a new flat of a similar size on a 99-year lease."
This was why the additional option of a 50-year lease was offered in July 2022, to meet the needs of flat owners, especially seniors, said MND.
The only difference between the Ang Mo Kio SERS exercise and previous exercises was that in the former case, residents were offered additional choices - aside from a 50-year lease, there was also a lease buyback option. 
Under the buyback scheme, elderly flat owners can sell a portion of their flat lease to the Government. In return, they receive a stream of income in their retirement years while continuing to live in their flat.
This option would allow eligible home owners to take up the lease buyback scheme for their existing flat. They can then buy a new replacement flat on a short lease similar to that left on their SERS flat, after selling the lease to HDB. 
Previously, home owners could not apply for a lease buyback scheme after their flat has been announced for SERS.
"Even then, the new replacement flats with the shorter 50-year leases and the short-lease replacement flats under the LBS (lease buyback scheme) are valued according to the same valuation approach and principles mentioned above, taking into account the length of the lease and the accompanying conditions under LBS - for example, no resale or renting out on the open market," said MND.