New SERS rehousing options for Ang Mo Kio flat owners will apply to similar projects in future: Desmond Lee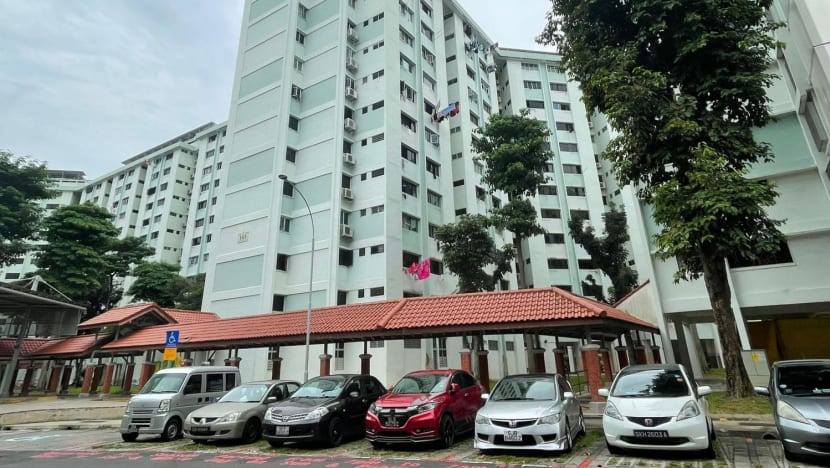 SINGAPORE: The new rehousing options made available to some flat owners in Ang Mo Kio and Marsiling as part of the Selective En bloc Redevelopment Scheme (SERS) will apply to future acquisitions under the scheme, said National Development Minister Desmond Lee on Monday (Jul 4).
The Housing and Development Board (HDB) over the weekend announced that eligible home owners under SERS will be able to purchase a new replacement unit on a shorter 50-year lease, instead of a fresh 99-year one. A second option allows residents who are seniors to take up the lease buyback scheme for their existing flat and buy a new replacement flat of the same flat type on a short lease.
SERS flat owners in Ang Mo Kio will be the first to enjoy these new options – a move that will better meet the different needs of affected residents, said Mr Lee in response to an adjournment motion raised by Member of Parliament Nadia Ahmad Samdin (PAP-Ang Mo Kio).
Ms Nadia, in a 20-minute-long speech to move the adjournment motion, noted that the SERS announcement had been "a destabilising event" for some of her residents living in Blocks 562 to 565 at Ang Mo Kio Ave 3. Concerns include having to cough up extra money to buy a replacement flat of the same size.
"My residents are worried. I'm also very worried because most of them are senior citizens and retirees," said Ms Nadia, as she urged for "equitable outcomes" in housing redevelopments.
SERS, introduced in 1995, is part of the Government's efforts to renew older housing estates. Under the scheme, residents are offered new homes nearby, while the old site will be redeveloped.
It was announced in April that the four HDB blocks at Ang Mo Kio Ave 3 – comprising 606 units – will undergo SERS. Home owners will be offered new replacement flats at the nearby Ang Mo Kio Drive.
Mr Lee said that with size, location and other attributes being held constant, an older flat will have a lower market value compared to a younger one with a longer ownership duration.
Flats involved in the past SERS exercises were generally younger at the point of announcement, with around 70 years of lease remaining, he added. Hence, the market value of these flats was "generally sufficient" for affected flat owners to purchase a new replacement unit of a similar type or size on a fresh 99-year lease.
In comparison, the flats for the Ang Mo Kio Ave 3 SERS exercise are older, with a balance lease of about 57 years.
"So that's the key difference here," said Mr Lee. "The basis of determining the compensation for the Ang Mo Kio SERS flats is the same as past exercises."
"STILL GAPS TO CROSS"
In her speech, Ms Nadia thanked the authorities for introducing the alternative options but noted "there are still gaps to cross" amid varying needs among the different demographics of residents.
"While I understand that it is improbable in policymaking that every single circumstance gets accounted for, I think members of this House will agree that the goal is to strive towards making sure that home owners do not get disadvantaged by redevelopment programmes like SERS," she said.
"And since value will be unlocked, I hope that this can be shared with residents."
Among her clarifications for authorities, Ms Nadia asked for assurance that taking up the shorter 50-year lease option will not require residents in Ang Mo Kio to top up further funds.
She also asked if this option – currently available to flat owners who are at least 45 years old at the point of the SERS announcement – can be extended to younger home owners on a case-by-case basis if they find it more affordable.
Noting that the financial value of home leases "decay in an accelerated fashion" towards the end of the lease, Ms Nadia wanted to know how these shorter-lease homes will be priced for sale and what will happen once the 50-year leases run out given that the rest of the estate will have flats on longer 99-year leases.
"In the future, this estate may pose a curious mix of flats with varying leases, potentially creating price distortions in the market. I would like to ask if HDB has considered these implications," the MP said.
She also sought details on the valuations of the SERS flats and asked if authorities can consider waiving or deferring the payment of a resale levy required from some affected households.
Ms Nadia said while her adjournment motion on Monday is mostly motivated by concerns faced by her residents, she hoped that the "context of the issues raised and potential solutions proposed will be given consideration in the broader pursuit of achieving equitable outcomes in housing redevelopment".
Redevelopment programmes like SERs may be introduced as part of a broader strategy to meet future housing demand, but there is also the need to consider "how to best mitigate the chasm between the needs of the future and the needs of the present", she added.
"SERS is blunt in its application, affecting all residents of the identified estates, but given the variety of the home owners and complexity of the housing schemes, the solutions offered cannot be based on a one-size-fits-all approach."
AUTHORITIES TRY TO "STRIKE A GOOD BALANCE"
Mr Lee, in his response, said the new rehousing options announced over the weekend recognise the challenges faced by older residents. A brand new 99-year lease may be less important for some of these seniors than having a similar-sized flat in a familiar locality, he noted.
"Looking ahead, the flats involved in future SERS exercises are also likely to be older, with shorter remaining terms, and these needs may arise too. A 50-year lease flat would be more affordable and the lease term is about the same as the balance lease of their current flat," he told the House.
Those in Ang Mo Kio – about 540 or so eligible flat owners aged 45 years and above – who can consider taking up this option "should not need to top up for a replacement flat of the same type".
"Nearly all will even be able to move to a replacement flat of the same size with no top-up," Mr Lee added.
Meanwhile, the shorter lease options are "consistent with the key principle that the length of the remaining term of a flat has an effect on its market value".
Noting that the market value of a flat "does not follow a straight line down", the minister explained that the value of assets, in general, is calculated based on the time value of money. This applies to most financial assets, including leasehold properties in Singapore.
"Adopting this principle, the value of the first 50 years of the lease is expected to be worth more than the value of its last 50 years. But a shorter lease flat would be more affordable than a longer lease flat, all things equal," he added.
Mr Lee said for younger residents who might want to buy new replacement flats on fresh 99-year leases or resale flats, HDB will continue to help them in other ways, including with housing loans, if necessary.
HDB is also prepared to engage and advise SERS residents individually. 
"For those who do not meet the home-for-life criterion and face extenuating circumstances, we will consider availing them of the 50-year lease option on a case-by-case basis, if they are open to this option," he said.
The minister said in carrying out the SERS programme, authorities "seek to strike a good balance" in meeting the needs of existing residents, while redeveloping the site for future housing needs.
"There has been no change to our approach on the compensation to residents. But with the SERS flats being older, we have now introduced a wider range of rehousing options and choices for residents who can then decide which one best meets their needs."
Mr Lee added that the replacement flats at Ang Mo Kio Drive will have their own suite of amenities when completed, but authorities also recognise that residents have different expectations and needs.
"HDB will look at each of these residents' needs and concerns. But while they try their best, they may not be able to meet everyone's expectations perfectly," he told the House.
Representatives from HDB will continue to make door-to-door house visits to explain the additional rehousing options, address any queries and collect more feedback.
"We understand that this is a big decision and HDB will also provide ample time for residents to decide," Mr Lee said.
Editor's note: This story has been updated to reflect that flat owners who are at least 45 years old at the time of the SERS announcement can take up the shorter 50-year lease option.