'We'll see how it goes': Sentiments split among residents of Ang Mo Kio blocks picked for SERS
SINGAPORE: News about the redevelopment of four public housing blocks in Ang Mo Kio has been met with mixed sentiments among residents whom CNA spoke to.
The Housing & Development Board (HDB) said on Thursday (Apr 7) that Blocks 562 to 565 in Ang Mo Kio Avenue 3 will undergo the Selective En bloc Redevelopment Scheme (SERS) – the first such project since May 2018.
More than 600 households will have to move out, but they will be offered new replacement units at a site about 1km away, at Ang Mo Kio Drive.
For some residents who have been living there since the flats were completed in 1979, having to clear out is a bitter pill to swallow.
This was the case for 68-year-old Mdm Lim, whose family lives in a space equivalent to a five-room flat, after having combined two adjoining three-room units.
"I don't want to move because I've spent so long here. I have a lot of friends here, and the air is good," said Mdm Lim, who lives on a high floor.
In addition, the replacement flats – which range from two-room flexi to four-room units – will be smaller than her present one.
"We'll see how it goes and if we can maybe get two units … We haven't seen the layouts for the new units yet, but we'll decide from there," added Mdm Lim.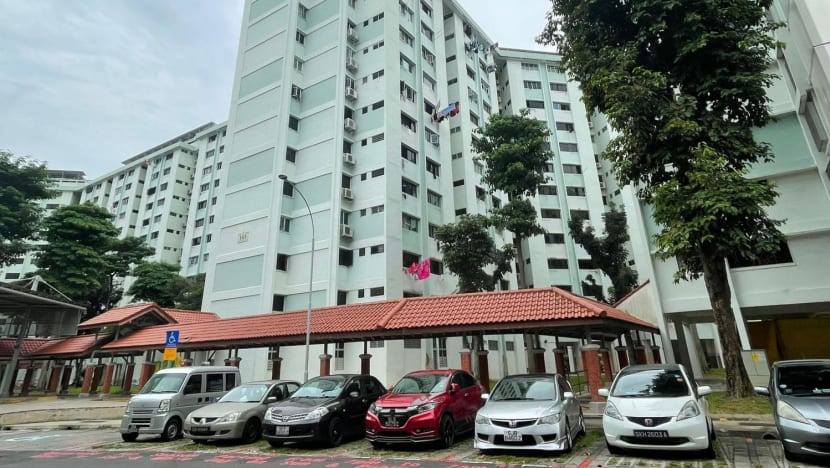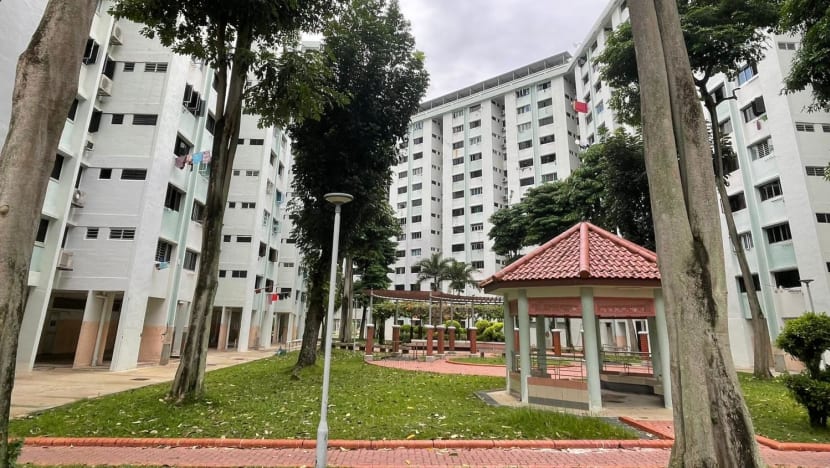 Ms Irene Ng, 52, who has lived in her current three-room flat since she was nine years old, echoed her sentiments.
"We've been staying here for almost 43 years, and my sister lives right next door to me.
"(The replacement site) is still nearby but I feel here is more convenient. Here got buses, all these, you can go to Bishan or anywhere easily."
At the base of Block 565 is Kids' Star Child Development Centre, which will also have to eventually clear out.
But unlike the blocks' residents, its owner Ms Jessica Soh is not so certain if her centre will have a place to go.
"We've been here for such a long time. We'll be writing to (authorities) to ask for a replacement or alternative site, so we can continue to serve the community here."
"I hope they will also have a void deck childcare centre for us (at the new site)," said Ms Soh, whose centre has been around since 1985. It currently cares for more than 50 children.
For one resident, Mdm Govindasomathy, who renovated her flat five years ago, the news was bittersweet.
"The building (has been around for) so long already, so the Government (doing this) is good," said the 42-year-old.
"But my house, all I changed already, the cabinet, the floors … I'm a little bit sad."
GETTING A FRESH START
But for others, such as 46-year-old Mr Lee, the SERS announcement was a delight.
"This place is so old already, so (now we) can move to a new place and start all over again," said Mr Lee, who has lived in his current three-room flat for about 20 years.
He added that his family will probably take up a replacement flat.
"My parents, they're used to this area so likely we'll stay here."
According to HDB, construction for replacement flats will start in the third quarter of 2023, and is estimated to be completed by the third quarter of 2027.
The new replacement flats will come with "better design and fittings, located within a precinct with modern and comprehensive facilities", it added.
They will also come with a fresh 99-year lease, and eligible flat owners may get a SERS grant of up to S$30,000.
Another resident, Mrs Lau, said: "I'm happy because we were already planning to move to a bigger unit. We're a family of five so this (three-room flat) is quite small."
As a family, they have also tried and failed three times to get a new, larger Build-to-Order flat.
Though they have not decided if they will move somewhere else or take up a replacement flat, having the latter as an option is welcomed, she said.
HDB noted that for owners who do not want to take up a replacement flat, they can choose to sell their SERS flats with the rehousing benefits on the open market.
"With the sales proceeds, which will include a premium for the rehousing benefits, they can buy a resale flat in their preferred location."