SINGAPORE: Four Housing Board blocks in Ang Mo Kio have been picked for the Selective En bloc Redevelopment Scheme (SERS), the first such announcement in nearly four years.
More than 600 households in Blocks 562 to 565 Ang Mo Kio Avenue 3 will be affected by the move, said the Housing and Development Board (HDB) on Thursday (Apr 7).
Completed in 1979, the four blocks are about 43 years old. They are made up mainly of three- and four-room flats, with a few five-room and executive units.
Flat owners will be offered new replacement flats at Ang Mo Kio Drive.
Before this, the last SERS project was in MacPherson, announced on May 31, 2018.
SERS, introduced in 1995, is part of the Government's efforts to renew older housing estates. Under the scheme, residents are offered new homes nearby, while the old site will be redeveloped.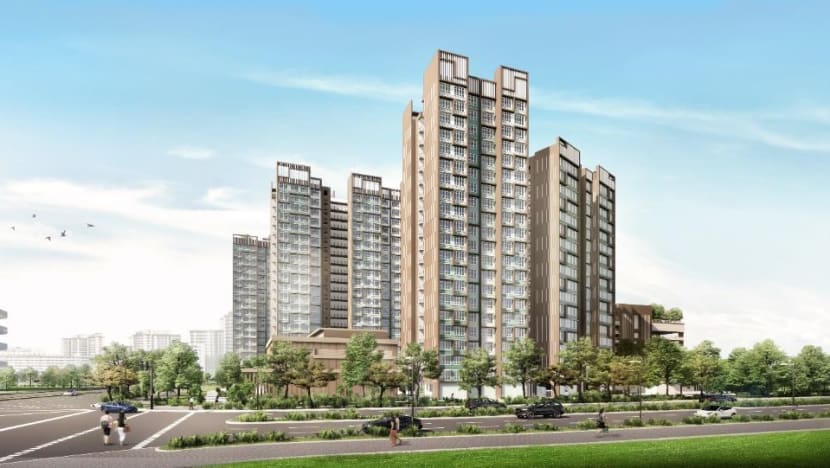 The four blocks in Ang Mo Kio were identified for SERS as "part of the Government's overall efforts to renew older estates and provide better homes for residents, while preserving community ties", said HDB.
It added that flat owners will be compensated based on the market value of their flat as assessed by a professional private valuer appointed by the statutory board.
"To help defray the expenses incurred in the move, HDB will also pay flat owners a S$10,000 removal allowance, as well as the stamp and legal fees for the purchase of a comparable replacement flat," it added.
REPLACEMENT SITE
HDB will build about 1,065 replacement flats ranging from two-room Flexi to four-room units at Ang Mo Kio Drive. Construction will start in the third quarter of 2023 and is estimated to be completed by the third quarter of 2027.
"Flat owners have the option of purchasing the new replacement flats with better design and fittings, located within a precinct with modern and comprehensive facilities, at the designated site at Ang Mo Kio Drive," said HDB.
The replacement flats come with a fresh 99-year lease, and eligible flat owners may receive a SERS grant of up to S$30,000. They can also take out a housing loan from HDB for the purchase of their replacement flat.
Eligible owners who do not wish to take up a new replacement flat can choose to sell their SERS flats with the rehousing benefits on the open market. With the sales proceeds, which will include a premium for the rehousing benefits, they can buy a resale flat in their preferred location.

Residents may also select replacement flats together with their neighbours or relatives, to live near one another, said HDB.
"In this way, SERS helps to preserve existing community ties by enabling residents to move en bloc to new replacement flats," it added.
This is done under the Joint Selection Scheme, where up to six households can request to jointly select their flats.
During the selection exercise, such households will be banded together for balloting of a common queue position to select their respective replacement flat.
Their selection appointments will be scheduled one after another, so that they can select a flat near each other. They do not have to select a unit in the same block or floor.
PERSONALISED INFORMATION PACKAGE
HDB said it will conduct door-to-door house visits to explain SERS to each household and address concerns that they may have.
"During the visit, flat owners will receive a personalised information package, explaining the scheme and the rehousing package, as well as the estimated timeline for the whole process," it added.
A SERS manager will also be assigned to every household to guide them through the process, which takes an average of five years or more from the announcement date to the time the residents move into their new homes, said HDB.
"As part of HDB's efforts to strengthen community ties and engender a greater sense of belonging among residents to their new precinct, we will also provide opportunities for residents to shape their new living environment," the agency added.
These include naming the new precinct and collectively deciding on the use of certain spaces within the precinct.
Nearing the completion of the new replacement flats, roadshows will be organised to help residents settle into the new living environment and learn more about the features in their flats and facilities in the precinct. 
Rehousing benefits for eligible SERS flat owners
Compensation for existing flat is based on market value at the time of SERS announcement
Removal allowance of S$10,000 per flat as well as stamp and legal fees for buying a comparable replacement flat
Assured allocation of a new flat with a fresh 99-year lease at the designated replacement site, if eligible
Flat owners aged 55 and above have the option to buy two-room Flexi flats on 99-year or short leases at designed replacement site
Purchase of a replacement flat at subsidised price fixed at the time of the SERS announcement
SERS grant of S$30,000 for families and joint singles and S$15,000 for singles, if eligible, for the purchase of a replacement flat
Exemption from the payment of resale levy if the SERS flat is a subsidised flat, and concessions for the payment of resale levy or premium for the previous sale of a subsidised flat elsewhere
Exemption from the payment of S$10,000 premium on top of the purchase price of a replacement flat for couples who are first-timer buyers and comprise one Singapore citizen and one permanent resident
Exemption from payment of S$15,000 premium on top of the purchase price of a replacement flat for singles who are first-timer buyers
HDB housing loan for purchase of a replacement flat by eligible flat owners, subject to credit assessment and prevailing housing loan policies
A comprehensive financial package to ease the cash flow for purchase of a replacement flat
Option to apply for a flat elsewhere with SERS rehousing benefits under Build-to-Order (BTO) or Sale of Balance Flats exercise (there is a 10 per cent priority allocation), or open booking of flats
Flat owners may receive an ex-gratia payment of S$30,000 plus SERS grant, if eligible, on top of their compensation, instead of the SERS rehousing benefits
Precincts are chosen for SERS considering factors such as their redevelopment potential, the availability of suitable replacement sites and the Government's financial resources, said HDB.
"Only about 5 per cent of all HDB flats are suitable for redevelopment under SERS, and most of these projects with high redevelopment potential have already been selected for the scheme," it said.
To date, more than 41,000 households in 82 sites have been selected for SERS.
"Over the years since it was built in the 1970s, Ang Mo Kio has undergone various upgrading programmes to ensure that it remains relevant in meeting the diverse needs of residents," said the agency.
"The latest SERS announcement in Ang Mo Kio will enable existing residents of the four blocks to move into new homes nearby, and also offer opportunities for other flat applicants to apply for the surplus flats at the replacement site."
HDB will also continue to offer more Build-to-Order (BTO) projects in Ang Mo Kio, including during the BTO exercise in August this year.
This will be the fifth SERS project in Ang Mo Kio.
The first was announced in 1996, covering five blocks in Avenue 1. Two more announcements were made the following year, covering two blocks in Avenue 10 and three blocks in Avenue 3.
In 2006, seven blocks in Avenues 2, 3 and 4 were selected for the scheme.
In his National Day Rally speech in 2018, Prime Minister Lee Hsien Loong said SERS is a "very good scheme" for estate rejuvenation, but it is a "very limited scheme" that is meant for HDB blocks or precincts that have high development value.
He added then that there would be "a few more SERS projects to come", but that many with high development potential have already been completed because HDB chose the promising ones and did them first.
During his speech, Mr Lee announced a "long-term plan" called Voluntary Early Redevelopment Scheme (VERS), which residents in the precinct will have to vote on.
The terms will be less generous than SERS, but there will be "community merit" in it, he said, adding that the Government will not start VERS for another 20 years.
"We need time to work out how to select the precincts, how to pace the redevelopments out, the specific terms of the Government's offer and so on. We also need to study how to afford VERS for the long term," he said then.