In 2016, Dakota Crescent residents were moved to new flats. Some paid an intangible price.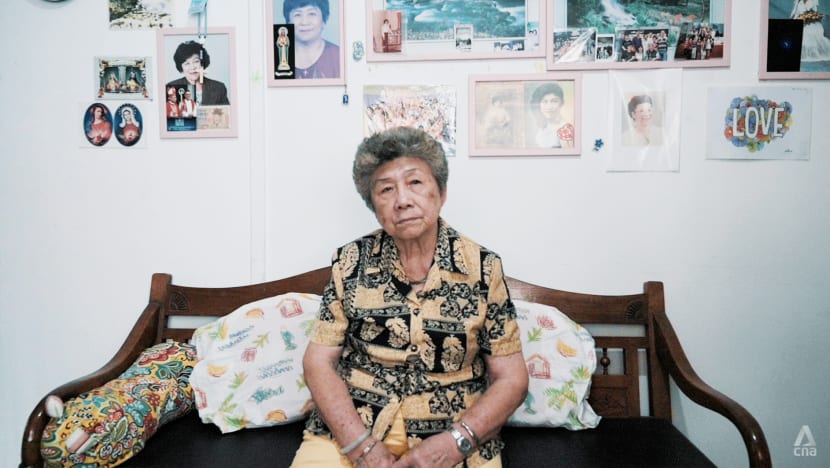 When elderly residents of the ageing estate were relocated in 2016, just moving required the help of many community volunteers
But the greater challenge came after - when the strangeness of a new place led some to depression and isolation
The social service agency they had relied on for 10 years could not move with them
Relocation is more than just moving people - it must be about helping them thrive, say observers
Part 1 of a package in which CNA Insider tracks the impact of relocation on the elderly
SINGAPORE: Her life changed forever the day the letter arrived.
It was July 2014, and Madam Yee Dew Eng had just returned home from her cleaning job at a nearby school when she found the letter slipped under her door.
She recognised the logo of the Housing and Development Board (HDB). But she could not make out the rest of it. Yee, then 76, had spent most of her life working a variety of jobs from construction to cleaning, and could neither read nor write.  
It was only later, when she asked her children to read the letter, that she learned she would have to vacate her second-floor rental flat at 30 Dakota Crescent where she lived alone; a place she had called home for more than 30 years. 
The estate was to be redeveloped, and she would have slightly over two years, till the end of 2016, to get ready to move to the new place offered. 
Half of her could not bear the thought of leaving. The other half was excited - perhaps a new flat would be better? But foremost in her mind were practical questions: Where was this new place? What was going to happen to all her belongings, carefully amassed over the years? And who was going to help her move? 
As Yee's neighbours too discovered the letter that would change their lives, the same concerns went through their minds. The relocation process to come would leave them feeling stressed, lost at sea, and - at one point where they needed it badly - short of one pillar of support.
IT WAS LIKE FAMILY 
Completed in 1958 as one of Singapore's first mass public housing projects, Dakota Crescent was distinctive not just for its iconic 'dove' playground and low-rise, curved 'butterfly blocks'. At its heart was a distinctive community spirit built over decades.
Yee loved her home, with its wide corridors and open spaces that gave her the opportunity to host large groups of friends or family dinners.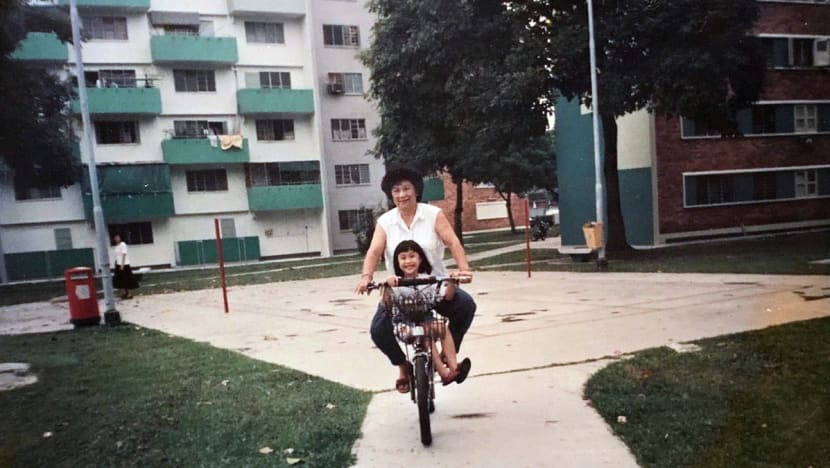 Her window looked out to the common corridor, directly facing the unit occupied by twenty-something Shuilin and her family. They'd developed a deep relationship over the years. "When she saw me alone on Chinese New Year, she would invite me over for a meal," recounted Yee.  
The wet market at Kallang Estate just across the road made it easy to get her groceries. And whenever Shuilin saw Yee lugging her shopping, she'd offer a hand. "She treated me like her grandmother," said the elderly resident.
The grassy expanses and stone benches were an impromptu gathering spot for residents who loved to take morning walks around the estate.
One of them was Jamaluddin, 74, a former school caretaker who lived in a ground-floor unit at block 20. He'd stop to feed the community cats each day, and struck up a friendship with the elderly woman next door.
"Every morning, we'd sit together," he said, gesturing to the space between their two units. "Because I can speak Hokkien, she liked to talk." 
On one side of the central courtyard was block 10, with the bright green awnings of the Care and Friends Centre run by Tung Ling Community Services. It was the hub of the estate's social life - where the elderly could come down for breakfast of kaya toast and coffee, or friendly conversation.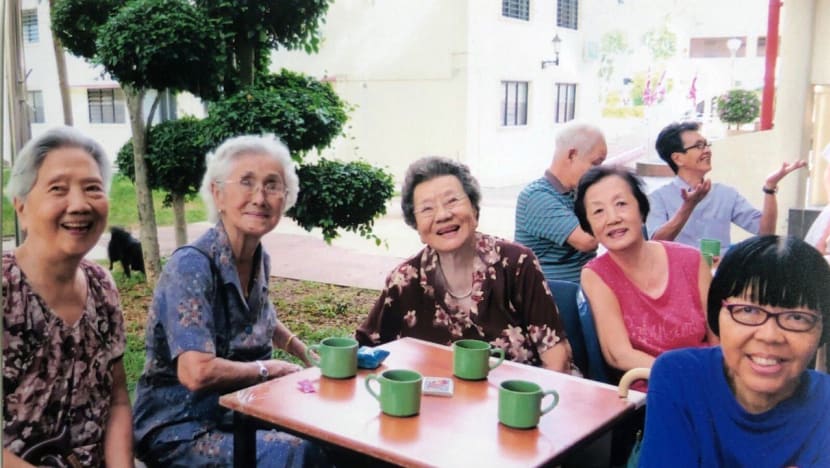 It functioned as a "one-stop" service of sorts, said centre manager Roger Neo: When residents received letters they could not read, or needed help contacting agencies, they would drop by for help.
Po Lu, 77, enjoyed strolling over for the morning exercise sessions. "I knew everyone. All of them are very nice," she said, saving her most effusive praise for Neo, or "Ah Leong" as she and the residents affectionately called him. 
"Ah Leong is a very good person," she said. 
Ever since the centre opened in 2006, "Ah Leong" had been a key fixture in residents' lives. He often went beyond his official duties to help residents without family support buy food from the hawker centre, check that they'd taken their medication, and sort out their pill boxes for them.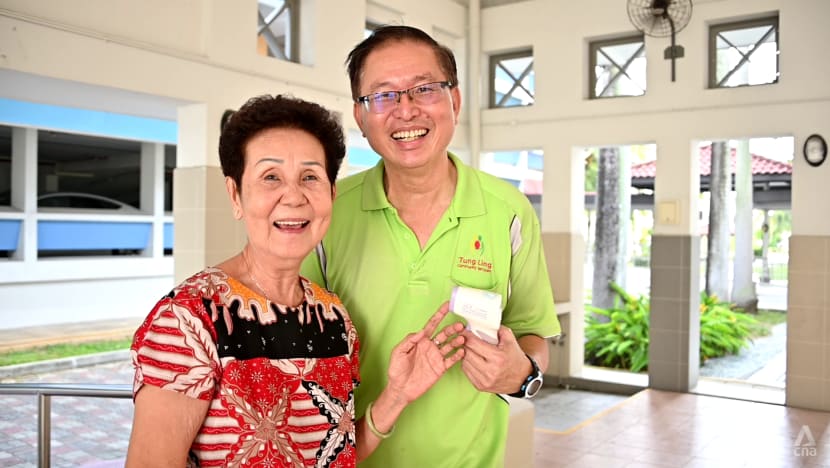 Some grew to depend on him for almost everything. The area's Member of Parliament Lim Biow Chuan said some trusted Neo so utterly, they'd leave their house keys with him, or pass him money to pay government agencies on their behalf. 
The bonds within the old estate were unique, not to be found anywhere else, Neo believed. 
"The elderly moved into Dakota when they were much younger; they built their families there, their children grew up together," he said.
It's like a kampung - everyone knows each other."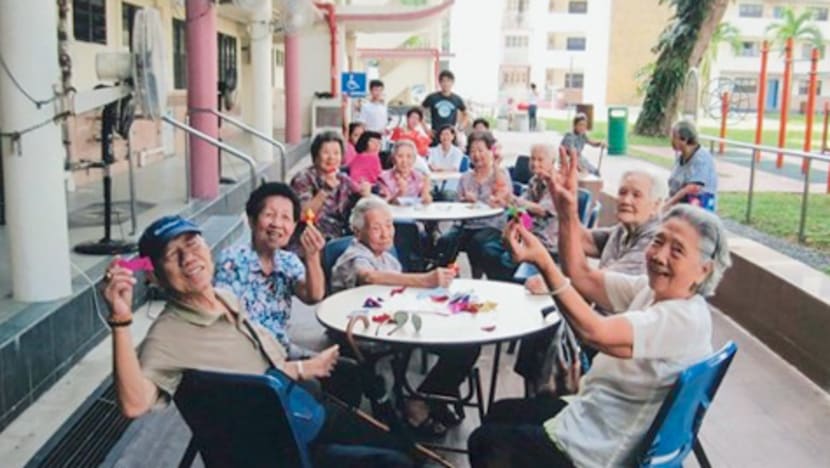 But, as the decades went by, the estate was overshadowed by the newer high-rise HDB flats and condominiums. It began to show its age, with the lifts breaking down and large rats – almost the size of small cats, Jamaluddin insists – scampering through the grounds.
It was a real inconvenience to residents like James Fun, 65. He lived on the seventh floor of block 28 and after he lost a leg in 2013, needed a wheelchair to get around. The lift did not stop on his floor. So sometimes, he said with a laugh, his wife and a friend would help him climb the two flights of stairs up from the lift landing on the fifth floor. 
Other times, he was not so lucky.
"I would have to sit on each step and go up step by step," he recalled. The lift, he added, was often out of order, but because it was so old, spare parts were hard to come by. 
"There was one time I waited the whole morning, and they couldn't get it done. Eventually, I was carried up."
With the help of HDB, he later moved to a ground-floor unit. It was windy and peaceful, he said, with the Geylang River at his doorstep and a courtyard where he could cultivate plants.
GALLERY: THE OLD DAKOTA CRESCENT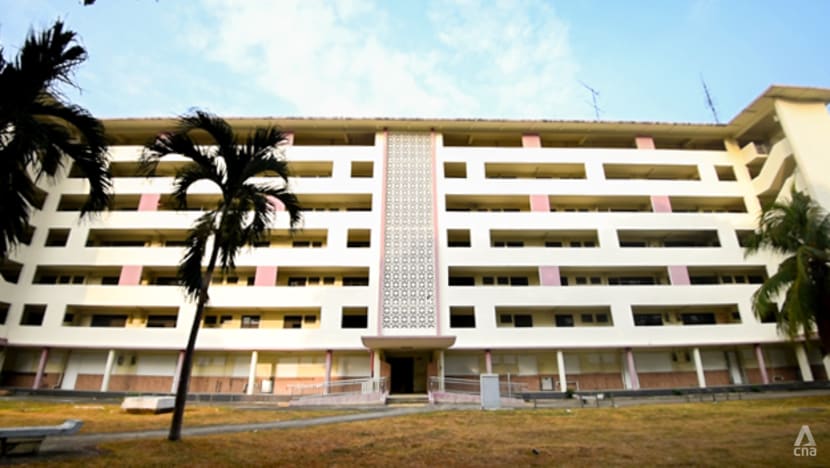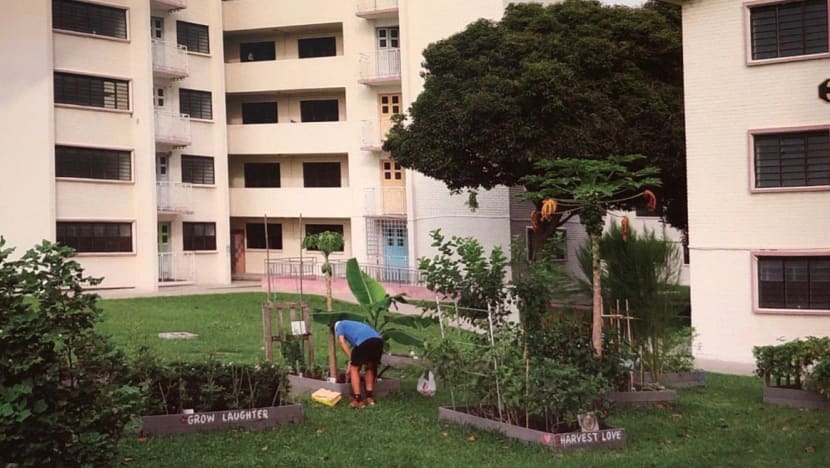 A NEW START OFFERED
Then came the news in 2014. As part of the Government's estate renewal plans for Mountbatten, Dakota was to be redeveloped as a public housing site with "more intensive use of the land". 
This wasn't unusual: Older housing estates are often upgraded or redeveloped through the HDB's Estate Renewal Strategy. The residents of Dakota - a rental housing estate with 400 households - were to be given the opportunity to move to new rental flats at a nearby block being built - 52 Cassia Crescent - with "updated designs and a new environment", according to the HDB. 
Tenants who were ready to buy a flat were also to be given priority allocation in sales exercises, as well as a relocation grant.
The flats at 52 Cassia Crescent would have elderly-friendly universal design features, such as ramps at the main entrance and bathrooms for easy access; and wider internal corridors and doorways to accommodate wheelchairs.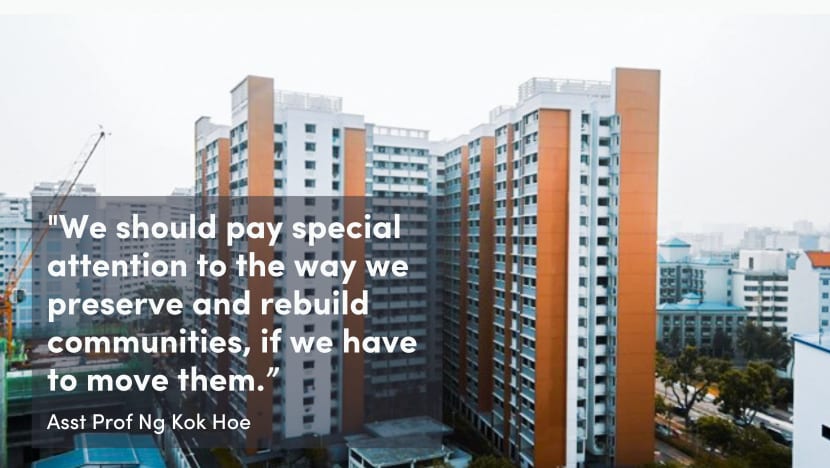 But as observers note, relocating the elderly isn't just a matter of putting a new roof over their heads. There are ramifications to uprooting them from their familiar social networks and surroundings too. 
"It seems natural that because Singapore is so tight on space, with housing being demolished and built all the time, there must be relocation," said Assistant Professor Ng Kok Hoe of the Lee Kuan Yew School of Public Policy (LKYSPP).
But we don't think of the process of moving people around physically, taking communities apart and then rebuilding them… It is a huge blind spot,"
added Ng, who co-edited a book of essays, They Told Us To Move: Dakota-Cassia.
So what can be learnt from the experiences of the former Dakota residents?
WATCH: Life uprooted: Dakota to Cassia, a documentary 2 years in the making. (22:23)
IMMEDIATE CONCERNS
One common reaction to the move was: Dismay, confusion and bewilderment. 
Neo had been hearing rumours of a relocation exercise "ever since I first came to Dakota", but he first got confirmation when a resident asked him to help read and translate the letter of notice. 
In his heart, Neo knew it was for the better; he'd seen seniors stranded in their homes because of the problems with the lifts. Still, residents were saddened. "Some of them had hoped that they would die here. They thought maybe the relocation would take place after they passed away," he said. 
Full of practical concerns, residents kept asking Neo: When is the move? What will the new flat look like? How big is it? Where is it? How do I move all my things there? 
He sympathised with them. "For a person living alone who is 70, 80 years old, the packing and unpacking - asking them to do all this is very, very difficult."
Then there was the paperwork and steps involved, such as selecting their new flats.
Older residents "knew very little about the relocation process" because they could not understand the letters in English, and "the official communication seemed patchy", Ng reflected in They Told Us To Move. They "needed guidance from volunteers and relatives" with administrative procedures.
The HDB told CNA Insider its officers visited each household to "personally deliver" the relocation notices in English and Mother Tongue, and to explain the plans. It also had an on-site enquiry station and a hotline for residents, and had conducted dialogues, it said. 
To assuage worries over the smaller new flat units, MP Lim arranged with the housing board to bus some residents to a similar housing project in Marsiling, where they could see that the layout was "quite usable".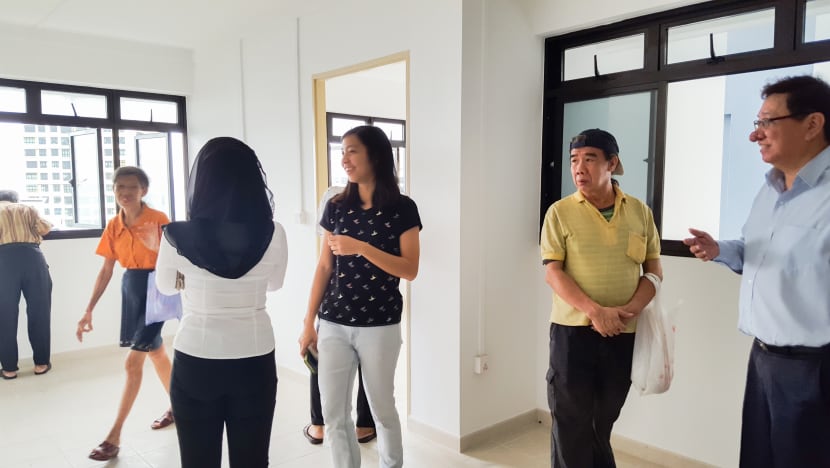 But Lim had another concern: The new block, as originally planned, lacked a large void deck.
The old folks were used to hosting their visiting children and grandchildren in their roomy old flats; the new units would be smaller, so they'd need an alternative area. "I asked HDB (if we could) create a space where they could all gather and have a meal together," said Lim.
The board obliged by freeing up the block's second floor to be used as a "void deck" of sorts, instead of for flat units.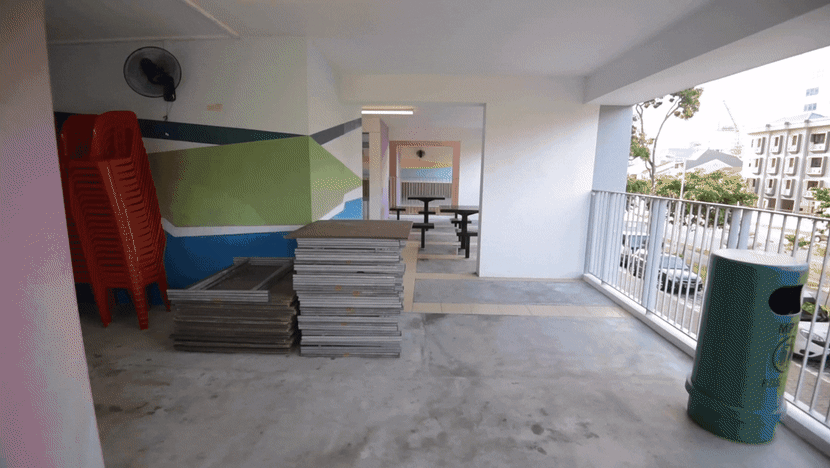 Ng thinks this episode highlights how residents could be consulted earlier in the planning process. "Just a simple conversation with the residents would have been able to tell the people making design decisions (of the new block) that a void deck is really important to them," he said.
Indeed, 52 Cassia Crescent still lacks a space where funerals can be held, Lim pointed out. "Many of the residents from Dakota Crescent are elderly, so I envisage that the likelihood of having more funerals would be higher. Unfortunately… we have to live with that limitation," he said.
WHAT ABOUT 'AH LEONG'?
One of the biggest blows for elderly residents was realising that the Tung Ling centre, and their "kampung chief" Ah Leong, would not be moving with them to their new home. 
A space was set aside for a Senior Activity Centre (SAC) and a childcare centre at Cassia, but Neo's request to move to Cassia was turned down. He remembers the residents' crestfallen faces, he said. 
I apologised to them. They were disappointed. We were also very disappointed."
Lim said the Ministry of Social and Family Development (MSF), which managed such centres at the time, required the service provider to conduct "certain types of outreach" and meet "certain KPIs"; as a small centre, Tung Ling could not commit to such targets.
"When the grassroots advisor (Lim) heard about it, he actually fought for us," said Neo. "If let's say, you're telling us that we're not an official SAC… we were prepared to pump in more resources. We asked MSF to let us know what criteria they were looking at. 
"But there was no explanation. They came, they assessed, and there was no change in their decision."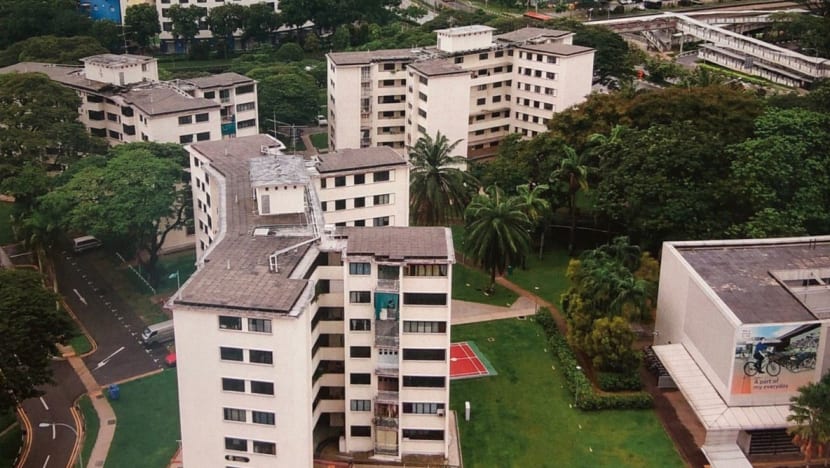 The Ministry of Health (MOH), which took over the management of SACs in 2018, told CNA Insider that the operator of the new centre, Thye Hua Kwan Moral Charities, was chosen based on "various factors", including their strong links with other community partners and operators in the Geylang and Marine Parade area.
But Lim was determined not to see Neo's centre disappear entirely from the area. "I considered the work done by Tung Ling to be exceptional," said the MP. "So I asked if they would be interested in running a centre nearby. 
"They would reach out to another set of residents - and if there were those (at Cassia Crescent) that wanted to maintain the friendship, they'd be also free to join."
The catch? The centre's new location at 58 Dakota Crescent is at least a 10-minute walk from Cassia - a challenge for an elderly person with mobility issues.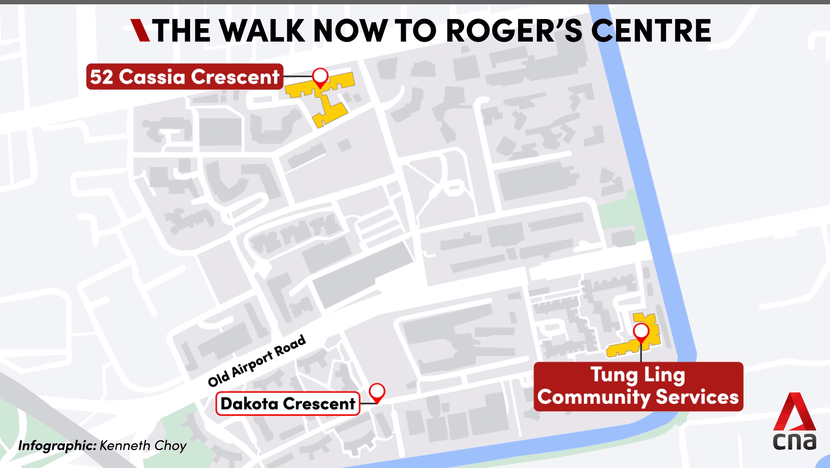 HELPING A WHOLE VILLAGE TO MOVE 
By the end of 2016, it was time for the residents to make the big move. Each household was given a S$1,000 removal allowance. But without the community volunteers who came to their aid, a number of the elderly would have floundered just getting organised.
A Relocation Taskforce formed by Lim and grassroots volunteers, and assisted by Neo, swung into action. They went door to door asking residents what help they needed – be it finding packing material, or installing fixtures at the new flats.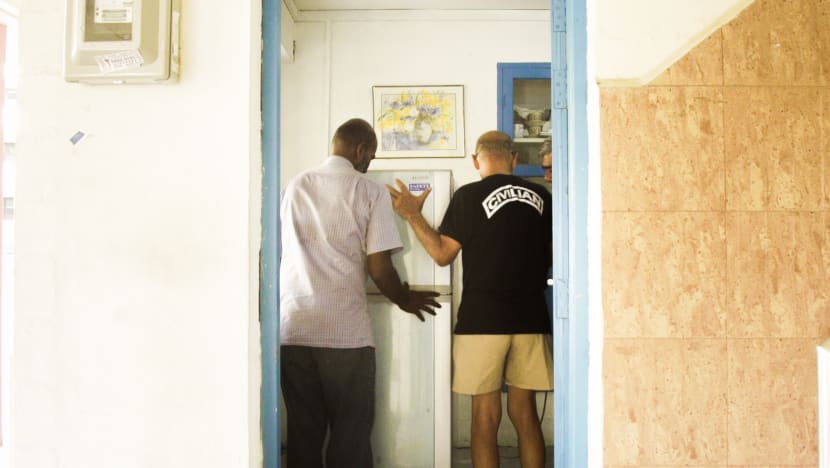 Aside from helping with packing and arranging for transport, the team sought sponsors for cardboard boxes and new furniture for residents in need. Over S$50,000 was raised, and 67 families were helped. The volunteers also helped residents make calls to agencies to, say, install grab bars in their new units, or window grilles for those living on higher floors.
"I have (HDB's) number on my phone, on speed dial to whoever is in charge," Sim quipped.
One of the biggest challenges the taskforce faced was the residents' sheer amount of possessions - and convincing them to part with what wouldn't fit into the smaller new flats. 
"There was a lot of persuasion and soft skills involved," said Sim Bee Hia, who led the taskforce. "We may think, 'why are you bringing so much furniture over when you can't put it in?' But these are their memories, their whole life."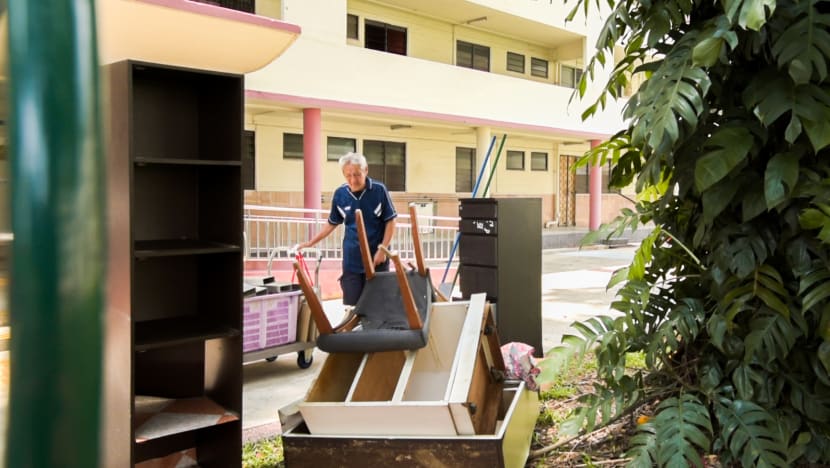 The work didn't end there. For a while after the move, Sim said her team continued visiting residents to chat and make sure they were coping okay with the change.
"It was both a physical shift as well as a mental one, for them to start life anew," she said.
INCREASING ISOLATION AND ITS DANGERS
As the elderly residents tried to get used to their new surroundings, some like wheelchair-bound Fun appreciated the new features straightaway, like the grab bars. 
"I can stand, I can bathe independently," he said.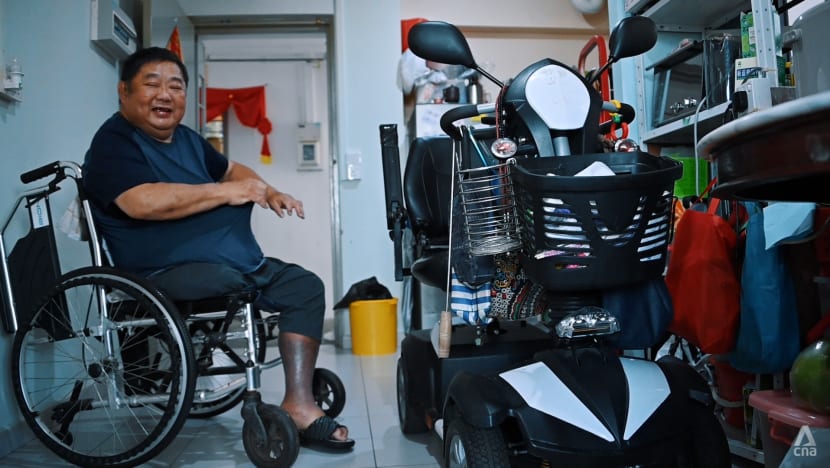 But for others, the displacement took a toll on their mental and physical well-being. 
Those living alone in particular, were lonely and could not find their friends, said Neo. Others, used to a spacious flat and open spaces, felt claustrophobic and depressed, like Yee who said it felt like living in a "bird's nest".
Some were not used to high-rise living in an 18-storey block. Sim once met a resident at the lift lobby. "She had been living in her ground floor unit for 30 years and had never taken a lift. When she went in, she felt giddy." Sim arranged for a volunteer to accompany the woman until she got used to taking the lift. 
But for each resident who managed to overcome their insecurity, there was another who ventured out less and less in an alien environment
Neo knew of one woman with dementia who could always find her way from her old flat at block 28 to the Care and Friends Centre. But when she moved to Cassia, she became fearful of leaving her home and getting lost.
And for others, the distances to old haunts simply became too huge. 
Yee, who once frequented the wet market across from her old block, found herself now unable to manage the walk there – more than 10 minutes away for an average person, and thrice as long for her. So she has had to rely on food deliveries by Thye Hua Kwan. 
"My legs don't have strength," she said. "What if I slip and fall?" 
These are more than just physical inconveniences. Unlike younger people, the social lives of the elderly are tied closely to their neighbourhood because of their decreased mobility, said public health researcher Yi Huso. 
In 2019, he did a survey of 500 elderly people from 32 housing blocks in Ang Mo Kio, and measured the walking distance between their blocks and community resources such as hawker centres and parks.
He found that the further away they were located, the less likely they were to go out and socialise or exercise – both of which are important for mental health.
And as people grow older, their social networks tend to shrink. So even a small disruption – say, no more daily visits to the market and chats with stallholders – can have a huge impact on their well-being.
"Globally, the evidence is so clear. Social isolation and loneliness increases the risks of many types of physical and mental conditions, including hypertension, heart-related disease, diabetes, obesity, depression… even death.
"As we say: Loneliness kills people," said the assistant professor with the NUS Saw Swee Hock School of Public Health.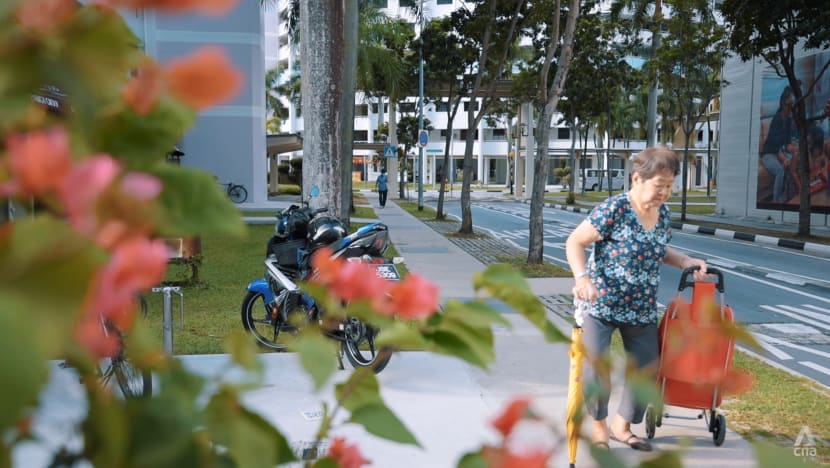 A ROCKY HANDOVER
While residents were struggling to adapt during those crucial first weeks, one potential pillar of support was having its own transitional struggle. 
Tung Ling's Neo - who had long been the residents' go-to helper – had had to hand off to Thye Hua Kwan, which would be running the SAC at Cassia. 
Neo said he had reached out in mid-2015, hoping to introduce the new centre manager to the residents himself. But he learnt that one had not yet been appointed. 
It was only in December 2016 that Nicholas Lee learnt he'd be running the new SAC. And by the time he took over officially as manager, it was February 2017 – two months after most residents had moved in.
"I had to pick up the pieces and carry on with the work," Lee said.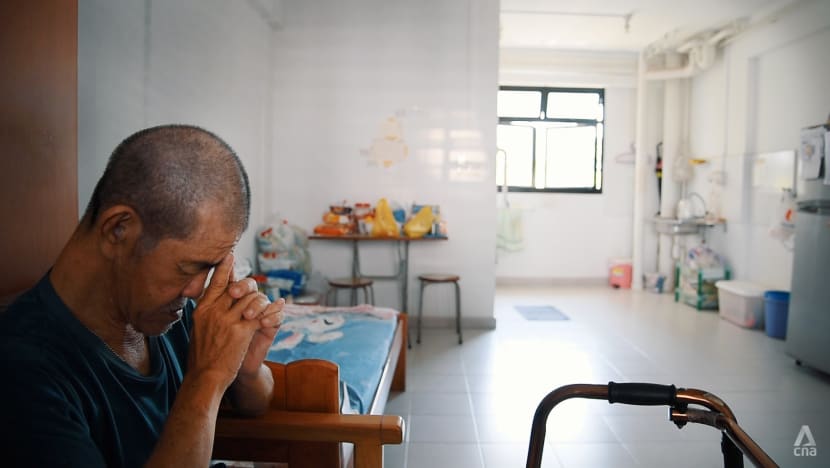 Lee met up with Neo to learn what he could about the residents under his charge. Neo told him which ones needed extra attention and support – but he did not know their new unit numbers. 
"I had to go door-to-door to find out where they were staying," said Lee.
He went all-out knocking on doors for weeks, to introduce himself to residents. It was frustrating to encounter seniors distrustful of a new face. 
"There was resistance," Lee said. "They would prefer to look for Roger (Neo) and call Roger whenever they had problems. Then Roger would direct them to me, or call me to look out for them."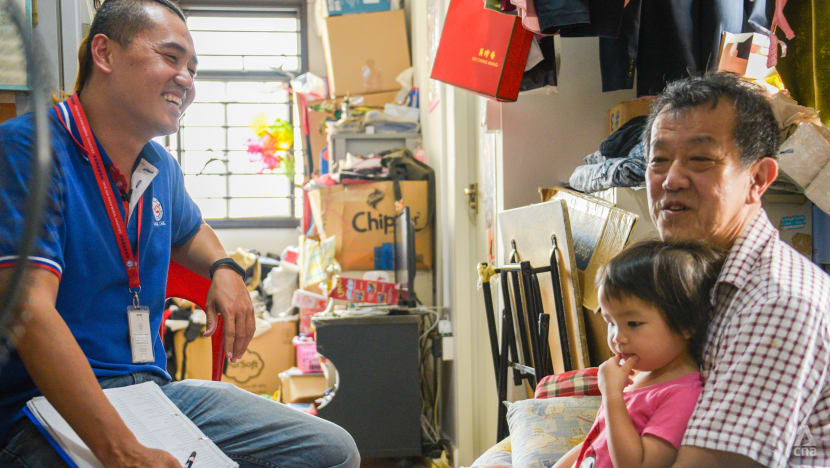 Trying to serve as the residents' new support system was made even tougher by the fact that the physical centre at the foot of block 52 was not yet ready. For almost half a year, Lee had to run a half-day operation out of the Residents' Committee premises. 
In short: For several months, the elderly residents didn't have a place like the old Care and Friends Centre where they could drop in anytime they needed help. 
"Imagine you check into a hotel room, and there's no reception. It added a lot of stress for the elderly," said Neo.
SHORTCOMINGS ACKNOWLEDGED
Both Neo and Lee said coordination between their two agencies could have been better. 
"It makes a lot of difference," said Neo, citing how, when he first came to Dakota as a new centre manager in 2006, he was shown around and introduced to residents.
LKYSPP's Ng suggests, however, that it could have been better in the first place to just let Neo and Tung Ling follow the elderly residents to the new place and continue serving them.
"As with all new sites, new services were contracted out in a normal way," Ng said. "The process itself was above board, and there must be reasons for inviting the other service provider to operate (the SAC).
But what this process was blind to, was the fact that the previous provider had a lot of advantages that no new service provider would have."
In its response to CNA Insider, MOH said it is "generally supportive" of existing social service agencies which choose to relocate to continue serving residents. It will, it said, "assess the applications collectively with other government agencies, taking into consideration the capabilities and service scope of potential service providers as well as the needs of the community".
The HDB said that "for residents who are supported by social services, we will work with the service providers to maintain service continuity for the residents".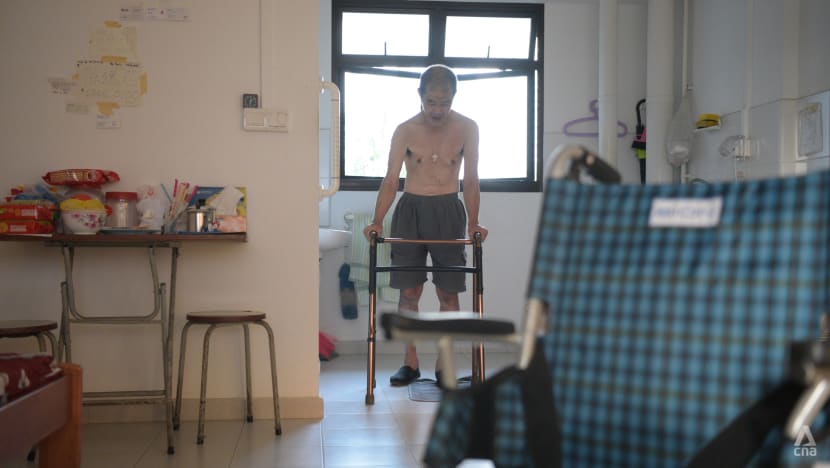 "Relocation is not an easy process for all involved," the housing board acknowledged. "Some residents may need many helping hands to make the move. There are limits to what HDB alone can do, given the constraints on our resources such as manpower. 
"As such, we aim to work more closely with institutional and community partners alike for future relocation exercises."
It added that it would "continue to find ways to improve the relocation process, based on experience of previous exercises".
It is important that the process be improved, because redevelopment in Singapore will only pick up pace as more estates age, as Ng noted. "Most HDB residents will experience relocation at some point in their lives."
"If we're interested in building a strong society with tight-knit communities, we should be paying special attention to the way we preserve and rebuild communities if we have to move them." 
RETURN OF THE KAMPUNG SPIRIT?
The story of the former Dakotans did get better.
At the end of 2016, young volunteers for a heritage interest group were collecting stories from residents about the old Dakota Crescent for the project Between Two Homes.
It was how Lim Jingzhou, now 24, learnt from some of the seniors that "their basic needs were unmet, due to the transitional issues and challenges that happened as part of the relocation". For instance, he said, one man's free meal deliveries were disrupted. 
This prompted the youth and two others to start the Cassia Resettlement Team (CRT) in February 2017, to help the elderly settle in. 
For instance, they referred those with disrupted meal deliveries to other service providers; organised potluck parties to help residents reconnect with old neighbours and make new friends; and worked with the SAC to conduct gardening classes.
The team, which started with around 10 volunteers, has grown to about 75 volunteers. 
"Through our regular home visits, we pick up residents who might have new medical conditions and new difficulties. So we are sort of the first responder and a safety net in this community," Lim  said, adding:
It's important to make a distinction between relocation and resettlement. Resettlement is also about helping residents thrive in the new community."
The role of the Relocation Taskforce too changed. 
When a second group of residents relocated from Sims Drive to Cassia, it became a priority to integrate both groups. So in early 2019, 52 Community Dinners was born – named both for the block number and the number of weeks in a year. 
Every Monday, volunteers threw a dinner party for residents at the second floor's open space, with old movies and Bingo games. On those nights that CNA Insider visited, the place was abuzz.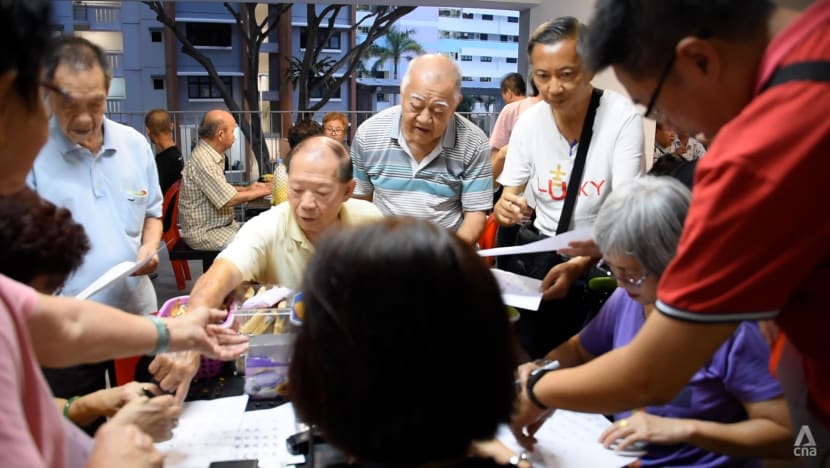 The dinners succeeded in getting residents to come out and socialise – particularly those wheelchair-bound who might be confined at home. 
"The residents are happier, and they are less shy about seeking help," Sim said, adding that she'd even seen one woman with dementia become more alert. 
Meanwhile, SAC manager Lee's persistence in wooing residents paid off – just before the pandemic, about 30 regulars were showing up every day, up from the 10 or so when the centre first opened.
They now affectionately referred to him as Ah Beng or Ah Ming. "I just let them accept me at their own pace," he said.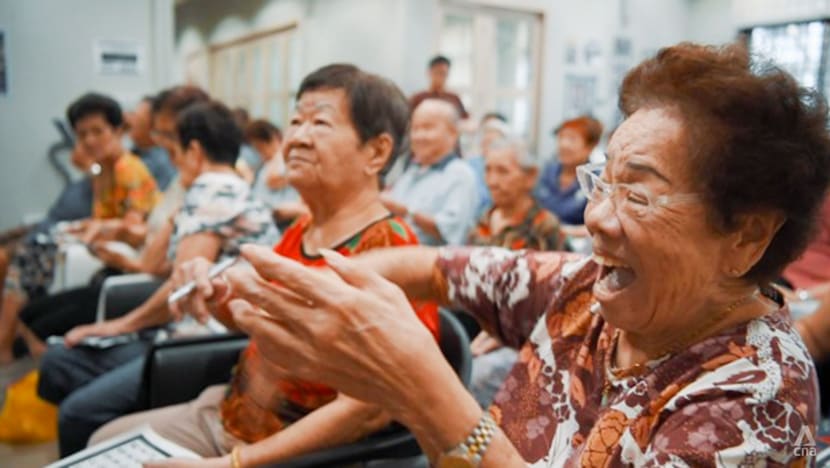 EPILOGUE: COVID-19 AND THE AFTERMATH
When COVID-19 struck in 2020 and Singapore's 'circuit breaker' went into effect, it not only threatened to set back all this progress. It also drove home the dangers of isolation among the elderly.
Tung Ling and the SAC's activities, as well as the community dinners, all had to stop. Sim and a few volunteers checked in with residents via phone and delivered food items to those in need. 
"We were anxious," she said. "Not just about how they are doing, but also if we would be the conduit of bringing COVID-19 to them."
Residents would want to shake their hands or invite them in. They had to say no. The residents understood – but as the days turned into months, she could see, in their drawn faces, the toll that the isolation and confinement took.
Lee told of the mental deterioration of one resident who could no longer go downstairs to chat with her friends. She lived alone with only "the television and her pet". He would buy meals for her – but then she began to forget, within the hour, that he had already passed her the food. 
Physically, there was an impact as well. Po Lu, once active in Neo's exercise classes, was stuck in her small flat. Soon she became aware of strange aches and pains developing that made her feel weak.
"Walking is a lot slower for me now," she said. "It feels like my legs have no strength."
The activity centres have since reopened, with staggered times and social distancing. But the community dinners have not resumed.
Related: COVID-19 and the elderly
In April 2021, Lee was posted to another SAC, after four years of painstakingly building relationships from scratch. A new centre manager has taken over at Cassia. 
Neo is still in place at Dakota, visiting 52 Cassia Crescent almost weekly to help with food distribution in lieu of the community dinners. His sense is that most residents have now settled in, five years after the move, and that some, in fact, are happy despite initial apprehensions.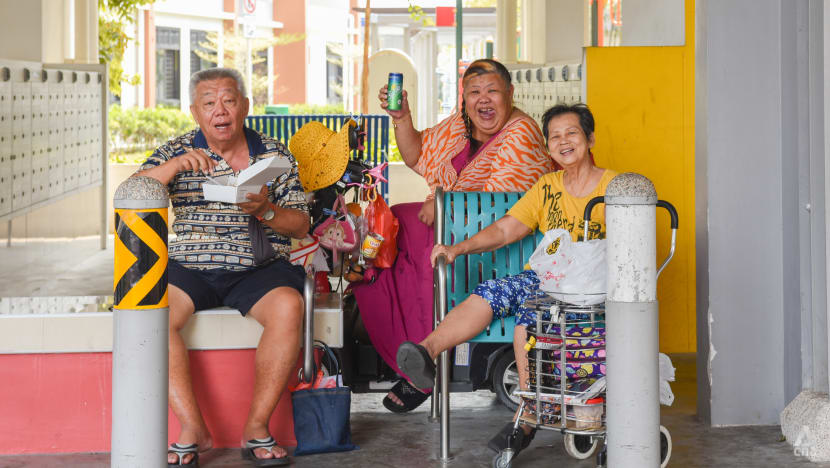 Even the dour Yee, who complained to CNA Insider about her 16th-floor studio unit being dark and small and noisy, has fewer gripes these days. 
After she was diagnosed with Parkinson's disease, she got assistance to move to a unit next to the lift lobby in mid-2020. She likes it more – she enjoys the breeze and the view of the CBD from her window. 
But still, she hankers after the good old times. 
On her wall is a newspaper clipping with a photo of her smiling younger self in her old second-floor flat at Dakota, surrounded by all her things. "Every night, after I finish my dinner, I will think about the past," she said. 
It never fails to bring a smile to her face. 
This is the first of a two-parter looking at how the impact of relocation on the elderly can be better managed, as more estates are marked for redevelopment. Next: Tanglin Halt to Dawson.