'We will stay there, we won't sell': Owners planning long-term stay in Ang Mo Kio SERS flats indifferent to change in minimum occupancy rule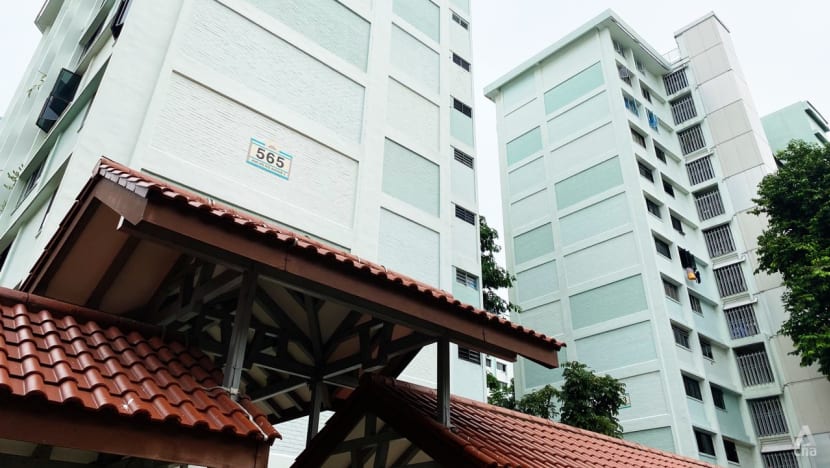 SINGAPORE: Many residents at Ang Mo Kio Avenue 3 have said they would not be affected by the adjusted criteria under the Housing and Development Board (HDB)'s Selective En bloc Redevelopment Scheme (SERS) as they plan to live in their replacement flat until old age. 
The new criteria stipulates that buyers of replacement flats under the scheme will only be able to sell their unit five years from the date of collecting their keys. 
Under the previous criteria, home owners could sell their replacement flat seven years from the date of selection of the unit, or five years from the date of key collection - whichever is earlier.
This meant that some owners under SERS were able to sell their flats before they had lived in them for five years. 
On the other hand, those who buy a new flat from HDB or on the resale market are already subject to a minimum occupation period of five years.
This adjusted rule comes after a five-room replacement flat at Block 96A Henderson Road sold for S$1.4 million last month. The flat, which was a replacement for a Redhill Close SERS project, had 96 years and one month left on its 99-year lease. 
The adjusted criteria will affect SERS sites announced on or after Apr 7.
This means the changes will start with the flats in Ang Mo Kio Drive, which were offered to residents of four nearby blocks at Ang Mo Kio Avenue 3 after the blocks were selected for SERS on Apr 7.
NO PLANS TO SELL
Most residents who spoke to CNA expressed indifference to the change in minimum occupation period. 
"It doesn't affect me. The most important is to be able to get a loan (to afford the new flat)," said Mdm Janice Ong, a 54-year-old housewife who currently lives in a four-room unit.  
Mdm Ong's greater worry was that she would need to dip into her retirement savings to afford the new unit and its renovation costs.
Like her, 36-year-old permanent resident Bui Thi Dong said she does not plan to sell her replacement flat once she moves in. She added that after her Singaporean husband recently died, her only concern now is that she and her four-year-old daughter have a home to live in. 
Several residents also said they did not plan to sell their replacement unit, located near their current flat, as they enjoyed living in the area. 
"I don't intend to sell. I'll just move there. I love my current house, but since I will have a new house to stay, why not?" said 56-year-old Patrick Ong, who works in the security industry. 
Mr Ong, who lives with his wife and child in a three-room unit, added that he does not think he would need to "top up" cash to afford his new flat. 
In the same block, a 71-year-old resident who only wanted to be known as Mr Tan said he plans to get a smaller unit once he moves to the new site. He currently lives in a 3.5-room corner unit. 
HDB will build about 1,065 replacement flats ranging from two-room Flexi to four-room units at Ang Mo Kio Drive.
"For me, I'm thinking of getting a two-room Flexi, so I can get money back for my old age. Now what I need is money to go on with my life. There is no meaning to buy another 99-year house. But for others, maybe they have children, they need a bigger unit. A lot of different people have different requirements," the semi-retired cleaner told CNA. 
"(The Government) wants to demolish, then we have (no choice but) to shift. But they have to be fair to us. This block (has) a lot of elderly people. They cannot afford to buy again. They (have paid) instalment for so many years, then you go and add another layer." 
Adding that this part of Ang Mo Kio is "very convenient" for him, Mr Tan said: "I don't plan to sell. What for sell? I still need to get another place to stay right? So troublesome."
On the other hand, some residents were happy to move.
IT professional Shanmugam was even looking forward to upgrading to a four-room. The 49-year-old's current unit is a 3NG (New Generation) flat, where he and his family have stayed for 16 years.  
"My daughters have started growing up, so I actually thought of moving in the next five years once my daughter moves to junior college. ... The SERS announcement was a surprise for us, but it's okay," he said. 
"(Upgrading) will affect my retirement funds a little bit, but it's manageable." 
While Mr Shanmugam acknowledged there might be Singaporeans who lament the new minimum occupation period ruling as they may wish to sell off their home quickly, "it depends on the age group that you're looking at", he said. 
Similarly, Ms Evelyn Seow and her family do not plan to sell their replacement flat. The 40-year-old who works in the travel industry told CNA that resale flats in Ang Mo Kio tend to be "very expensive", so they plan to hold onto their new unit once they get it. 
"We will be planning to stay there, so we won't sell. In Ang Mo Kio, the estates are already very expensive. So for us to get a place here, then to move there, we don't have intention to sell," she said.
"We understand a lot of people are not happy about it. But for us, we're already used to this area and because it's a good opportunity to buy a flat (at a lower price) ... It's still a lot, but ultimately, it's still cheaper than buying a resale flat at Ang Mo Kio (which is) about S$700,000 to S$800,000 for a four-room. But looking at the (four-room at the new site), it's about S$400,000."
Ms Seow added that her father, who is in a wheelchair, would also benefit from the handrails that are installed in the units at the new site. 
"STUCK" WITH THE HOUSE 
However, one resident expressed concern that his parents-in-law, who own a unit at the affected blocks in Ang Mo Kio, would be "stuck" with a house due to the adjusted minimum occupation period ruling. 
Royston Albert, an operations manager in the shipping industry, said elderly residents like his parents-in-law who "are still alive" to get the replacement flat in five years would need to wait another five years before they can sell the unit.
"The fact that they're not able to sell it fast is an obstacle for them. It's pointless for them to get a new flat even though it's a new lease of 99 years ... because they're old. Having a fresh lease of 99 years and not being able to sell it as early as possible means they're stuck with that house, and they won't be able to generate any profit even if they think of selling the house," the 41-year-old said. 
"Initially, they were thinking it's one-to-one exchange (where they will get the same size flat at the new site). If it is that, I think everyone will be happy and not wish to sell the house. But only being able to do it after a number of years is a disappointment. They feel like they're being shortchanged."
At the moment, Mr Albert noted that it "seems all avenues for them to actually profit from selling the house have been blocked". 
"It feels more like forced eviction from the present house, which they did not ask for," he said.