Woodlands Checkpoint expansion: Residents shocked about having to move out, say they're fond of neighbourhood
SINGAPORE: Some Marsiling residents affected by the expansion of Woodlands Checkpoint said they are shocked about having to move out by the end of 2028, adding that they have grown fond of the neighbourhood.
The community at Blocks 210 to 218 Marsiling Crescent/Lane has fostered a strong "kampung spirit", they said, praising the area for its peacefulness, proximity to Woodlands Waterfront and unobstructed views of the Straits of Johor.
The authorities announced on Thursday (May 26) that these nine Housing and Development Board (HDB) blocks will be acquired as part of the expansion, aimed at better alleviating congestion and reducing travel time amid a projected increase in traffic across the Causeway.
These blocks comprise more than 730 sold flats as well as rental flats, a rental kiosk, rental shops and a rental eating house, the Immigration and Checkpoints Authority, Singapore Land Authority and HDB said.
Owners of the sold flats will be compensated based on the market value of their unit as at the date of acquisition. They will also get the option to buy a new flat with a fresh 99-year lease at subsidised prices, the agencies said.
The residents will be prioritised for about 1,100 new replacement flats at Woodlands Street 13, expected to be built by the fourth quarter of 2027. The authorities said these flats have better design and fittings, and are located near to "modern and comprehensive facilities".
Eligible flat owners may receive a Selective En bloc Redevelopment Scheme (SERS) grant of up to S$30,000 and take out a housing loan from HDB for the purchase of their new flat.
The residents and tenants CNA spoke to on Thursday said the news came suddenly, although some of them pointed to rumours over the years of an en bloc exercise in their neighbourhood.
Many said they would also consider moving to other HDB developments, beyond the ones at Woodlands Street 13.
The residents received a text message from the authorities about the news at around noon on Thursday, while officers from the relevant agencies went door-to-door at the affected blocks to address concerns.
Some residents were seen discussing the development with each other at the common areas as HDB officers went around the neighbourhood pulling trolleys of information booklets.
Private hire driver Mohd Said Abdullah, 66, has been living in Block 212 for 22 years. He said he had intended to stay at the four-room corner flat for the rest of his life so his three children could inherit it in the future.
"A couple of people came (a few years ago) wanting to buy, but I thought of my children being happy visiting me here," he said. He also loves how roomy his 109 sq m home is, and that the neighbourhood has good amenities and green spaces, he added.
But Mr Said explained that he is not angry about the move, as he believes in fate and that "life has to move on".
"If we are angry, what can we do? It's like if we are angry about chickens (from Malaysia) not coming in, what can we do? If there is no chicken, find other options and eat fish," he said.
Still, he is unsure about moving to the new flats at Woodlands Street 13 as he is wary of the more compact Build-to-Order flats. Instead, he plans to look for a bigger resale flat to move to nearby, although he accepts that he will have to forgo the SERS grant.
"I don't intend to wait six years for the new flats," he added. "I might not be alive by then."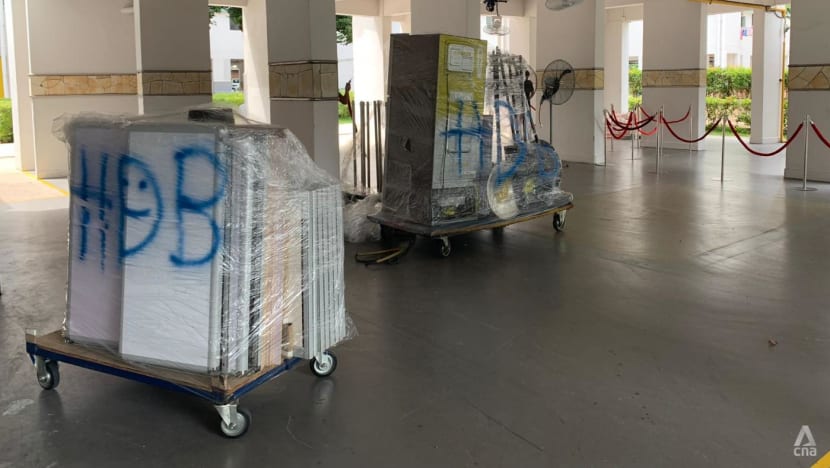 Block 217 resident Colin Wong, a final-year undergraduate, said he was shocked by the news as he has become attached to the neighbourhood he grew up in.
"When you stay here for such a long time, the compensation package is a factor but it's not the most important factor. The most important factor is actually the emotional connection to the place," the 25-year-old said.
"And if you have to shift, it should be to somewhere better so that it's not so painful."
Mr Wong said he is eyeing an upcoming HDB development near Causeway Point instead of the new flats at Woodlands Street 13, as he would prefer to be closer to Woodlands MRT station.
However, he conceded that he would not get priority for those flats, and that they could be oversubscribed due to the popular location. "But I will try," he added. "I am in talks with my parents and maybe we will make a trip down to HDB one day."
Likewise, Block 212 resident Ishak Halil said he was "shocked" at the sudden news, especially as he had only moved in to his three-room flat two years ago, and renovated the unit recently.
"We like the place here; it's quiet and we have good neighbours," the 57-year-old said, as he sat outside his unit and flipped through booklets given by the HDB officers who had visited.
"In my age now, I thought this is the final house we are going to be staying in. Suddenly en bloc, so we have to move again."
Mr Ishak, a home renovation contractor, said he intends to stay in his current three-room flat for as long as he can. He said he had bought the unit for around S$200,000, and that he intends to see how much compensation he will get before deciding on his next move.
"We just renovated, so we already spent quite a sum of money," he added. "They (the authorities) should make all the residents here happy."
After staying in Block 213 for 23 years, a resident who wanted to be known Mdm Wong said she feels "very sad" about having to move out as the neighbourhood is "very good".
"The people here have the kampung spirit and help each other," the 48-year-old homemaker said. "Everyone in this block knows each other."
Mdm Wong questioned why Blocks 30 to 36, located on the other side of Marsiling Drive and also near to Woodlands Checkpoint, would not be affected by the redevelopment.
"If they really wanted to do something to the checkpoint, I suppose it would have been on that side and not our side," she said, adding that she is unsure if she will move to the new flats. 
Commercial tenants at Block 210 were more accepting of the news.
Mr Winson Ng, managing director of Yassin Kampung Group which runs a seafood restaurant at the block, called the news "sudden and surprising" but not unexpected as they had predicted that the estate would be redeveloped one day.
In fact, it is the second time that his outlet had to move after its previous location at Block 1A Woodlands Centre Road was selected for SERS in 2012.
"HDB has provided some form of assistance for the affected business owners," Mr Ng said, adding that the group will open another eatery in Yishun. "It's too early to tell now but our team is always prepared for all challenges coming ahead."
Eligible rental commercial tenants will get benefits including a 10 per cent rental discount for the first tenancy term at a HDB rental shop or eating house elsewhere, and a S$30,000 relocation assistance if they are Singaporean small- and medium-sized enterprise tenants who continue operations elsewhere.
Mr Noor Sobri Mohamed Noor, who runs a chain of barber shops in Woodlands including one at Block 210, said he is fine about moving out as he knows it is for the greater good of expanding Woodlands Checkpoint.
There is a tinge of regret, however, as his shop has been there for five years – making it one of his oldest – and was also recently renovated. The 33-year-old also grew up in the area and studied at nearby Woodlands Secondary School.
"I'm a bit sad because I lived in that area and soon it will be no more," he said.
Mr Sobri hopes the authorities will assign him another rental shop in the Woodlands area, as he is confident his customers will remain loyal to him if the location is similar.
"I will just prepare for the worst and hope for the best," he added.