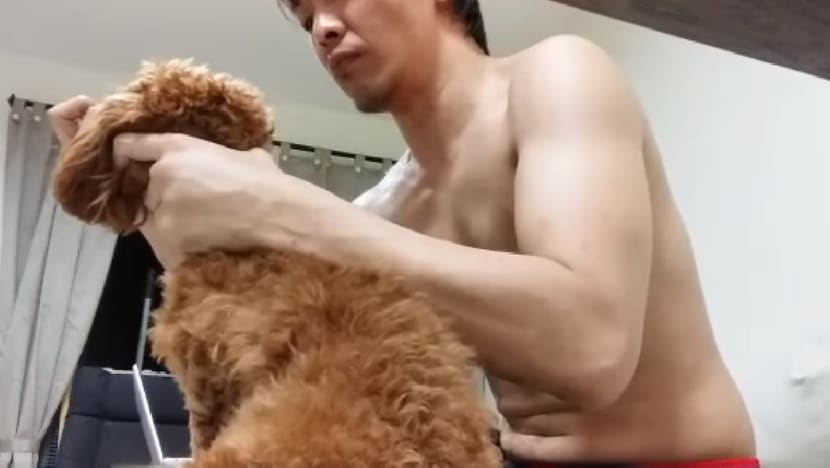 SINGAPORE: A 42-year-old man who abused his poodle and recorded the acts, or had them recorded, pleaded guilty in court on Wednesday (Sep 8).
Clement Chia Tian Xiang pleaded guilty to four charges of abusing the dog between October 2016 and November 2017. At the time, the dog was about four years old.
The court heard that he bought the dog, a brown toy poodle called Leslie, in 2016 for S$2,000.
In six videos shown in court - either recorded by him or his cousin at his request - Chia can be seen hitting the dog with a hanger, punching it and blowing a fan towards it while it was wet.
In most of the videos, the dog's mouth or legs were bound. The dog could also be heard whimpering in some of the videos. 
In one 35-second video taken by Chia's cousin, he bound the dog's mouth shut with white string and beat the dog with a closed fist multiple times. He hit the dog with a hard plastic hanger repeatedly on its right hind leg and right front leg.
His cousin was fined S$4,500 in July this year for not stopping the abuse.
PUNCHING, SWINGING DOG
In a 25-second video taken by Chia, he was seen punching the dog's lower body repeatedly. He was also seen swinging it upside down and smirking while doing it. 
In another video - also recorded by Chia and lasting 1 minute and 15 seconds - a fan is seen blowing towards the dog, which was in an upright position with its hind legs bound.
Chia could be heard threatening the dog to stay in that position, or he would slap it. He then said in Mandarin that its eyes are wet and zoomed in to show this.
His offences came to light in July 2020 - three to four years after they were committed - when the videos of the torture were shared by many users on Facebook.
Many people were alarmed to see the videos and alerted the authorities about the abuse, the court heard. The dog was given to Chia's former girlfriend in 2017 and is well.
District Judge Lorraine Ho requested that the prosecution obtain a statement from the dog's new owner to find out about the condition of the dog when she took over, and how it was affected by the abuse.
Chia was previously convicted of other offences including theft, possession of obscene films and rioting. His most recent conviction was in September 2015 for rioting and indecent behaviour. 
For each count of animal abuse, Chia may be fined up to S$15,000 and jailed up to 18 months.