SINGAPORE: ASEAN will matter even more to India as India's economy and its role in the Indo-Pacific region grow, said Foreign Minister Vivian Balakrishnan on Thursday (Jun 16). 
He was responding to a question about how some believe that the Association of Southeast Asian Nations (ASEAN) is beginning to matter less to India as it takes on a more active role in the region with the launch of the Indo-Pacific Economic Framework. 
Speaking to journalists at a doorstop interview from New Dehli, Dr Balakrishnan said he had "the opposite take". 
"As the Indian economy grows, as its markets or its exports and even its need for energy and other resources, India has got strategic interests, not just in the Indian Ocean, but across into the Asia Pacific as well," he added. 
"And because ASEAN is right in the middle of it, ASEAN matters even more to India." 
Dr Balakrishnan is in New Dehli to co-chair the Special ASEAN-India Foreign Ministers' Meeting with Indian External Affairs Minister S Jaishankar and deliver remarks at the Ministerial Session of the Delhi Dialogue XII.
The meeting confirmed that ASEAN matters even more to India, said Dr Balakrishnan. 
"And in fact, we've got so much opportunity to do more by integrating our economies. We've got so many opportunities in the digital space, we've got great opportunities in terms of green technologies, sustainable development, carbon markets. 
"I am convinced, and it's not just my view, but this is reflecting the view of the Indian government, that ASEAN matters even more to India." 
For example, India is keen on building a highway that would connect the country to Myanmar, Thailand and onward into Laos, Cambodia and Vietnam, which will accelerate and increase economic opportunities, said Dr Balakrishnan. 
At the meeting, Indian and ASEAN leaders also discussed collaboration on the digital and sustainable technology front, he added. 
UKRAINE CRISIS
With the crisis in Ukraine and the resulting geopolitical tension in the region, Dr Balakrishnan also addressed how Singapore and the rest of ASEAN will work with India to tackle energy and food supply issues, as well as overcome challenges in global logistics. 
Since India is a major food exporter, this gives the country opportunities, he said. 
India is the largest exporter of rice in the world, and its agricultural exports increased by nearly 20 per cent in 2021 compared to the year before, said Dr Balakrishnan. 
"Clearly they are also concerned with the impact of food prices rising domestically, and hence they are also taking some domestic measures," he added. 
"But the key point is this, assuming they get a good monsoon and the harvest is good, you can expect India to continue to be a superpower where food is concerned, and we certainly look forward to them being able to export more food to Southeast Asia and beyond."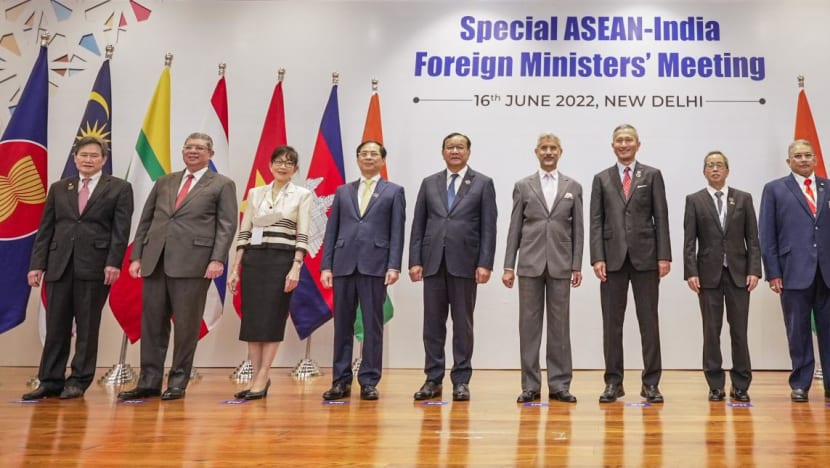 RESPONSE TO OFFENSIVE REMARKS AGAINST MUSLIMS
Dr Balakrishnan also responded to offensive remarks against Muslims made by two senior members of Prime Minister Narendra Modi's Bharatiya Janata Party earlier this month. 
A party spokeswoman made the offending comment about the Prophet Mohammad during a television debate while a party spokesman was reported to have posted a now-deleted tweet.
The party suspended both of them and denounced any insult towards any religion. Police have also filed cases against the two, but that did not stop enraged Muslims from taking to the streets in protest.
Singapore's Foreign Minister shared that the issue is "a delicate subject" and was discussed at the meeting informally. 
"Let me just reflect views from a Singapore perspective. I think this episode is another stark reminder why we need to be so careful and why we need to strongly reject hate speech, incendiary speech, speech which incites or aggravates, or causes insult or division within societies," said Dr Balakrishnan. 
"And this is just another reminder and is an affirmation for why we take such a strict approach to this in Singapore." 
The incident is a "stark reminder" that Singapore is "on the right track", he added. 
"And so long as we remember that and treat each other with respect, we can live and let live, in fact, we can live well as a cohesive, multiracial, multi-religious, multilingual society. That's the key lesson that we need to bear in mind."