Conclusion for Regional Comprehensive Economic Partnership 'finally in sight': PM Lee
Talks on Regional Comprehensive Economic Partnership (RCEP) have reached a "critical stage", says Mr Lee.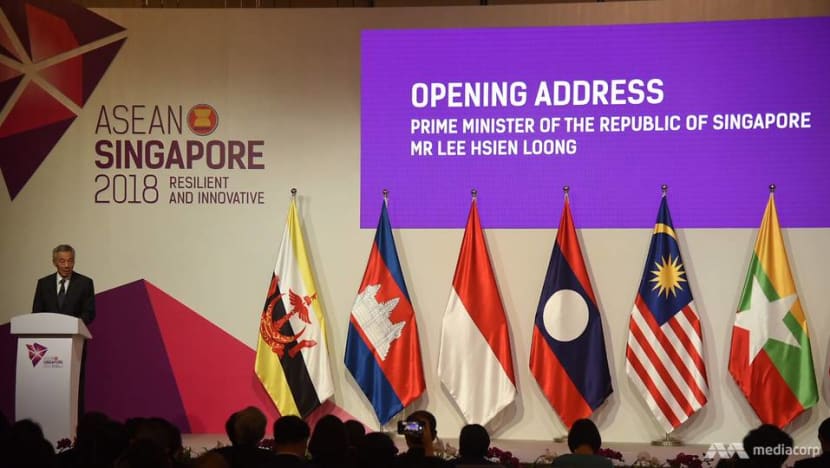 SINGAPORE: Negotiations for the Regional Comprehensive Economic Partnership (RCEP) have reached a "critical stage" and a conclusion is "finally in sight", said Prime Minister Lee Hsien Loong on Wednesday (Aug 29). 
When inked, the RCEP will form the world's largest trading bloc that covers a third of the world's gross domestic product (GDP), Mr Lee added as he spoke at the opening ceremony of the 50th ASEAN Economic Ministers' (AEM) Meeting and related meetings. 
Singapore, which is the Association of Southeast Asian Nations (ASEAN) chair this year, is hosting the annual series of meetings from Tuesday to Saturday at the Shangri-La Hotel. 
In his opening speech, Mr Lee said strengthening regional economic cooperation and integration is key for ASEAN to fully realise its potential. 
This includes pressing on with the implementation of the ASEAN Economic Community (AEC) Blueprint 2025, as well as supporting an open and inclusive multilateral system amid growing trade conflict.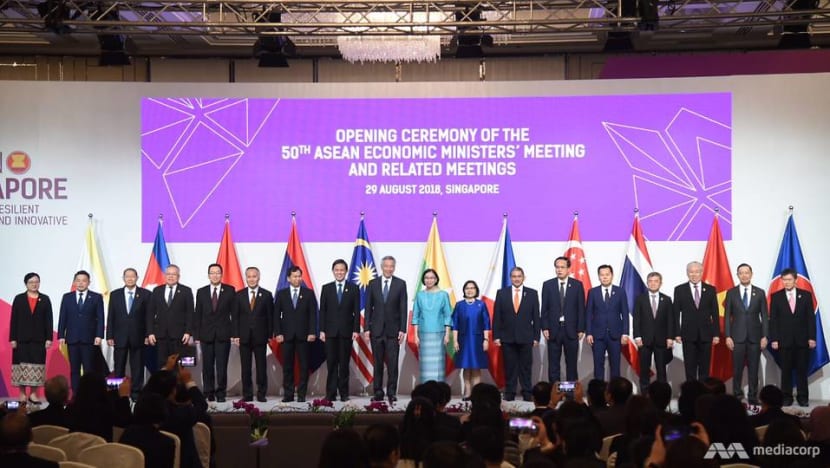 Escalating trade tensions between the US and its key trading partners have put the rules-based multilateral trading system, which has underpinned ASEAN's growth and prosperity, under pressure. Each ASEAN member state is also subject to different pulls and pressures from bigger powers, he said. 
"In these circumstances, all the more members must stay united and strive to maintain our cohesion and effectiveness." 
On RCEP, ASEAN has "exerted significant effort" to make progress. 
Involving ASEAN and six Asia-Pacific countries, the trade pact builds upon the existing five ASEAN Plus One Free Trade Agreements (FTAs) to strengthen economic linkages, and enhance trade and investment flows. The 16 members have previously set a year-end goal for the RCEP. 
Mr Lee said: "Given the diversity of RCEP's members, we all have to make trade-offs and compromises. But we should weigh these against the significant strategic and economic value of the RCEP." 
"The RCEP negotiations have continued for some time, and have now reached a critical stage. After a great deal of work, the possibility of substantively concluding the RCEP negotiations is finally in sight," he added. 
Describing it as "an important signal to the world", Mr Lee urged RCEP member countries to "take a long-term view, keep up the momentum, engage constructively and with maximum flexibility" for a high quality agreement to be delivered this year. 
Mr Lee also stressed how important it was for ASEAN to press on with the full implementation of the AEC Blueprint 2025.
"This will enable ASEAN businesses to operate more seamlessly across the region, and make our companies, and also our economies more competitive globally," he said.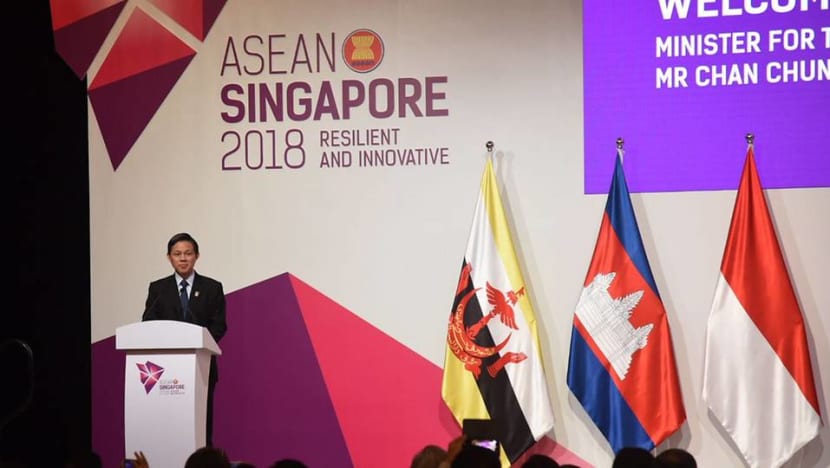 ASEAN CANNOT BE DISTRACTED BY POLICY U-TURNS ELSEWHERE: CHAN CHUN SING 
Singapore's Minister for Trade and Industry Chan Chun Sing, who is the AEM chairperson, echoed similar sentiments in his welcome remarks. 
He said ASEAN has stayed the course in regional economic integration despite rising nationalistic tendencies and anti-trade sentiments elsewhere in the world. 
Singapore's ASEAN chairmanship comes at a "critical juncture" as further steps are taken to shape the grouping into a "cohesive organisation capable of adapting to a more complex and uncertain global environment, and an economic bloc that is prepared to capitalise on future opportunities", he added. 
There has been progress in areas such as developing digital connectivity in the region, said Mr Chan. 
For instance, the development of the ASEAN digital space and a transition to the "live" operation of the ASEAN Single Window in January for five member states. 
ASEAN leaders have also agreed to work on the Digital Trade Standards Cooperation Initiative - a joint development by ASEAN and Australia. 
"These achievements are testament to ASEAN's unwavering vision and commitment to create a more integrated AEC for the continued prosperity of our businesses and people," he said. 
Moving forward, ASEAN must continue to build on these successes and cannot afford to be distracted by "recent policy U-turns elsewhere", Mr Chan added.