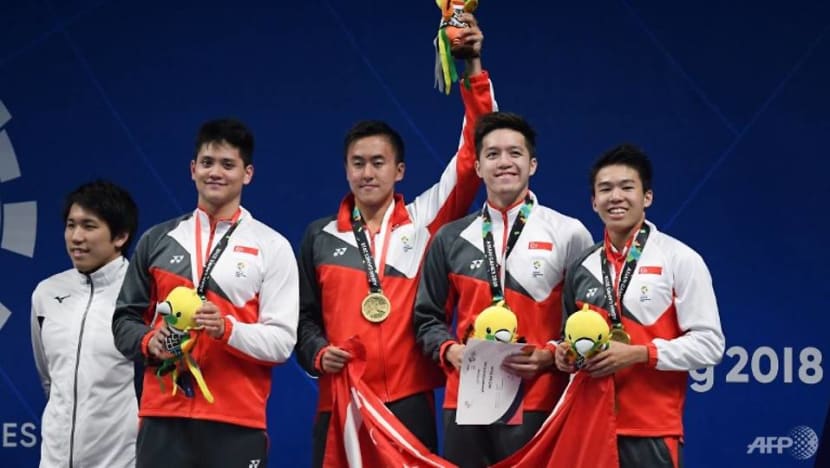 JAKARTA: Team Singapore won its first medal for the 2018 Asian Games on Monday (Aug 20) after the men's 4x200m freestyle relay team bagged bronze.
The quartet of Joseph Schooling, Quah Zheng Wen, Danny Yeo and Jonathan Tan clocked 7:14.15s to finish third at the Gelaro Bung Karno (GBK) aquatic centre in Jakarta.
Japan came in first with 7:05.17s, a new Games record, and China clinched silver with 7:05.45s.
Team Singapore's effort was also a new national record, smashing the previous mark of 7:18.14s set at the 2015 Southeast Asian Games. 

Speaking to media after the event, Olympic champion Schooling, 23, said the team was pretty tired but "it was worth it".
"That was a solid race from all four of us, we couldn't have asked for a better result," he said.

Quah, 21, who swam the first leg of the relay, said he was glad that he was not affected by "a bad race" on the opening day of competition - when he come in sixth in the 200m butterfly final. 
"You can't let a bad race dictate how the rest of the meet is going to go. These guys have been a source of positive energy for me and I really couldn't have done it without them," he added. 
Tan, 16, who was competing at the Asian Games for the first time, said that he was "nervous before the race". 

"I was (very) stressed but I got my teammates behind me and ... I'm really happy," he said.

The Singapore team clocked 7:26.62s in the heats on Monday morning to finish third out of 10 teams and qualify for the final.

Veteran swimmer Yeo, 28, was part of the quartet who clocked 7:25.46s to clinch bronze at the previous edition of the Games in Incheon.

Get the widest coverage of the 18th Asian Games (Aug 18 – Sep 2) from Jakarta and Palembang, Indonesia on Mediacorp. Go to toggle.sg/AsianGames2018 for details.