'Every cent helps': More parental support welcome, but couples say it won't push them to have more children
Among other measures for parents announced at Budget 2023 was that new parents will receive a bigger cash bonus, starting from S$11,000 for their first child.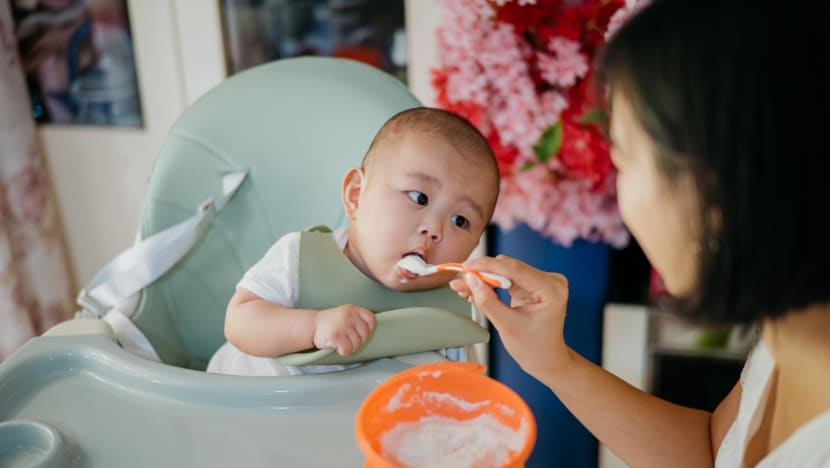 SINGAPORE: Parents welcomed the increased baby bonus and other measures to support families announced on Tuesday (Feb 14), but said the move would not convince them to have more children.
Sociologists CNA spoke to agreed that the additional financial support was unlikely to shift the needle in boosting Singapore's fertility rates. 
In his Budget speech, Deputy Prime Minister Lawrence Wong announced that the Baby Bonus Cash Gift will be increased by S$3,000. Parents of babies born on Feb 14 and after will receive S$11,000 for their first and second child, and S$13,000 for their third child and beyond. 
The First Step Grant under the Child Development Account (CDA), which is used to pay for a child's education and healthcare needs, was also increased from S$3,000 to S$5,000. 
The Government will also match parents' savings in the CDA for the first and second child up to S$4,000 and S$7,000 respectively, an increase of S$1,000 from the previous limit. 
"SMALL DENT" IN COST OF RAISING CHILDREN
Parents CNA spoke to said the increase in the cash bonus would go some way in easing the expenses of raising a child, especially in the early years. 
Ms Elizabeth Teh, who will be having her first child at the end of this month, said the announcements were timely. 
"I think that every cent helps, so that's a plus," the 29-year-old said. 
"(But if) I was on the fence about having kids, I don't think this is something that would have pushed me ... to have kids." 
Ms Ashley Than, who is 28, said she was happy to hear about the additional financial support. She has an 18-month-old son and is expecting another child in April. 
"The baby bonus will really be beneficial to help with the kids' school fees," she said. 
Her firstborn will be going to pre-school soon, and she and her husband have been putting aside money in his CDA to take advantage of the Government's matching of savings in the account.
She estimates that pre-school fees will cost them about S$500 a month if they opt for a Government-supported school and more than S$1,000 for a private one. 
"In a way, the Government is also helping to pay the school fees," said Ms Than, adding that she is considering having a third child. 
Ms Esther Ng, who has two children aged two and seven months and plans to have at least one more, said she "wasn't very impressed" by the news. 
"The top-up to the CDA or the increase in the Baby Bonus are useful, but overall, I feel like it just makes a small dent in the cost of raising children," the 29-year-old said.
Most of parents' CDA funds go towards pre-school fees, Ms Ng said. Those who need infant care, which starts from S$1,235 a month for a Government-supported school, may use up all their CDA savings even earlier, she added. 
In his Budget speech, Mr Wong said the measures are meant to support parents with the costs of raising their children. 
Noting that the Government already has a "generous" set of measures, he added: "Some of these schemes need to be adjusted, to ensure that more support is given to those with greater needs." 
For example, restructuring the way the Baby Bonus Cash Gift is disbursed – from five instalments over 18 months to every six months until the child turns six-and-a-half years old – will allow parents to receive continuous support until their child enters primary school, he said. 
MOVING THE NEEDLE 
Sociologists agreed the financial incentives will do little in convincing Singaporeans to have more children. 
Assistant Professor Tan Poh Lin with the NUS Lee Kuan Yew School of Public Policy cited the example of the S$3,000 Baby Support Grant given out during the pandemic, which did not result in any clear uptick in the fertility rate.
The announcements will certainly be welcomed by those who are planning for children or expanding their family, said Professor Paulin Straughan of the Singapore Management University's School of Social Sciences. 
"However, it's very unlikely to influence a change of heart for DINKs, or (couples who have) dual income with no kids," she said.
Singapore's resident total fertility rate was 1.12 in 2021, up from 1.10 in 2020, but still lower than the pre-COVID level of 1.14 in 2019. The rate has generally been declining for the past few decades. 
There are three main challenges for Singapore's fertility rate – the falling rate of marriage and rising age at first marriage, the decision whether to have children at all, and the number of children couples choose to have, said the Singapore University of Social Sciences' Associate Professor Walter Theseira. 
"The last one is probably where enhancements to the Baby Bonus Cash Gift and paternity leave probably make some difference," he said. 
"If you already have a child you might feel it's now a bit easier to have your next as there will be more support ... But I would guess that this is not going to make people run out and get married tomorrow!" 
Women's rights groups AWARE pointed out that these schemes do not support all parents equally – among those which got a boost in Budget 2023, unwed single mothers are only eligible for the CDA programme.
With single parents likely to be sole breadwinners as well as primary caregivers, AWARE has advocated for their inclusion in such cash gifts and relief schemes, the association said in a press release on Wednesday. 
Executive director Corinna Lim said it is "impossible to celebrate" for those whom the news was a "sharp reminder" of the prejudice they face as unwed single mothers. 
"We hoped that the Budget would put a dent in the suite of policies that unreasonably penalise vulnerable single-parent families in Singapore, but it was not the case."
MORE PAID LEAVE, PLEASE
As part of the new measures, unpaid infant care leave will be doubled to 12 days from next year for eligible parents with children aged under two. 
But mother-of-two Ms Ng said she hopes instead that paid childcare leave days can be increased, especially for those with more than one child. 
Working parents get six days of paid childcare leave a year if they have children below seven years old, regardless of how many they have. This drops to two paid days a year for children between seven and 12 years old. 
Ms Ng said most parents would not take unpaid leave. If she runs out of paid childcare leave, she would rather use her annual leave if she has to stay home to take care of her children. 
"If you spread the six days and you have three kids, you only have two for each child," she said.
"And you can't take (after) the child turns seven. So you don't have childcare leave anymore, but can a seven-year-old really take care of themselves independently? Not really." 
Ms Than recently quit her full-time job to take care of her son about six months ago, and now works part-time. 
"When I was still working (full-time), it was not so flexible. So I didn't really have much time with my child," she said, explaining her decision to quit.
"If there is more flexibility for parents, like work from home as and when they required, that would be good," said Ms Than. She hopes to see more measures in the future to support parents who want flexible working hours or to work from home. 
IT TAKES A VILLAGE
Another Budget 2023 boost for parents-to-be came in the form of paternity leave, which will be doubled to four weeks for fathers of Singaporean children from next year. The scheme is voluntary for employers, but there are plans to make it mandatory.
Ms Than, whose husband took the full two weeks of paternity leave for their first child, said he plans to do the same for their second. 
"A lot of people who have not conceived yet, they will think that the four months of maternity leave is a holiday for the mother, but actually it's not. It's very tiring for the mother, especially first-time mums, because they're still getting used to things," she added. 
"Raising a kid … it really takes a whole village. At the start, if the mum is actually left alone to take care of the newborn, it's very easy for them to get into depression," said Ms Than. 
Mothers are also opting out of hiring confinement nannies since the service is becoming more expensive, and the increased paternity leave will help them, said Ms Ng.
Dr Cynthia Lim of the Singapore University of Social Sciences lauded the move to increase paternity leave.
"Infants are naturally primed to form attachments to their significant adults and it's so important for both mothers and fathers to have the time and space to form those initial secure bonds," said Dr Lim, a senior lecturer with the university's Early Childhood Education Programme. 
Being able to form those bonds will have long-term benefits on the child's social-emotional development, she added.
AWARE's Ms Lim also praised the move, but noted that the amount still falls short of the 16 weeks available to mothers. This still signals that mothers should be primarily responsible for childcare, she said. 
"The reason we push for paternity leave is because we want to change the gender ideologies on division of domestic labour," said SMU's Prof Straughan. 
"Therefore, what will help men to take that progressive step forward to take on a fair share of their responsibilities when we're talking about family formation. So we're hoping that they cannot use 'no time' as an excuse." 
Listen: What this budget means for us