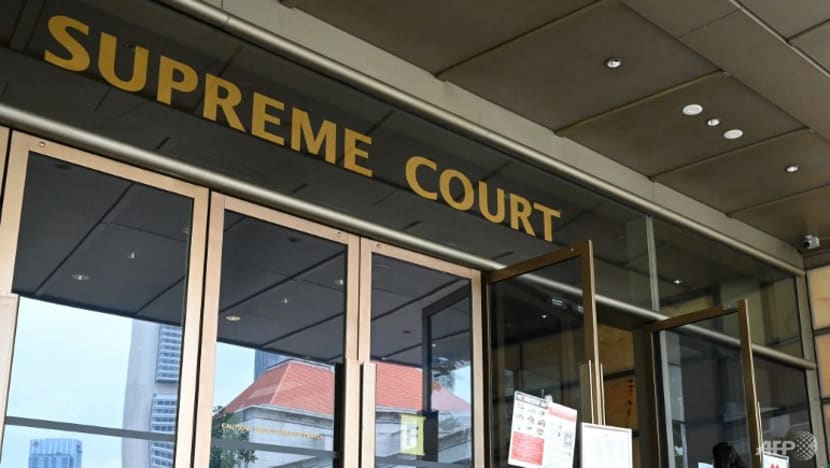 SINGAPORE: One of the 11 trainee lawyers who cheated in the Bar exams was on Wednesday (May 11) allowed to withdraw his application to join the legal profession.
Leon Tay Quan Li also applied for his case to be sealed and for the hearing to be conducted in private, but Chief Justice Sundaresh Menon did not grant these requests.
Chief Justice Menon said Mr Tay was not a fit and proper person to be admitted to the Bar because he cheated in the 2020 Part B exams and after that, when confronted by the Dean of the Singapore Institute of Legal Education (SILE), "presented a false account of what had transpired".
The SILE conducts the Bar exams. Together with the Attorney-General and the Law Society, it is one of three parties that must not object to a Bar application in order for the lawyer to be admitted.
"His lack of fitness to be admitted is also founded on the unsatisfactory way in which he made quite limited disclosures of the relevant facts as a part of his application for admission to the Bar," said Chief Justice Menon.
The Chief Justice added that after investigations, SILE found Mr Tay had acted "fraudulently and dishonestly" in his dealings with the institute.
"Lawyers are ministers in the temple of justice. It is an indispensable requirement that those who aspire to this calling must demonstrate qualities of honesty and integrity."
Mr Tay's conduct showed a "grave deficit of such integrity", said Chief Justice Menon. "He is not a fit and proper person to be admitted," he said, adding that "Mr Tay himself accepts this".
Chief Justice Menon noted that the Attorney-General opposed Mr Tay's request to withdraw his application and maintained that the application should be dismissed in open court.
However, the Chief Justice allowed Mr Tay to withdraw his Bar application on two conditions. First, he must not bring a fresh application in Singapore or any other jurisdiction in the next five years.
Second, if Mr Tay does bring a fresh application, he must further satisfy any requirements imposed by the Attorney-General's Chambers, the Law Society, SILE or the court as to "his fitness and suitability for admission, including with respect to his medical or any other issues".
OPEN JUSTICE
Mr Tay also unsuccessfully sought the redaction of his name, including from an affidavit filed by Lynn Kuek Yi Ting, one of the six trainee lawyers whose Bar admissions were delayed after they were found to have cheated in the exams.
He argued for this on the basis that he was seeking to withdraw his application, hence the public had no interest in knowing his name, as well as a medical report purportedly showing the consequences that refusing to seal the case would have on his well-being.
In deciding to name Mr Tay, Chief Justice Menon said open justice was a "hallowed principle".
"It underscores the importance of the rule that justice must not only be done but also be seen to be done," said the Chief Justice.
"This rests on important considerations of public policy that are fundamental to the integrity of the justice system and to upholding the rule of law."
Chief Justice Menon dismissed Mr Tay's application for a sealing order, finding insufficient grounds to depart from the principle of open justice.
"The fact that he is not a fit and proper person today does not mean that he will never be one," said Chief Justice Menon.
"By allowing him to withdraw his application, I am inviting him to see this as the first step in his journey towards rehabilitation by publicly taking responsibility for his wrong, accepting that he is not fit and proper person for admission, and pledging to rehabilitate himself."
LETTER OF APOLOGY
In a letter to the media on Wednesday, Mr Tay apologised for his "inexcusable misconduct", saying that he was deeply remorseful.
"I know that I am presently not fit and proper to be admitted to the Bar. As such, I applied to withdraw my application, with conditions to be set by the Court as it deems appropriate for my case," he said.
"Having applied for admission in an honourable profession where honesty and integrity is paramount, I understand that my actions have tarnished public confidence in the administration of justice and the legal system as a whole."
Mr Tay apologised to the legal fraternity, whose "overall reputation" he said had been affected by his actions.
He also apologised to other candidates of the 2020 Part B exams, saying that his actions had "cast a cloud" over the integrity of the examination process and undermined their efforts to pass fairly.
"Lastly, to all members of the public, please forgive all 11 of us, and restore your faith in the integrity of Singapore lawyers," said Mr Tay.
"Please give us a second chance to start over. I seek your graciousness for all 11 of us who have been found to have cheated in the Bar examinations."
Mr Tay said that he would reflect on his actions, volunteer and do more pro bono work to give back to the community in the near future.
"I am very sorry and I will do better," he said.