'If I didn't help, I'd regret it': 10 people lauded by police for fending off attacker in Beach Road slashing
SINGAPORE: Mr Lim Chee Kong, a cook at a Beach Road restaurant, had stepped out for a smoke break on the afternoon of Apr 14 when he heard a call for help. 
To his horror, he saw a man savagely attacking a woman in the back alley of Liang Seah Street. 
Though Mr Lim was unarmed, he immediately ran up to them while shouting at the assailant to stop.
"But then (he came towards me) like he was going to harm me, so I retreated and kept shouting," said the 55-year-old Malaysian, who works at Hua Chu Restaurant.
Hearing the commotion, workers from the nearby Zhong Hua Steamboat restaurant came forward to help.
They began picking up items and throwing them at the attacker – acts that were captured in videos that have gone viral on social media.
Mr Lim and the restaurant workers were among 10 people who received Public Spiritedness Awards from the police on Monday (Apr 18) for helping to fend off the attacker.
The 46-year-old suspect, Cheng Guoyan, was on Saturday charged with the attempted murder of a 41-year-old woman who is believed to be his wife.
Zhong Hua Steamboat Restaurant employee Lei Hai Qiu, together with his colleagues – Mr Wei Chen Xiang, Mr Lim Chee Wei and Mr Lin Yong Ping – threw plastic chairs, bins and even signboards at the attacker.
"I was scolding him, shouting at him, just to hold him there (until the police arrived)," said Mr Lei, 46.
It was also a shock to see the woman's face and upper body bloodied and badly injured. "She faced me, saying: 'Save me, save me,'" he added.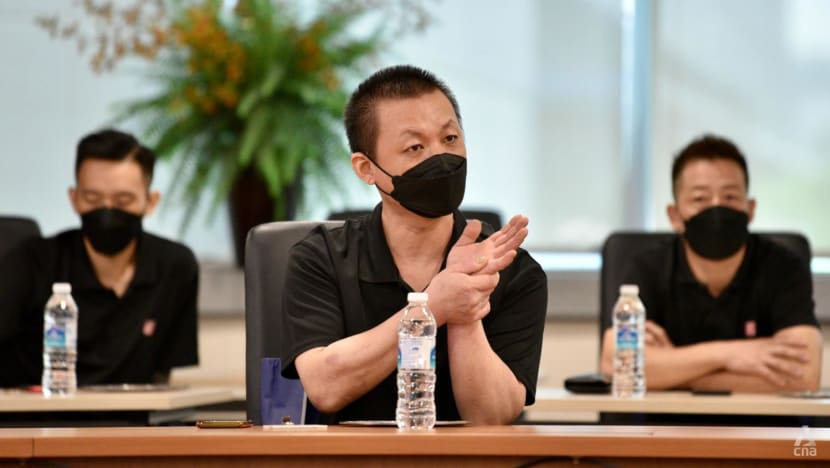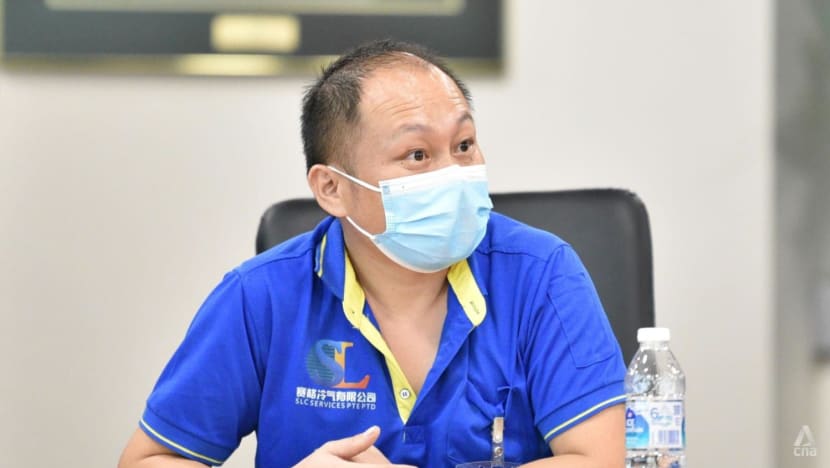 Another two men who were servicing an air-conditioning unit, Mr Pan Xiao Shuo and Mr Zhang Dai, also grabbed ladders from their lorry to push back the attacker.
"I was really anxious and scared ... But if someone needs your help, even if you're really tired, you have to help," said Mr Pan.
Owner of Samurai BBQ Leonard Shi and his employee Jackie Tee also joined the group in pelting the man with various objects.
"We are not professionals, we don't know (tactics). We did what we could with what we had ... Everyone was just thinking of saving the woman first," said Mr Tee, 30.
Mr Shi added: "All I knew was that she was in an extremely dangerous situation and if I didn't do anything, her life would be in danger ... If I didn't help, I'd regret it for the rest of my life."
Madam To Lee Kwee, a waitress at a nearby steamboat restaurant, also received the police award although she was not present to receive it. She had sought help from employees of a nearby hotel, who then alerted the police to the incident.
The police said that the group's actions helped to distract and disorientate the man, helping to prevent him from further hurting the woman.
"When police officers arrived, a few members of the public directed the police to the whereabouts of the man," said the Singapore Police Force. A Taser was then used to subdue the suspect.
Commander of the Central Police Division, Assistant Commissioner of Police Jeremy Ang said: "Even though they were fully aware that the man was armed, their extraordinary bravery and quick-thinking in stepping forward, deserves our recognition and commendation."