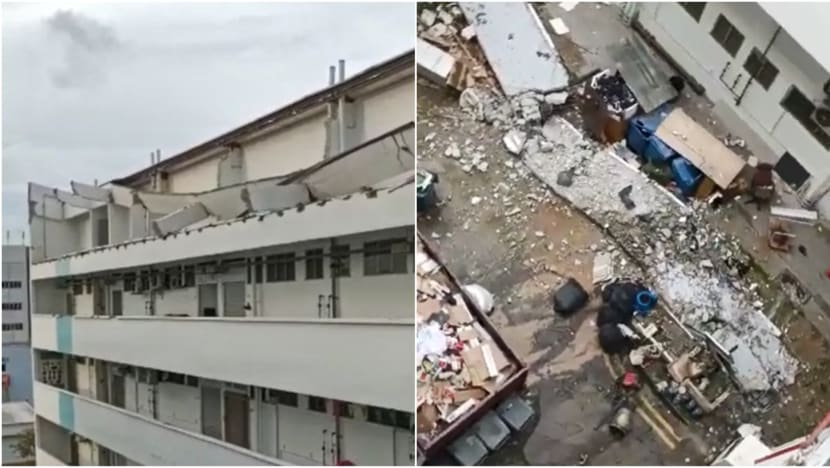 SINGAPORE: A section of concrete structure on the top level of an industrial building in Bedok collapsed on Sunday morning (Aug 22). No injuries were reported.
The incident took place at 3013 Bedok Industrial Park E. The 40m-long concrete section fell four storeys to the ground, scattering debris, said the Singapore Civil Defence Force (SCDF).
SCDF was alerted to the event at 9.20am. Officers conducted a search of the affected area and did not find anyone trapped.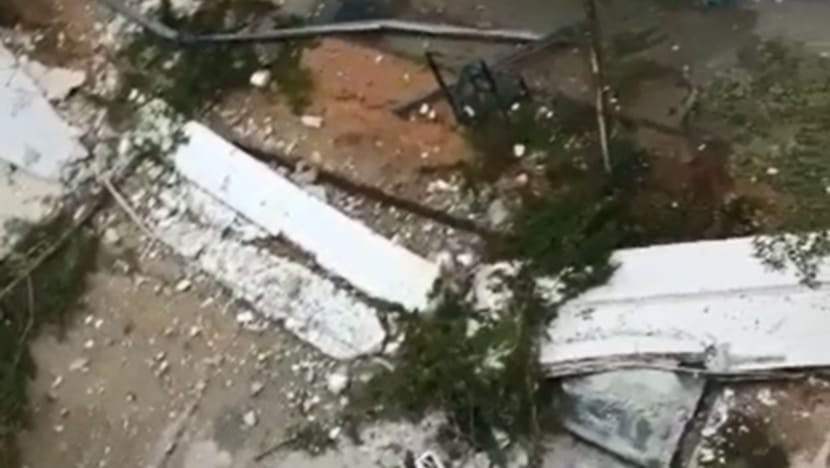 The debris fell onto a driveway at the foot of the building, according to a video of the aftermath sent to CNA by a reader.
Some small trees along the driveway appeared to be snapped in half by the falling debris. Apart from the remaining section of the concrete structure on the roof, the rest of the building looked to be mostly undamaged. 
A spokesperson for the Building and Construction Authority (BCA) said building owner JTC has cordoned off the areas directly below the "dislodged concrete sunshade" for public safety.
JTC has also mobilised equipment to remove the remaining part of the sunshade that is still hanging at the edge of the roof.
The authority added that it also directed JTC to engage a professional engineer to advise on the necessary measures to remove the dislodged sunshade, carry out a detailed investigation and recommend permanent rectification works.
"As an added safety precaution, the building owner's professional engineer is also required to inspect three other adjacent blocks in the area with similar concrete sunshade design," BCA said. 
"BCA and the professional engineer engaged by JTC have inspected and assessed that the structural integrity of the main building is not affected."
JTC said in a separate statement that investigations are ongoing and its officers are on site to engage tenants.