Singaporeans in Beijing hopeful city will not be locked down, but stock up on groceries just in case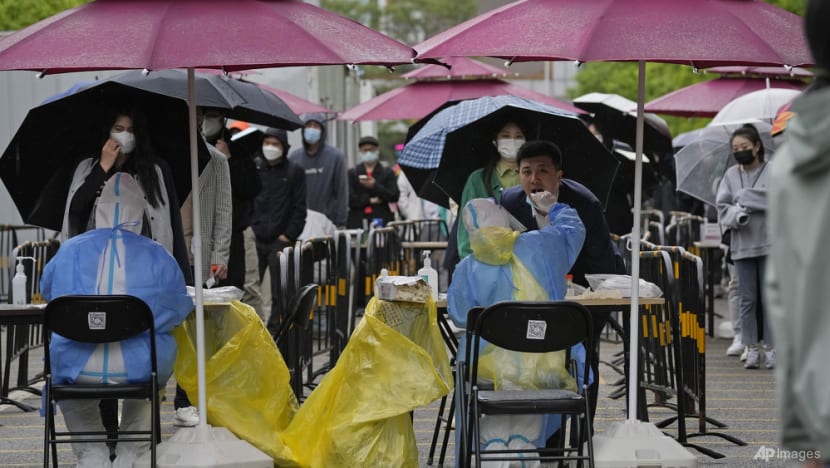 SINGAPORE: When Singaporean Warren Wee – general manager of a construction firm in Beijing – met his friends for dinner the past few weeks, they discussed the situation in Shanghai.
China's most populous city was still in lockdown as it continued to report new COVID-19 cases and deaths, with blanket restrictions over large areas fuelling frustration and anger among residents.
"Seeing all this news about Shanghai, we started speculating if Beijing would be locked down," Mr Wee, 52, told CNA on Tuesday (Apr 26).
"We had a joke going on: When you go to work, bring your home amenities – pyjamas, toothbrush, etcetera. When you leave office, you start bringing your laptop and work back home. Because you never know when the authorities will say lockdown."
But when Beijing reported dozens of new infections over the weekend, these sentiments took on a more serious note.
Health officials warned of Beijing's "grim" COVID-19 situation, admitting that the coronavirus had been "spreading invisibly" with urgent action needed.
On Sunday, the city ordered mass testing for residents and workers in its biggest district of Chaoyang, home to 3.5 million people and the headquarters of many multinational firms. There would be a total of three tests: One each on Monday, Wednesday and Friday.
Images in chat groups told people to avoid the "red zone" in south Chaoyang, comprising a rectangular area with reports of positive cases and locked down estates. Authorities also set up roadblocks on highways entering Beijing, as incoming travellers need a negative test from within 48 hours.
These developments sparked fears of a hard lockdown like in Shanghai, as news emerged of panic buying at Beijing's supermarkets on Sunday with residents rushing to stockpile essentials.
By the end of Monday, authorities expanded the mandatory testing requirement to 10 other districts and one economic development zone, covering a total of 20 million people.
Singaporeans living in Beijing CNA spoke to on Tuesday said they accepted the need for mass testing, suggesting that the city was taking precautionary measures to control the outbreak and stave off a full lockdown.
They were hopeful that Beijing would not be fully locked down, pointing out that authorities would have learnt lessons from Shanghai and applied them in the capital, where the central government sits.
The Singaporeans also highlighted that the mood in Bejing was not tense, as people still went about their daily lives without restrictions on their movement for now.
Mr Wee thinks Beijing would only enter a full lockdown if cases reached the thousands, otherwise it would continue with its current strategy of mass testing and targeted lockdowns.
"A lot of people said Beijing will not be locked down because Big Brother is sitting here," he said, referring to Chinese President Xi Jinping. 
STOCKING UP ON FOOD
Nevertheless, Mr Wee started stocking up on supplies like eggs, frozen dumplings and bottled water about a week ago when rumours emerged that Beijing could follow the path of Shanghai.
"Seeing Shanghai's situation and learning from past experience, it's never too late to do such things," said Mr Wee, a Beijing resident of 22 years. "Being a kiasu (scared to lose) Singaporean, I bought an extra fridge to stock up on frozen food."
This meant that Mr Wee did not have to rush to the stores for a last-minute grocery run. In chat groups, his friends shared photos of crowds grabbing food and vegetables in supermarkets.
"But the government will of course say, like in Singapore last time, don't panic; there are sufficient stocks and goods in the warehouses," he said.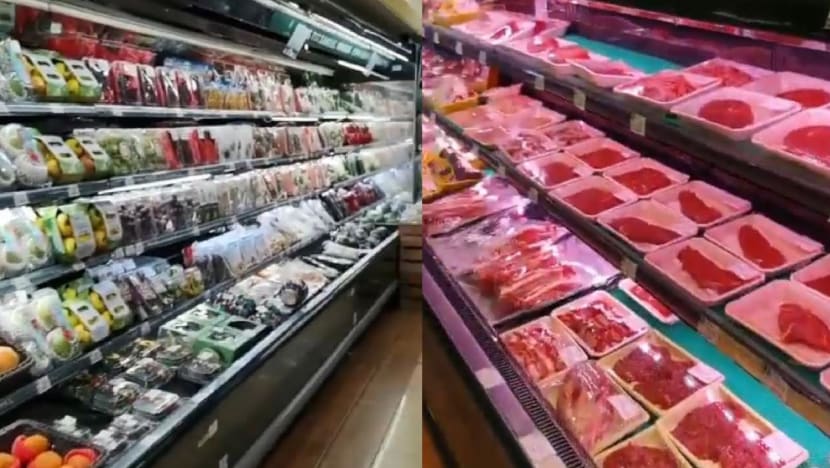 Dr Charles Poon, general manager of Raffles Hospital in Beijing, told CNA the situation was not as bad as in Shanghai, when the lockdown caught many by surprise.
"I think in Beijing, people have seen what happened in Shanghai, so they have probably already been preparing a little bit in advance," the 52-year-old said. "Of course there are more people at the grocery stores, but I don't see panic buying."
When COVID-19 cases started popping up in Beijing, Dr Poon and his family also decided to buy slightly larger quantities of essentials like rice and toilet paper when online shopping for groceries a week ago.
"I'm in healthcare, so we definitely are a bit more sensitive to these kinds of things," said Dr Poon, who lived in Shanghai for 13 years before moving to Beijing last year with his wife and two daughters aged 10 and 13.
Mr Sean Lee, a chef who runs two restaurants in Beijing, told CNA that while there was panic buying, the shelves were replenished "very fast".
"It's very efficient, so I don't see any issue," the 53-year-old said. "I was reading the news ... and they were showing pictures of all the food (shortages). Sometimes you're just taking bits and pieces to blow up the news. I think it's not fair at all."
MASS TESTING
Also efficient was the mass testing process, as described by Dr Poon who lives in Chaoyang district.
On Monday, he saw his daughters off to school before heading to the screening centre – a large tent with a few lanes for queuing – beside his apartment compound. While he waited for about half an hour for his turn, he said the process was "quite fast".
"Actually, it's a very simple procedure. You just go there, you scan a few things, write in your details. Then after that swab and done. You just leave," he said, adding that the process took up to three minutes.
"The system here in China is very advanced, very smooth."
Beijing residents get to choose which screening centre they go to. These centres are usually open from early morning until late afternoon, but people should get tested before going to work.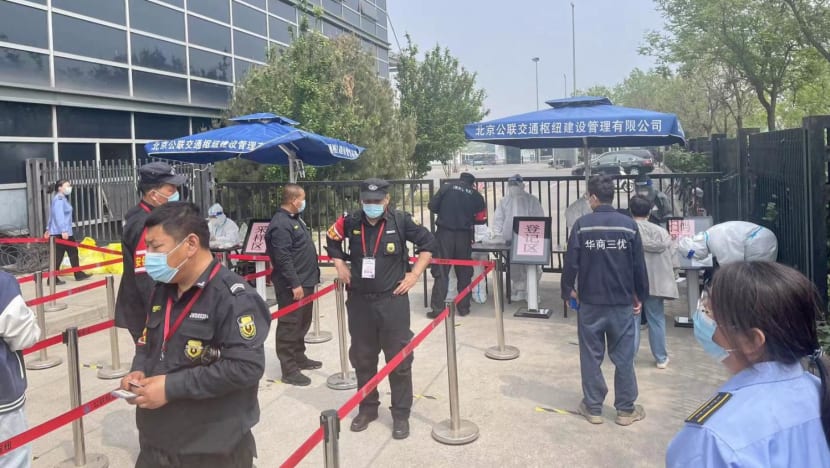 Mr Wee, who also lives in Chaoyang, likewise took his test on Monday at a centre in his estate. He said he queued for about 15 minutes and agreed that the process was "very fast".
Results are usually released the next morning, and Mr Wee thinks it is this fast because the samples are batch tested. If there are positive results, he believes that the cases will be called up and told to stay at home.
"And then once you stay at home, the whole bloody estate I reckon will be locked down," he said with a nervous laugh. "I hope there are no cases."
Mr Lee, who has lived in Beijing for 15 years, is a resident of Dongcheng district but still chose to take a test near his place on Monday anyway. There were no queues because tests for residents of that district were still voluntary then.
"My previous test result had already expired, so I thought, since they were doing the tests, why not I go for it," said Mr Lee, whose two restaurants are in Chaoyang. "I'm just being a responsible resident here."
Mr Lee also said authorities are doing a "pretty good job" making it convenient to get tested. "I mean you are here, then you just got to follow the policies," he added.
Dr Poon feels Beijing has decided to do mass testing as a precautionary measure because it has the means to screen everyone and be "proactive" about filtering out positive cases.
"If China wants to do it this way, okay let's do it," he said. "If you're within that radius where your house gets locked down, then tough luck. But other than that, actually they are not hindering our lives very much."
LIFE GOES ON, BUT BUSINESSES HIT
In that sense, Dr Poon said Beijing residents were still out and about when he went out for lunch. Some were line dancing and playing badminton, and the atmosphere was generally "not that tense". "At this moment, people don't feel that threatened," he said.
Mr Wee agreed, saying that most people were still going to work. "People are still moving around, unless you're within that red zone where all the shops and everything are closed," he added. "Otherwise, I don't see any panicking."
Despite that, Mr Lee feels the city is quieter after the recent spike in cases, with crowds and traffic not as bustling as before. Business at his restaurants has dropped by 60 per cent, he said, as some choose to stay home more and companies start to implement working from home.
Authorities have also urged Beijing residents to defer non-essential travel ahead of the five-day-long May holiday, and Dr Poon said he has heard of people going to the train station to get refunds on tickets.
Mr Wee said his business has been affected since Shanghai was locked down and materials could not be delivered. "People in other cities can't come to Beijing for business trips (due to entry restrictions), that's why other businesses are also badly affected," he said.
He also said he "can't imagine" how it would be if Beijing suffered the same lockdown fate. "Of course, all construction sites will be halted. No workers can come in, so we will have a lack of workers and materials. You can't do anything," he predicted.
WILL BEIJING BE LOCKED DOWN?
Dr Poon doubts Beijing would enter a full lockdown, highlighting that the city would have learnt from Shanghai's experience and that he was "optimistic" it would contain the current outbreak.
"And then of course, Beijing being a political centre, they can't let it run out of hand," he said.
Dr Poon believes that Beijing's caseload was still within control as authorities have not yet ramped up measures, although he acknowledged rumours that said the numbers were not accurate.
"But if you look on the dark side, then everything becomes very negative. So let's see, one step at a time," he said, adding that he prefers to see lockdown as a chance to spend more time with his family.
Mr Lee said it is "really hard to say" if Beijing would be locked down, as it was too early to tell if cases would continue to increase to a point similar to how Shanghai "lost control".
Still, he feels "relaxed" about the situation, pointing out that he took the opportunity to rest and recharge at home during Beijing's last full lockdown in February 2020.
"You can be whining and complaining about it ... but for me I'm thinking very positively. The news is saying what China is doing is kind of ridiculous, but there's another perspective ... I believe they are actually doing their best to not have the Chinese panicking over this whole pandemic," he added.
"Honestly, none of us would like to have this lockdown, but if it's really for the better, then I guess we just have to accept it."