SINGAPORE: When Boeing's all-new 777X jumbo jet goes into service, passengers can likely expect an upsized experience – from a more spacious cabin to bigger windows and overhead stowage compartments.
Taking the media on board the aircraft, which is in Singapore for the biennial Singapore Airshow, on Sunday (Feb 13), Boeing's senior director of product marketing Brian Hermesmeyer said: "This is not just another 777."
For example, the 777X's internal cabin is 10cm wider than the current 777-300ER model, despite having the same external fuselage cross-section. This is achieved by a redesign of its sidewalls and fitting thinner insulation.
"10cm doesn't sound like much, but it matters a lot and it makes the interior on this airplane much more comfortable than the 777 which everybody knows and loves today," said Mr Hermesmeyer.
The windows are also about 16 per cent bigger than those found on board the 777-300ER.
"We found that connecting people to the experience of flying has a lot to do with being able to see outside," said Mr Hermesmeyer. "When you sit down in your chair, you want to be able to just turn your head and look outside. You don't want to have to duck down."
Passengers may also find the ride much quieter, according to Captain Van Chaney who has clocked nearly 1,000 flight testing hours on the 777X.
"When I did the first flight on this airplane, I remember thinking: 'Are the engines running?' Because it's that quiet and this is really unique in aviation," he told CNA.
"So I think if I were a passenger, that's the first thing I am going to notice - just how unbelievably quiet this airplane is."
"WORLD'S LARGEST AND MOST FUEL-EFFICIENT"
The 777X, first launched by Boeing nine years ago as its updated version of the 777 that first flew commercially in 1995, is "the world's largest and most fuel-efficient twin-engine jet", according to its maker.
Its appearance in Singapore marks its first in Asia.
The jet that reporters got a tour of on Sunday was the 777-9 variant, which measures 252 feet long and can seat 426 passengers.
The 777X family also includes the smaller 384-seater 777-8 and a newly launched freighter version.
Hallmarks of the 777X include the world's largest commercial engines from General Electric and carbon-fibre composite wings with folding wingtips.
"The wingtips are foldable so that we can make the span as long as possible – at 235 feet – to get that really good aerodynamic efficiency we're looking for. But then we fold the tip so that it can still fit in the same airport gates as the 777-300," Mr Hermesmeyer explained.
"This beautiful composite wing with a 72-metre span, together with that engine, make this an incredibly efficient machine."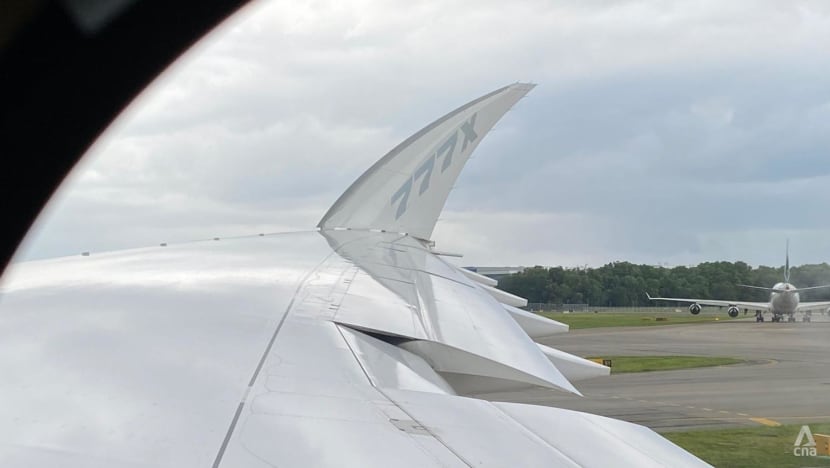 Boeing's latest wide-body jet will also use 10 per cent less fuel and be 10 per cent cheaper to operate than competing jets, the company said.
"10 per cent lower fuel per seat means 10 per cent less carbon emissions per seat, so this airplane helps airlines to not just get to that new generation of technology and passenger experience, but it can also advance their sustainability goals," Mr Hermesmeyer told reporters.
WHAT'S ON BOARD A TEST AIRCRAFT?
The 777X, stationed at a parking bay in Changi Airport on Sunday afternoon, is massive when seen in person.
But the interior of the plane bears little resemblance to what passengers are used to.
Once on board, reporters are greeted by rows of black tanks. Only a handful of passenger seats can be seen, with overhead compartments, lavatories and other set-up evidently missing. 
"Nothing you see inside this airplane right now (will) be seen on an airplane that flies with passengers," quipped Mr Hermesmeyer. "This is a test airplane. All of this is a test interior."
The black barrels – 24 of them and each holding about 120 gallons of water – are connected to a plumbing system, which allows test flight engineers to change the weight balance of the aircraft for various flight tests.
Meanwhile, rows of orange wires run through the cabin, collecting and transmitting data to racks of machines where engineers monitor all-day long.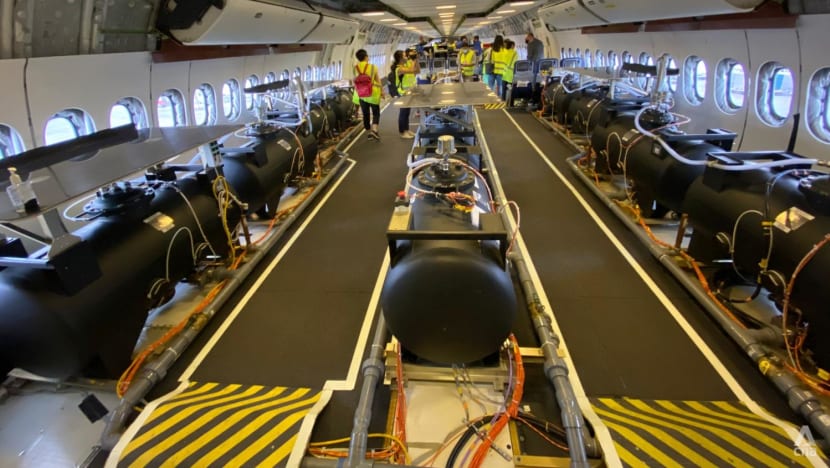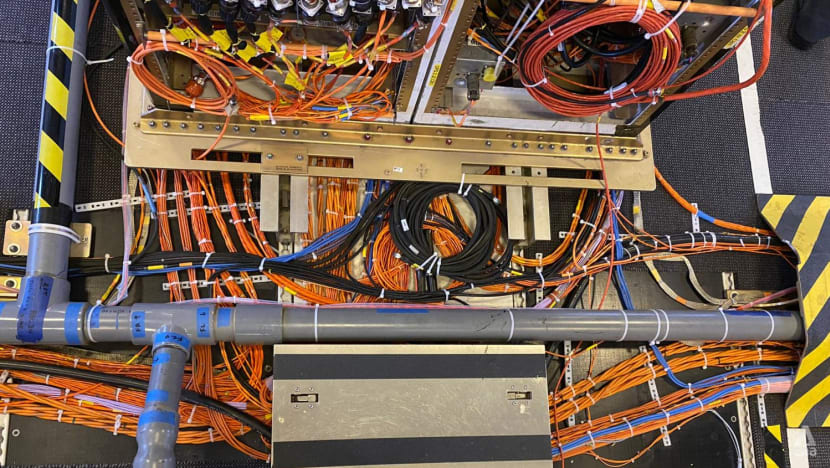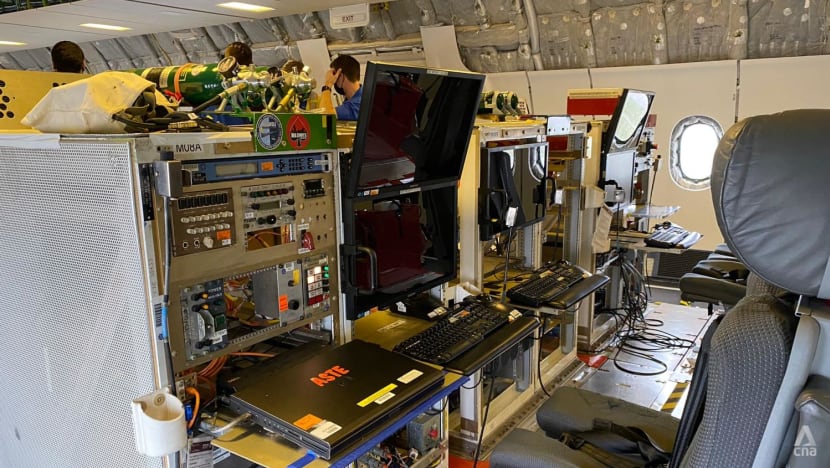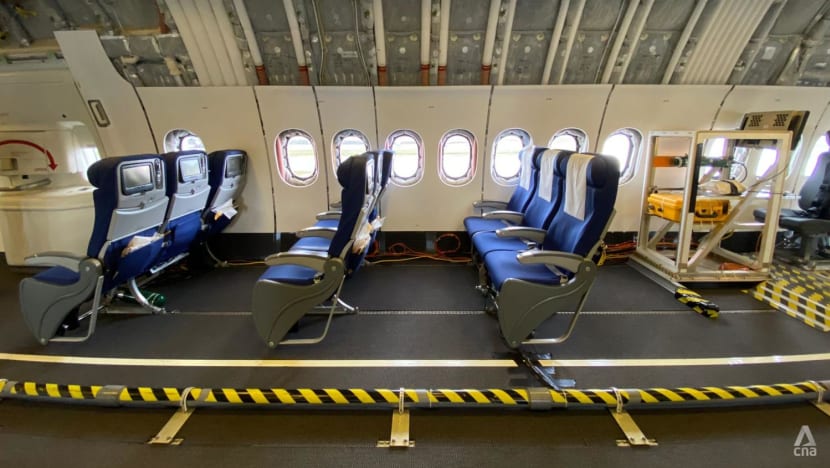 The 777X, which currently has four aircraft in its test programme, has since logged around 1,900 hours across 650 test flights since first taking to the skies two years ago.
But developments have been hit by the pandemic and snags with its engines among other issues. The company has said it plans to start delivering the 777X by late 2023, three years later than its original schedule.
"The test programme has gotten a little bit longer," Mr Hermesmeyer. "One of the things that this has allowed us to do is to really learn more about the airplane before it enters into service."
"We learned a lot with the regulatory agencies that have to certify the airplane. We've been working together with them very closely to make sure that the timeline of events - from analysis, test and certification - line up together. And for that reason, we are delivering the airplane in 2023," he added.
Right now, Boeing has more than 300 orders for its new, larger version of the 777 wide-body jet from eight airlines, including Emirates, Lufthansa, Qatar Airways and Singapore Airlines (SIA). The company told reporters that it has not been decided who will receive the first delivery.
Asked about the outlook for its jumbo jet amid persistent uncertainties caused by the COVID-19 pandemic, Mr Hermesmeyer said: "Wide-body passenger airplanes are typically for long-haul international traffic and until those markets recover, there are a lot of airplanes that you see here - sitting and waiting to get back into service.
"We have a strategy on how to supply that demand recovery, together with our production sequence for the airplane."
Citing the International Air Transport Association's (IATA) forecast for global travel to recover in 2023, he added: "That timing works out very well for when this aircraft is going to join the fleet. We are optimistic."
OFFERINGS TO BE A "QUANTUM LEAP": SIA
SIA, which has 31 Boeing 777-9s on order, has said that the new aircraft will allow it "to offer even greater comfort and more innovative cabin products", while helping to lower its carbon emissions.
Mr Ng Yung Han, the national carrier's vice-president for product innovation, said it has planned a "whole suite of new products" across the four cabin classes – first class, business class, premium economy and economy.
For example, passengers can expect a "quantum leap" in its first class offering on board the 777X.
"It will be more spacious, more comfortable and more luxurious," Mr Ng told CNA, adding that it will "contain suite-like features" that offer more privacy.
"We will bring it to the whole new level. We are also incorporating new technologies, making this one of the smartest in the market."
New seats featuring a "refreshing and ultra-modern design", alongside smart features, will be in store for those travelling on business class.
For the premium economy and economy, brand new seats promising more comfort will also be rolled out. 
In addition, SIA will be taking its in-flight entertainment system KrisWorld "beyond entertainment", said Mr Ng.
"More than just showing movie, TV and music, it will be more connected to the seat, as well as onboard services and be more engaged with applications for passengers' use onboard."