On an island with no photo-taking, a soldier sketches his daily life in basic military training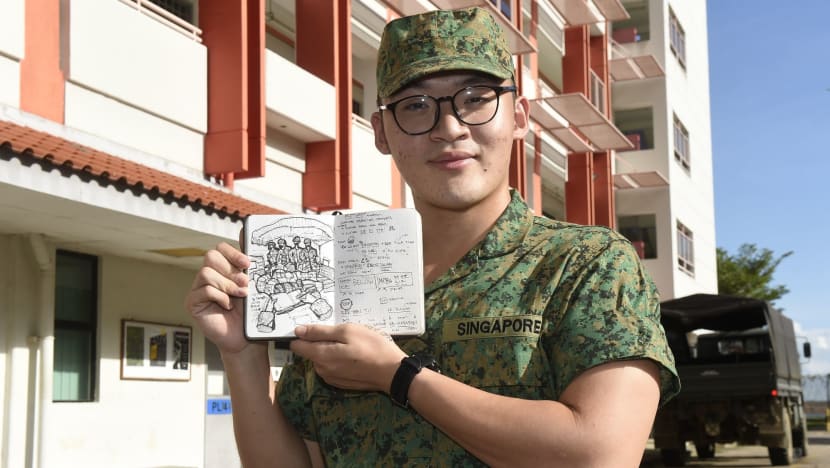 SINGAPORE: When soldiers of the Singapore Armed Forces go to the field for training or operations, they usually bring along two things so important these are kept close to the body in or behind the uniform.
The first is an identification tag hung around the neck and pressed against the chest. The metal tag is engraved with the soldier's NRIC, blood type and religion, and is used to identify the soldier if he or she is incapacitated or killed.
The second is called the first-aid dressing (FAD), which is a dark green squishy packet containing a pre-sterilised bandage and gauze pad for treating injuries. The FAD is kept in the right side pants pocket near the knee.
But for Private (PTE) Asher Ong, currently serving his Basic Military Training (BMT) on Pulau Tekong, there is a third thing he brings along wherever he goes: A little black sketch book that fits right into the pocket of his pants.
The roughly 250-page book is scribbled with intricate sketches from the 21-year-old's BMT, from frivolous scenes of his section mates resting in the bunk, to more technical exercises like live firing at the rifle range.
The drawings are complemented by PTE Ong's notes, including random musings about how a bunk is laid out, and more informative snippets like the anatomy of a SAR 21 rifle.
On Aug 31, portions of his sketch book were published on the Basic Military Training Centre (BMTC) Facebook page, attracting widespread praise and admiration. The post has been shared more than a thousand times, with more than 1,700 reactions.
PTE Ong told CNA on Wednesday (Sep 15) he started drawing these pictures as a way to show his family what he was going through in BMT, when unofficial photography is not allowed.
The eldest of seven children, PTE Ong said his four sisters "will never get to experience what I experienced, and I do it mainly for them also".
But the drawings have also evolved to become a sort of memoir with greater meaning, one that forever captures the bonds and memories forged on a journey shared by every Singaporean son.
"I've also now started to realise it's part of my service towards the people around me, in a sense that it's a memory for all of us to stay together and it's also part of my service to the country," PTE Ong said.
"So many of us have experienced it (BMT), but not so many are able to capture it. And since I have this talent, I will gladly do so for those around me. It is part of our so-called Singaporean heritage."
STARTED OUT OF "ANGST"
PTE Ong described himself as a creative person who has been taking photos since he was 12. Before enlistment, he studied design at Nanyang Polytechnic, delving into things like interior and spatial design. Then, a module on visualisation introduced him to the world of drawing.
Because his experience in photography had given him a good eye for composition, PTE Ong found himself getting better at drawing, a skill that came in handy given the photography restrictions during BMT.
It was barely a week after PTE Ong enlisted on Jul 1 that he felt a desire to "make something" again.
"I think it originally came out of a bit of angst from not being able to create like normal," he said. "That kind of resulted in the first few drawings. So, I just observed whatever I had around me, which was my section mates and things like that."
The first sketch in his book was on Jul 5, depicting a scene from his bunk when his section mates were resting during "admin time", a term used to describe free time usually after the day's activities.
As BMT progressed, PTE Ong discovered more interesting things that he could draw, like throwing a grenade or clearing rooms during urban warfare training. Or it could be "special" moments of waiting in between exercises, when recruits are given time to breathe.
"Mainly, it's all the things that matter something to me or is interesting to me. I try to capture things that a civilian won't experience, like how we draw arms, on the range, booking in and out, receiving mail during the mail run, things like that," he said.
"Or like what I do or think in the middle of the night. So, odd and interesting experiences in between. There is no specific thing that I'm trying to follow, but whatever piques my interest at a moment of time."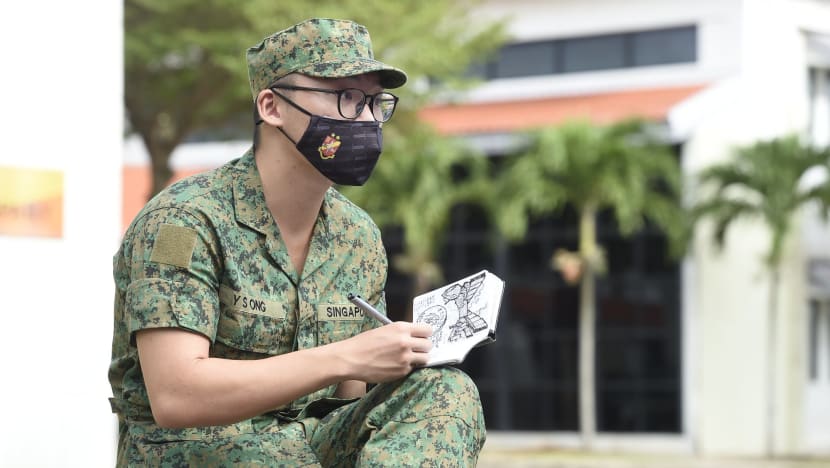 When PTE Ong sees something worth drawing, he fetches his book and two black pens with different-sized tips, then starts on a three- to five-minute outline sketch. When it is his turn to participate in the exercise, he puts his book away. At the end of the day when he returns to the bunk, he completes the drawing and fills in details from memory.
"I try to put in as much information or as much curiosities that matter to me, but also things that I've learnt," he said.
"Sometimes, I'll have like new commands that I've learnt, or new things that I notice about the organisation or the army, and then interesting things about leadership or a way to do certain things in a more efficient manner."
After a while, PTE Ong's section mates and others in his company started noticing his habit, although he acknowledged he gets in the "zone" while drawing and does not realise if people are staring.
"They're very interested in it and they have been very supportive of it," he said, noting that they recall shared experiences through his drawings, including where they trained or hung out.
GETTING PUBLICITY
PTE Ong's drawings have also caught the eye of his commanders. Once, his company sergeant major – or encik – caught him scribbling in his book during training and asked why he was drawing. "No encik, I am taking notes," he remembers replying.
"And I really was taking notes. I'll interchange between learning and sketching and I'm always paying attention. It does not distract me; in fact it actually helps me learn and recall better," he said.
Another encounter with a commander led to different consequences.
Before the recruits left for their field camp - a typically week-long jungle exercise considered one of the most gruelling parts of BMT - they heard a motivational speech by the high-ranking school commanding officer.
PTE Ong decided to sketch the scene, complete with the officer and other details he observed. When the officer walked around, he noticed PTE Ong and asked what he was doing. PTE Ong showed him the sketch and received a favourable response.
"I guess he kind of liked that. And then he did also want to share the rest of the drawings with BMTC and stuff like that. From there, it led to the (Facebook post)," he said.
PTE Ong said he was grateful for all the positive comments, and that he was glad others found meaning in his sketches.
"I think one of the greatest gifts that any artist can receive is that other people can relate to it," he said.
"And if they find meaning in it, and if they find their soul in it, I think that's one of the most special things that I could have ever experienced during this BMT."
Despite that, all the attention compelled PTE Ong to stop drawing for a while.
"If not, I felt that I was drawing for other people. And that's one thing that I never want to do, is to draw for other people and not for myself, in the sense that it would not be genuine anymore," he added.
This period was also when PTE Ong got an upgrade on his physical employment standard (PES). He is now on his second BMT stint commensurate to his new PES status, and will graduate in December.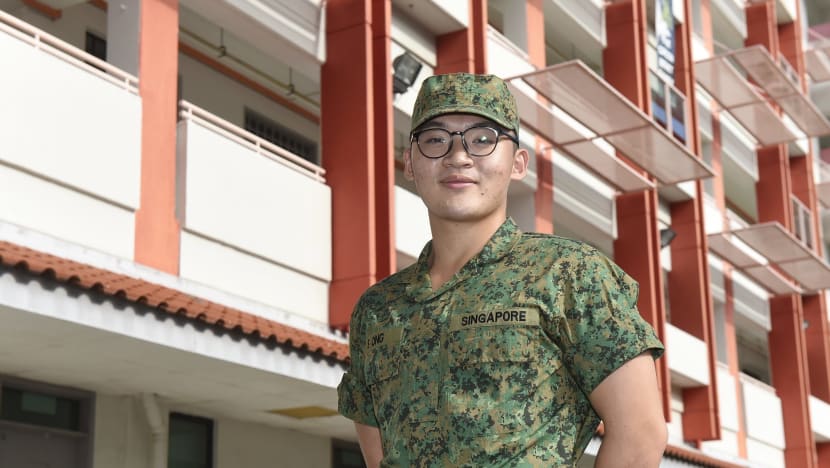 This has opened a new chapter in his sketch book.
"After all the hype died down, and when I joined my new section and company, I made good friends and I started drawing them also," he said.
"Each drawing that I draw always has a person or a special place in my heart. And I try to do everything with as much soul as possible."
When asked if he would continue sketching his entire full-time national service experience, PTE Ong said: "Yeah, all two years." Then, he hesitated. "I don't know. I mean, I can't give you a number. Until my passion dies, I guess," he added.
As for what he intends to do with his sketches in the future, PTE Ong said he believes "images are meant to be seen, like the way food is meant to be eaten".
"I guess that's one of the goals that I have in the end: To get these images to as many people as possible so that they can take it home," he said.
PTE Ong has already promised his section mates a copy of the journal. Some commentators on the BMTC Facebook post have expressed interest in buying his work, while others have talked about the security implications.
PTE Ong said he would consider publishing his collection. "Who knows? Maybe it's a zine, or maybe it's like a little card, or something," he said.
"I published a book before so I'm kind of familiar. But these are very preliminary things. I don't really think of these things at the moment."
SHARING THE PAIN
Until then, PTE Ong is focused on creating. His sketch book is running out of pages soon, but he loves how tattered it has become.
"It's kind of worn right now. It's been sweat on, it's got mud and stuff like that. And I like it, because it's atrophied, and it's been living what I lived," he said.
As he flipped through his book during his phone interview with CNA, he found it tough to pick his most memorable sketch. "I'm getting a bit emotional thinking about this," he admitted.
PTE Ong took a long pause, before finally settling on a scene that showed his mates booking out. They walked in neat rows into the ferry terminal on Pulau Tekong, in their smartly folded uniforms while carrying identical field packs.
"I think the drawings that mean the most to us are those that have a bit of pain in them. In each of them, all these guys that I draw are going through some sort of challenge individually. Some emotionally, some psychologically, some physically and things like that," he concluded.
"But I think that's a special thing also, that even though some of us are going through a challenge, we're still trying our best and we're still going through the experience together.
"These are people that I know are with me, and that are also just serving these two years together."