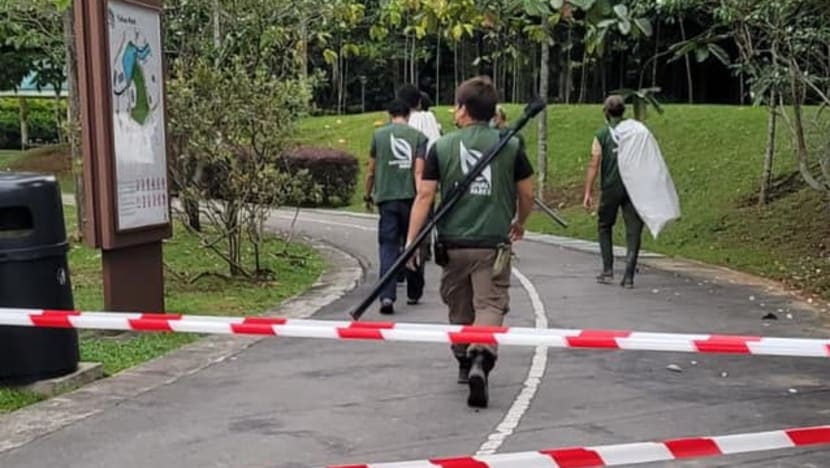 SINGAPORE: A person was taken to hospital after a wild boar incident in Yishun on Wednesday (Mar 9) evening.
A wild boar ran into a pedestrian at the Khatib open-air plaza near Block 844 Yishun Street 81, said MP Carrie Tan (PAP-Nee Soon).
"This is shocking as the plaza is usually crowded and wild boars tend not to venture into such populated areas," Ms Tan said in a Facebook post on Thursday. 
In response to CNA's queries, the Singapore Civil Defence Force (SCDF) said it received a call for assistance at Block 846 Yishun Ring Road at about 6.50pm on Wednesday. 
One person was taken to Khoo Teck Puat Hospital, SCDF said. 
Nee Soon Town Council "immediately rallied" staff to locate the wild boar, said Ms Tan. 
Minister of State for National Development Muhammad Faishal Ibrahim, who is also an MP for Nee Soon GRC, said in a Facebook post that the wild boar headed towards Yishun Park and "hurt some residents" before it entered the park.
Associate Professor Faishal added that he was working closely with the People's Association and grassroots volunteers to help the injured residents.
National Parks Board (NParks) officers are searching for the wild boar in Yishun Park, which has been temporarily closed off for public safety, said Assoc Prof Faishal in his Facebook post at 4.53pm.
NParks said in a statement on Friday morning that they are still searching for the animal. 
"I wish the injured a speedy recovery and will be visiting the Khatib shop owners once I test negative and am released from isolation and finish my parliamentary duties," said Ms Tan, who recently tested positive for COVID-19.
She added that town council estate ambassadors and conservancy cleaning staff have been asked to be on the lookout at adjacent blocks for the wild boar.
The MPs urged people to remain calm and move slowly away if they encounter a wild boar.
"Do not approach or attempt to feed the animal. Keep a safe distance and do not corner or provoke the animal," said Ms Tan.
"If you see adult boars with young piglets, leave them alone. These are potentially more dangerous because they may attempt to defend their young."